Florida's Weeki Wachee: Spring of Live Mermaids
Dublin Core
Title
Florida's Weeki Wachee: Spring of Live Mermaids
Alternative Title
Weeki Wachee Brochure
Subject
Weeki Wachee Spring (Fla.)--Amusement parks
Mermaids--Florida--Weeki Wachee
Springs--Florida--Hernando County Region
Amusement parks--Florida
Weeki Wachee (Fla.)
Tourism--Florida
Description
Brochure for Weeki Wachee produced in the mid-1950s. Weeki Wachee features performances by underwater mermaids, a glass-bottom boat ride, and other natural attractions. The springs are named after the Seminole words for "little spring" or "winding river." In 1946, former U.S. Navy member Newton Perry began to develop a tourist attraction at Weeki Wachee. By the 1950s, Weeki Wachee was one of the top tourist stops in the United States. The American Broadcasting Company (ABC) purchased the site in 1959 and continued to expand. In 2008, Weeki Wachee was taken over by the state of Florida as a state park.
Source
Original pamphlet: Private Collection of Thomas Cook.
Date Copyrighted
ca. 1955
Is Format Of
Digital reproduction of original pamphlet.
Is Part Of
Private Collection of Thomas Cook.
Requires
Coverage
Weeki Wachee Spring, Florida
Spatial Coverage
28.51761, -82.574356
Temporal Coverage
1955-01-01/1955-12-31
Mediator
History Teacher
Economics Teacher
Geography Teacher
Contributing Project
Digital Collection
Source Repository
Private Collection of Thomas Cook
Transcript
Florida's WEEKI WACHEE
Spring of live mermaids

BOB HOPE says "The live mermaids are the greatest at the Weeki Wachee. . .and it's fun!"

ARTHUR GODFREY says "Weeki Wachee is one of the Seven Modern Wonders of the World!"

north of Tampa, St. Petersburg, Clearwater
Florida's underwater grand canyon
World famous LIVE mermaid show!

Completely new show every year!
Unbelievable Excitement and Thrills!


At each performance a lovely mermaid attempts a 117 foot deep dive into the depths of Florida's famous underwater grand canyon.

AMERICA'S MOST FAMOUS MERMAIDS
"Wonderous," the Mermaid of Weeki Wachee, and our live Mermaid, one of the stars of the world's greatest underwater show.

Don Knotts
Deputy of the Andy Griffith Show, says "I love the Mermaids at Weeki Wachee!"

THE THRILLS OF SKIN DIVING
You are seated 16 feet below the surface of this crystal clear spring where you'll view the world's greatest underwater show through 90 feet of absolutely clear plate glass windows 2 1/2 inches thick. The lovely, lively mermaids work against an awesome backdrop of underwater caverns and mountains. Dressed in beautiful costumes, they perform amazing acrobatic feats of synchronized beauty and grace that will thrill you.

Approved and Applauded by Millions!
World's Greatest Underwater Show!
Unbelievable Excitement and Thrills!

WEEKI WACHEE
BE SURE TO PLAN A FULL DAY AT WEEKI WACHEE. . .
SEE EVERYTHING FOR THE HIGHLIGHT OF YOUR FLORIDA VACATION


WEEKI WACHEE
America's Greatest Underwater Spectacle

An unforgettable experience. Your trip to Florida is not complete without seeing this beautiful and unusual attraction. See the lovely and lively mermaids, stars of movies, TV and radio, in a show of beauty, comedy, novelty and unbelievable feats of daring. You'll be in living room comfort while watching the world's most highly skilled women athletes. Performances daily from 9 to 5, rain or sun. Bring your camera for wonderful underwater snapshots and movies.
Special Performance Saturday Night at 8:30 P.M.

Wernher Von Braun
Famous scientist says, "Your show is like our last rocket, it is out of this world."

Mickey Spillane
Popular mystery writer says, "No mystery why it is Florida's finest attraction."

Unbelievable girls live like fish!

Costumes, swim suits and mermaid playsuits by Alix of Miami, Florida's first name in underwater fashions.

Underwater settings and props by Max Weldy of the Folies Bergeres.

Produced by Jack and Marilyn Nagle.

You'll take home snapshots and memories like these.

Ted Mack says: "This is the finest underwater talent in the world."

"Weeki Wachee is one of the Seven Modern Wonders of the World."
ARTHUR GODFREY

World famous Underwater Theatre and Underwater Show that attracts visitors from the entire world (visitors from 32 foreign countries last year). You will enjoy guaranteed entertainment in year 'round air conditioned comfort.


Florida's two great natural wonders

Adventure Cruise
Experience thrills and beauty of primitive, untouched river. . . ride glass bottom, side wheel boat . . . see animals, birds, Trader's Landing . . . wild natural beauty of primitive past.

Famous photographer says: "this is seeing the real Florida."
Carroll Seghers II

Chief of Seminole Indians says: "This river trip reminds of the old times."
Chief Billy Osceola

FLORIDA ATTRACTIONS ASSOCIATION MEMBER
Weeki Wachee proudly recommends the following attractions in the state.

Bartlett's Deer Ranch
Caribbean Gardens
Early American Museum
Circus Hall of Fame
Cypress Gardens
Edison Winter Home
Everglades Wonder Gardens
Great Masterpiece
Horn's Cars of Yesterday
Lightner Museum of Hobbies
Marine Studios
McKee Jungle Gardens
Miami Seaquarium
Miami Serpentarium
Miami Wax Museum
Monkey Jungle
Parrot Jungle
Potter's Wax Museum
Rainbow Springs
Silver Springs
St. Augustine Alligator Farm
St. Augustine's Oldest House
Sarasota Jungle Garden
Sunken Gardens of St. Petersburg

Patio Restaurant
A.A.A. Approved . . .
Fine Foods for a Snack or a Complete Meal.

Orchid Garden
A tropical floral paradise of hundreds of varieties of exotic blooms.


Don McNeil says: "What a thrill. What a joy. You'll love the mermaids at Weeki Wachee!"

Wilderness Trail
you'll climb aboard the Wilderness Chief Covered Wagon and head for the wilds of Weeki Wachee. . . where you'll see the real Florida. See the wonders of this Florida forest. . . left in the same unspoiled, natural setting since the days of prehistoric man. Be sure to enjoy Weeki Wachee's newest attraction.

Special Parties
Can Be Arranged for Groups, Conventions, Theatre Parties and tours. Call Weeki Wachee 596-2149

Mermaid Motel
Spacious, modern, comfortable. Directly across the highway.
WEEKI WACHEE
BE SURE TO PLAN A FULL DAY AT WEEKI WACHEE . . .
SEE EVERYTHING FOR THE HIGHLIGHT OF YOUR FLORIDA VACATION
Document Item Type Metadata
Original Format
12-fold pamphlet
Files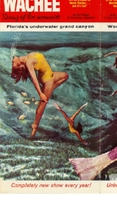 Collection
Citation
"Florida's Weeki Wachee: Spring of Live Mermaids." RICHES of Central Florida accessed June 2, 2023, https://richesmi.cah.ucf.edu/omeka/items/show/997.
Categories
Transcribe This Item