Bust of Simón Bolívar at Lake Eola
Files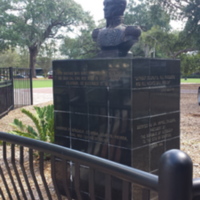 Dublin Core
Title
Bust of Simón Bolívar at Lake Eola
Alternative Title
Bust of Simón Bolívar
Subject
Orlando (Fla.)
Bolívar, Simón, 1783-1830
Monuments--Florida
Busts--United States
Description
The Bust of Simón Bolívar at Lake Eola in Downtown Orlando, Florida, in 2013. This life-sized, 150-pound bronze bust is set on a polished stone plinth and was erected in March 1996. The monument was donated to the City of Orlando by Rafael Antonio Caldera Rodríguez, the president of the Bolivarian Republic of Venezuela from 1969 to 1974 and again from 1994 to 1999. The monument honors Simón José Antonio de la Santísima Trinidad Bolívar y Palacios Ponte y Blanco, the founder of Bolivia and the liberator of Venezuela, Colombia, Ecuador, Panama, and Peru. The Bust of Simón Bolívar was the first in a series of sculptures of international heroes that lines International Plaza and Bridge.

Bolívar, considered one of the most influential politicians in the history of the Americas, was a major player in Latin America's struggle for independence from the Spanish Empire during the early 19th century. Bolívar was also fundamental in the foundation of Gran Colombia, the first union of independent Hispanic nations, and led as its president from 1819 to 1830.
Source
Original digital color image by Robin Dunn, September 21, 2013.

Medium
1 color digital image

Coverage
Bust of Simón Bolívar, Lake Eola Park, Downtown Orlando, Florida

Caracas, Metropolitan Region of Caracas, Venezuela
Accrual Method
Item Creation

Mediator
History Teacher
Civics/Government Teacher
Geography Teacher
Humanities Teacher
Visual Arts Teacher
Provenance
Originally created and owned by Robin Dunn.

Rights Holder
Copyright to this resource is held by Robin Dunn and is provided here by
RICHES of Central Florida
for educational purposes only.
Contributing Project
Dr. Anne Lindsay
's Public History: Principles and Techniques Undergraduate Class
Curator
Dunn, Robin
Cepero, Laura
Digital Collection
External Reference
Bolívar, Simón, and Laurent Tranier.
Simon Bolivar
. [Toulouse]: Toute latitude éditions, 2008.
Transcript
SIMON BOLIVAR WAS BORN IN CARACAS, VENEZUELA, ON JULY 24, 1783 AND DIED IN SANTA MARTA, COLOMBIA, ON DECEMBER 17, 1830.

LIBERATOR OF VENEZUELA, COLOMBIA, ECUADOR, PANAMA, PERU, AND FOUNDER OF BOLIVIA.

"WITHOUT EQUALITY, ALL FREEDOMS AND ALL RIGHTS WILL PERISH."
SIMON BOLIVAR

DONATED BY DR. RAFAEL CALDERA,
PRESIDENT OF
THE REPUBLIC OF VENEZUELA
TO THE CITY OF ORLANDO.
MARCH 1996.
Still Image Item Type Metadata
Original Format
1 color digital image

Collection
Citation
Dunn, Robin . "Bust of Simón Bolívar at Lake Eola." RICHES of Central Florida accessed December 7, 2023, https://richesmi.cah.ucf.edu/omeka/items/show/2825.
Categories
Transcribe This Item