The Maitland News, Vol. 01, No. 04, May 29, 1926
Files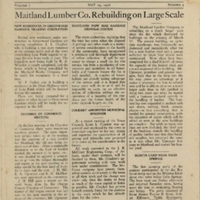 Dublin Core
Title
The Maitland News, Vol. 01, No. 04, May 29, 1926
Alternative Title
The Maitland News, Vol. 01, No. 04
Description
The Maitland News was a local newspaper originally published by the Maitland Realty Company (and later by The Maitland News Company) which began circulation in April 1926. This edition features articles on topics such as the Maitland Lumber Company rebuilding following a fire, new housing in Greenwood Gardens subdivision, a Chamber of Commerce meeting, a new garbage disposal system, a new municipal engineer, a Boy Scout camping trip, local elected officials, new books available at the Maitland Library, and a local events calendar. Also featured are several advertisements for local businesses.
Source
Original 4-page newspaper edition:
The Maitland News
, Vol. 01, No. 04, May 29, 1926: Newspaper Collection, accession number 2014.002.020V, room 2, case 2, shelf 10, box GV, 
Maitland Historical Museum
, Art & History Museums - Maitland, Maitland, Florida.
Publisher
The Maitland News Company
Date Created
ca. 1926-05-29
Date Copyrighted
1926-05-29
Is Format Of
Digital reproduction of original 4-page newspaper edition: The Maitland News, Vol. 01, No. 04, May 29, 1926.
Is Part Of
The Maitland News Collection
, Maitland Historical Museum Collection, Maitland Collection, Orange County Collection, RICHES of Central Florida.
Requires
Medium
4-page newspaper edition
Coverage
Maitland, Florida
Winter Park, Florida
Longwood, Florida
Mediator
History Teacher
Economics Teacher
Geography Teacher
Civics/Government Teacher
Provenance
Originally published by the Maitland News Company.
Rights Holder
Copyright to this resource is held by the Maitland News Company and is provided here by
RICHES of Central Florida
for educational purposes only.
Digital Collection
Source Repository
External Reference
Poole, Leslie Kemp.
Maitland
. Mount Pleasant, SC: Arcadia Pub, 2009.
"
Maitland History
." City of Maitland. http://www.itsmymaitland.com/maitland_history.asp.
Transcript
THE MATLAND NEWS
Published Weekly by THE MATLAND NEws Co, MATLAND, ORANGE County, FLORIDA
Volume I
MAY 29, 1926
NUMBER 4
Maitland LumberCo. Rebuilding on Large Scale
NEW RESIDENCES IN GREENWOOD GARDENS NEARING COMPLETION
Several new residences under con struction in Greenwood Gardens are nearing completion. L. L. Coudert, who is building a two story residence at the extreme north end of the town overlooking Lake Faith expects to oc. cupy his new home early in June. The bungalow now being built by R. A. Wheeler is nearly completed, and the house which is being remodeled by the Maitland Realty Company will be ready for occupancy in a short
. F. Parker also is building a residence on the Dixie Highway south of Lake Faith which will be finished during the summer.
Plans are being prepared for a number of other houses in Greenwood Gardens which will be ready for oc. cupancy in the fall.
CHAMBER OF COMMERCE MEETING
At the last meeting of the Chamber of Commerce there were twenty-six members present. The most impor. tant subject taken up at the meeting was the question of a new booklet for Maitland, the old one being entirely out of date. After considerable discussion as to the kind of booklet needed, the amount to be spent, etc., it was decided to appoint a commit. tee to go into the subject thoroughly and report at the next meeting as to what would be the best kind of booklet to have and the cost. J. H. Hill, E. A. Upmeyer and K. N. McPher. son were appointed on the committee.
J. H. Hill gave a report on the work being done by the Orange County Chamber of Commerce. The matter of the slogan contest was laid over to the next meeting in the absence of the chairman, Mr. Upmeyer. The committee hopes that more slo. gans will be submitted before that
Everyone in his own house and
God in all of them.Cervantes.
MAITLAND NOW HAS GARBAGE DISPOSAL SYSTEM
The town authorities, realizing that the time has come when the disposal of garbage and other trash is a matter of serious consideration to the health of the community, have inaugurated a sytematic and thorough department of refuse collection. It will be nec. essary to charge a small fee for this service, but from a standpoint of convenience and sanitation to all house. holds and business houses the fee is well justified. A number of house. holders are already taking advantage of the service and it is hoped that many more will do so as it will be impossible to carry on an effective system of collection without the cooperation of a majority of the resi. dents and the future health of the town depends largely on this COUDERT appoINTED MUNICIPAL
ENGINEER
At a recent meeting of the Town Council, Louis L. Coudert was appointed and employed by the town as municipal engineer to lay out, design and supervise the construction of all paving and sidewalks now projected or to come up for consideration in the future.
All work entrusted to the J. B. McCrary Engineering Corp, of At lanta, under their contract, will be finished by them, Mr. Couderts appointment covering only new work now under consideration. The Mc. Crary company have proven them. selves entirely satisfactory to the town in all their work and the change was made only thru the desire to keep as much of the town capital at home as possible. Mr. Coudert has proven himself entirely fitted for the position in the work which he has already done for the town.
Mr. and Mrs. A. N. Pettis, who have made their home with Mrs. Bronson for the past two years, are now occupying Mr. E. R. Halls cot.
tage.
The Maitland Lumber Company is rebuilding on a much larger scale since the fire which destroyed its buildings on the evening of March 15. The newest building, an uptodate warehouse, was fortunately not destroyed and immediately after the fire a new lumber shed and a garage sufficient to house four trucks were constructed. Now plans have been completed for a shed 80x135, of twice the capacity of the former shed, and a much improved office building. Mr. Upmeyer, president and general man ager, feels that in the long rum the fire may prove an advantage as it makes it necessary for him to rebuild now and he is able to do so on a much larger scale than he felt justified in doing two years ago when he started with a business confined entirely to the handling of lumber. The busi. ness has now expanded to include sash and doors, roofing, brick, cement, plasterin fact everything that is needed for general construction, with the exception of paints which will be added as soon as the new buildings are complete. But while so many new lines are now included, the chief aim of the business, namely the handling of quality lumber and first class builders supplies, has remained the same as it was when Mr. Upmeyer first came to Maitland and started his lum. ber yard.
SCOUTS CAMP NEAR PALM SPRINGS
The first camping party of the summer participated in by the Boy Scout troop was on the Wekiwa River about two miles below Palm Springs The boys went out Friday afternoon and returned Saturday noon, having spent the time in swimming, boating and hiking. The party consisted of Scout Master Forrest B. Stone, ert Kilbourn, Teddy Brocksmith, Lloyd Haines, Bill Tucker, Bill Deuel, Ray Ponder, Jack Lee, and John Law.
Mrs. Nellie R. Draper, of Chicago, is the guest of the Misses Treat


2] The Maitland News
MATLAND, FLORIDA
Published Weekly by THE MATLAND NEWS COMPANY., ANNA. B. TREAT, Editor and Business Manager
Subscription Price Fifty cents a year. Five years 2.00.
ADVERTISING RATEs on Application
ITS OUR MOVE
III. Thou shalt elect as thy public servants in political office men of strong character, eager to conserve the best interests of thy people. : shalt stand to support and encourage them, for their temptations are many and their burt.From Ten Command
dens are not li ments for the
Such, we believe, are the men who are now in office in Maitland. The Mayor and four of the councilmen have been connected with the town government for a considerable time and have shown themselves honest, resourceful and enthusiastic in the promotion of the best interests of the town. They have been instrumental in putting across two bond issues and have worked earnestly to carry the work to completion. J. G. Friedland, the only new man on the council, has taken hold of the street and sanitary department with energy and deter. mination, having already installed a trash collection service, and he is planning many innovations and im provements. Never before have municipal affairs been in better condition than they are today.
But let us remember that the test of these men lies in their continued and constant service and that in truth their temptations are many."
Perhaps the most serious temptation to which we are all subject is the tendency, supposed to be most prevalent in the southern states and during the summer season, to lie down
THE MAITLAND NEWS
on the joband leave until tomorrow things which should have been done yesterday. We wonder if our coun. cilmen even are entirely free from this tendency which we ordinary citi. zens feel coming upon us as the summer rains approach. We admit that there may be perfectly legitimate excuses for delavs, which delays are in reality wholly unnecessary. Was it necessary to wait so long for a town attorney to be appointed so that pave ing petition approved months ago might be prepared for publication? And now that we have a town attor. ney and a town engineer will these matters be rushed through or will there be further delays? A member of the Council told us the other day that the water system would not be in operation for three or four months yet. Why? Winter Park has extended its mains to the Maitland line. Are we going to let people in the south end of Maitland tap on to them to obtain water? Win: ter Park is paving miles of streets just opened up in new subdivisions Are we going to let our subdivisions lie idle for lack of streets and the building of new homes thus go to Winter Park? There are many things we needa hotel, a new station, stores, houses, and we are beseeching outside capital to come in and give them to us. What
LOUIS L. COUDERT, INC. Civil ENGINEERS
Land Surveyors
TOWN PLANNING
P. O. Building Maitland, Florida
General Repairing Vulcanizing
BOOSTING MAITLAND DAY AND NIGHT MAITLAND GARAGE
OPEN DAY AND NIGHT M. L. KYLE, Prop.
Phone 1304-
Wrecking Car Service Goodyear Tires and Tubes
Batteries Repaired and Recharged
Texaco Gas and Oils
inducements are we offering? A northern capitalist, who has extensive hold ings in Maitland, and is truly interested in our town, said yesterday, I was ready to put up a store building on one of my lots last winterwould have had the building up and occur pied nowbut had to wait until the widening of street was settled. Now, I dont know whether to go ahead or not. It seems to take so long to get anything done in Mait. land." Are we going to hold this mans interest and that of his friends? Or shall we sit back and enjoy the warm sunshine while he settles in Longwood?
FURNISHED BUNGALOW
FOR RENT4 room furnished Bungalow within 3 blocks of postoffice for 6 months at reas
onable terms. Apply Maitland Realty Co. WHITEWAY
RESTAURANT & LUNCH ROOM F. H. MANNING, Prop.
special Chicken dinner Sundays
BUILD NOW
Substantial reductions in price on Lumber and Building Materials are now in effect. Labor is more plentiful and efficient. The demand for homes is steadily increasing. Whether for investment or speculation, you will save money by building now. THE MATLAND LUMBER CO.
Phone 1304-
(Illustrated House Plan Book is FREE)


Mr. and Mrs. E. N. Beech, who have been living in the Nelson apart ments for several months, left this week for DeLand, where Mr. Beech is stationed by the J. B. McCrary Co., for whom he is supervising engineer.
Greetings TO THE
MOTOR DRIVING PUBLIC FROM THE
White Way Motor Co. Maitland
We are here with a WILL to do, equipment to do WITH and know HOW. You always get a bargain when you get the BEST. Can wash your car C L E A N. Grease all but the cushions.
Have TIRES, TUBES and other ACCESSORIES. We estimate your job and stand by it.
Would like to have you call. Phone 1204-JOHN NELSON W. A. MANNING
THE MAITLAND NEWS
3]
A City Store in a
Country Town
Now Located in Our New Building
Modern Equipment Thruout
Quality, Prices and Service
Not Excelled in
Orange County
J. A. BROWN
Telephone 1310-R MAITLAND - FLORIDA
LOIS M. HAILE Public Stenographer Notary Public
Inter-City Realty Co. Real Estate Brokers MAITLAND - FLORIDA Phone Winter Park 1310-
EVERYTHING IN REAL ESTATE We have the exclusive lista ing on the most beautiful
Lake Front Properties in Maitland.
Lighting Fixtures A Better Line of Fixtures will be hard to find.
Floor, Table and Boudoir Lamps Toasters, Grills, Waffle Irons and Two Burner Stoves
MAITLAND ELECTRIC SHOP J. H. Bennett, Prop.
Maitland Plumbing Company C. D. HORNER Plumbing, Piping, Irrigating, Repairing ESTIMATES FURNISHED
BANK OF MA. ITL AND
A Local Bank For Local People
Your Home Town Comes First
Patronize its Stores and Industries
E. A. UPMEYER, Pres.
J. A. BROWN, VPres.
DONALD G. SPAIN, Cashier


NEW Books AT THE MAITLAND LIBRARY
The following are among the books recently received at the Maitland brary: Sard Harker, by John Masefield. John McNab, by John Buchan. The Man Nobody Knows, by Bruce Barton. The Kenworthys, by Margaret Wilson. The Red Lamp, by Mary Rhine. hart. - Queer Judson, by J. C. Lincoln. One Increasing Purpose, by A. S. M. Hutchinson. Quest, by K. N. Burt. The Inexcusable Lie, by H. R. (Pri. vate) Peet. Little Ships, by Kathleen Norris.
CARD OF THANKS We wish to thank the neighbors and friends who with their words of sympathy and acts of kindness, as well as their donations of flowers, helped to make our burden lighter. (Signed) . E. Fleming and Daughter, Mr. and Mrs. J. H. Bennett and family, Mrs. E. C. Pipkin, Mrs. E. T. Winn.
LOCAL ITEMS
Mr. Chas. B. Waterhouse, of Passaic, New Jersey, arrived Sunday to spend a week with his sister, Miss Stella Waterhouse. Mr. waterhouse and Mr. F. B. Conant, who is stay. ing in Winter Park, are here to at tend to some matters of business.
Mrs. James Doig has returned from New York, where she has been visit. ing for the past few weeks.
ten comm.AND.MENTS FOR THE HOME Town
II. Thou shalt guard thy home town from the hosts of evil that would invade and destroy her soul. Thou shalt keep the good name of thy home town clean, and without stain or blemish.
The Maitland News,
Maitland, Florida. I here with enclose for
years' subscription to The
Maitland News.
Name ...
Address
THE MAITLAND NEWS
Si INSURANCE.
Liability, fire, automobile, and standard lines.
REAL ESTATE.
In all its branches, with always a thought for tomorrow in the sales we make today".
PROPERTY CARE.
Intelligent management and care of groves, lots, houses, etc.
RENTALS.
A service to the owner and to the houseseeker as well.
FERTILITERS and INSECTICIDES.
Experience has shown us the best for this section.
If you need any of these let us tell you how we can serve you. No obligation.
Da a Reafor
M A IT L A N ID
REALTY COMPANY
Collection
Citation
"The Maitland News, Vol. 01, No. 04, May 29, 1926." RICHES of Central Florida accessed October 2, 2023, https://richesmi.cah.ucf.edu/omeka/items/show/5527.
Categories
Transcribe This Item