World War II Honor List of Dead and Missing Military Personnel from Manatee, Marion, Martin, Monroe, Nassau, and Okaloosa Counties
Files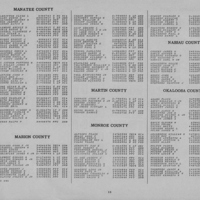 Dublin Core
Title
World War II Honor List of Dead and Missing Military Personnel from Manatee, Marion, Martin, Monroe, Nassau, and Okaloosa Counties
Alternative Title
World War II Honor List of Dead and Missing
Subject
World War II, 1939-1945
Veterans--Florida
Army
Description
A list of U.S. Army servicemen reporter either killed or missing during World War II. This particular page shows servicemen from Manatee, Marion, Martin, Monroe, Nassau, and Okaloosa Counties, Florida. A notable soldier listed in this record is Sergeant John F. Aylward, Jr. (1912-1944), who died on November 3, 1944, while serving in World War II. Also known as Jack, Sgt. Aylward was a part of the Headquarters Company within the 6th Armored Division, nicknamed the Super Sixth. Sgt. Aylward was originally from Ocala, Florida, and is interred at Epinal American Cemetery and Memorial in Dinozé, France.
Coverage
Manatee County, Florida
Marion County, Florida
Martin County, Florida
Monroe County, Florida
Nassau County, Florida
Okaloosa County, Florida
Mediator
History Teacher
Civics/Government Teacher
Rights Holder
This resource is not subject to copyright in the United States and there are no copyright restrictions on reproduction, derivative works, distribution, performance, or display of the work. Anyone may, without restriction under U.S. copyright laws:
reproduce the work in print or digital form
create derivative works
perform the work publicly
display the work
distribute copies or digitally transfer the work to the public by sale or other transfer of ownership, or by rental, lease, or lending.
This resource is provided here by
RICHES of Central Florida
for educational purposes only. For more information on copyright, please refer to
Section 5
of
Copyright Law of the United States of America and Related Laws Contained in Title 17 of the United States Code
.
Contributing Project
Epinal Cemetery Project
Curator
Jaimes, Kyle
Cepero, Laura
Digital Collection
Records Administration
Source Repository
External Reference
GRid=56370982.
Citation
"World War II Honor List of Dead and Missing Military Personnel from Manatee, Marion, Martin, Monroe, Nassau, and Okaloosa Counties." RICHES of Central Florida accessed October 3, 2023, https://richesmi.cah.ucf.edu/omeka/items/show/9307.
Categories
Transcribe This Item