Bird's Eye View of Orange Avenue Postcard
Dublin Core
Title
Bird's Eye View of Orange Avenue Postcard
Alternative Title
Orange Avenue Postcard
Subject
Orlando (Fla.)
Postcards--Florida
Shops
Stores, Retail--United States
Candy industry--United States
Buildings--Florida
Hardware industry--Florida
Description
Postcard showing a bird's eye view of Orange Avenue looking north. The cross street in the foreground is Church Street.

On the west side of Orange Avenue, at the corner of Church, is the White House Candy Palace at 140 South Orange Avenue. The Candy Palace was built circa 1908 and demolished circa 1928. The building replaced an earlier one that was destroyed by fire in 1907. The original building was white, which is how the White House Candy Palace got its name. The Candy Palace was replaced by the First National Bank Building in 2011.

On the east side of the street is the Guernsey Hardware building, formerly located at 135-141 South Orange Avenue. The hardware store was constructed circa 1881 and demolished in 1924. Guernsey Hardware as originally the Cassius A. Boone Hardware Store. Boone operated his hardware store along with his partner William A. Patrick. In 1895, the building and the stock was purchased by Joseph L. Guernsey. Boone chose to go into the citrus industry instead of running a store. Guernsey Hardware operated in the store until 1922 when the Woolworth Company obtained a 99-year lease and in 1924 built a new building that stood until 2004 when it was replaced with part of The Plaza office complex.
Source
Original 5.5 x 3.5 inch color postcard: C. T. American Art: Private Collection of Thomas Cook.
Publisher
C. T. American Art
Date Copyrighted
ca. 1920
Is Format Of
Digital reproduction of original 5.5 x 3.5 inch color postcard: C.T. American Art.
Is Part Of
Private Collection of Thomas Cook.
Requires
Medium
5.5 x 3.5 inch color postcard
Coverage
Orlando, Florida
Spatial Coverage
28.540676, -81.379037
28.54098, -81.379008
Temporal Coverage
1920-01-01/1920-12-31
Mediator
History Teacher
Economics Teacher
Geography Teacher
Provenance
Originally published by C. T. American Art .
Rights Holder
Copyright to this resource is held by C. T. American Art and is provided here by RICHES of Central Florida for educational purposes only.
Contributing Project
Digital Collection
Source Repository
Private Collection of Thomas Cook
External Reference
"Downtown Orlando Historic District Walking Tour." City of Orlando. http://sanfordhistory.tripod.com/Links/wtour.pdf.
Rajtar, Steve. A Guide to Historic Orlando. Charleston, SC: History Press, 2006.
External Reference Title
Transcript
BIRD'S EYE VIEW OF ORANGE AVENUE, LOOKING NORTH, ORLANDO, FLA.
THIS SPACE FOR WRITING MESSAGES.
C.T. AMERICAN ART
POST CARD
THIS SPACE FOR ADDRESS ONLY
U.S. POSTAGE 2 CENTS 2

Colfax bcc[?]
May 14-

Dear Leutiv[?]-received your card we are both well- will write you a letter soon-we have been so busy here cleaning, and other things too. The weather has been bad here.

Aunt Sou

Mrs. Anerge[?] Omicheal[?]
Frankfurt, Indiana
552 Grun[?]
Still Image Item Type Metadata
Original Format
1 color postcard
Physical Dimensions
5.5 x 3.5 inch
Files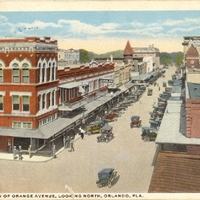 Collection
Citation
"Bird's Eye View of Orange Avenue Postcard." RICHES of Central Florida accessed June 9, 2023, https://richesmi.cah.ucf.edu/omeka/items/show/973.
Categories
Transcribe This Item