Court House and Lake Eola Postcard
Files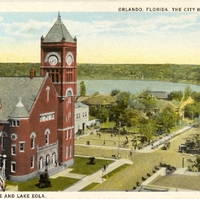 Dublin Core
Title
Court House and Lake Eola Postcard
Alternative Title
Courthouse and Lake Eola Postcard
Subject
Orlando (Fla.)
Postcards--Florida
Orange County (Fla.)
Clock towers
Courthouses--Florida
Buildings--Florida
Lakes--Florida
Description
Postcard showing the Victorian-style Orange County Courthouse with Lake Eola in the background. The streets are Main Street (present-day Magnolia Avenue) and Central Avenue (present-day Central Boulevard). The Orange County Courthouse was constructed in 1892 and its cornerstone was laid on January 15, 1892. The architect was A. S. Wagner and the general contractor was the W. C. Green Company of Chicago, Illinois. The red brick, three-story building, which cost $57,000, was built in the Gothic Revival style with a eighty-foot high clock tower. The clock and bell were provided for by W. C. Sherman, a local businessman who raised several thousand dollars for the project. The clock mechanism was manufactured by Dent, London, founded by Edward John Dent, the company which made the Big Ben clock movement in London, England. The bell in the tower weighed 1,500 pounds, was tuned "F", was selected by local musician Harry Newell, and, as of 2011, is on display in the lobby of the Orange County Courthouse. The Orange County Courthouse occupied the building until 1927, when a new primary courthouse was constructed next door. Afterward, it was used for Orange County offices. On July 30, 1957, the building was condemned and then demolished on December 30, 1957. A new Orange County Courthouse Annex building was constructed on the site. In the late 1990s, the Courthouse Annex was demolished and replaced with an urban park called Heritage Square, owned by Orange County.

The gray building on the right is the McEwan Clinic, located at 100 East Central Boulevard, which was constructed in 1911. The original owner was Dr. John Singer McEwan. The building was designed to be Orlando's first public hospital. A third story was added circa 1920 to make a total of twenty hospital rooms. Apart from being a hospital and clinic, it was also the Florida Public Service Corporation, later the office of the Florida Gas Company, clothing stores (Artistry), and a 7-Eleven. As of 2011, it is the Central Station Bar. Across the Main Street from the Courthouse is the Orlando Lawn Bowling Clubs grounds.
Creator
C. T. American Art
Source
Original 5.5 x 3.5 inch color postcard by C. T. American Art: Asheville Post Card Company, Asheville, North Carolina: Private Collection of Thomas Cook.
Publisher
Asheville Post Card Company
Date Copyrighted
ca. 1925
Is Format Of
Digital reproduction of original 5.5 x 3.5 inch color postcard by C. T. American Art: Asheville Post Card Company, Asheville, North Carolina.
Is Part Of
Private Collection of Thomas Cook.
Requires
Medium
5.5 x 3.5 inch color postcard
Coverage
Orlando, Florida
Spatial Coverage
28.54214, -81.377439
28.541964, -81.377345
Temporal Coverage
1925-01-01/1925-12-31
Mediator
History Teacher
Civics/Government Teacher
Economics Teacher
Geography Teacher
Humanities Teacher
Visual Arts Teacher
Provenance
Originally created by C. T. American Art and published by the Asheville Post Card Company.
Rights Holder
Copyright to this resource is held by C. T. American Art and is provided here by RICHES of Central Florida for educational purposes only.
Contributing Project
Digital Collection
Source Repository
Private Collection of Thomas Cook
External Reference
"Downtown Orlando Historic District Walking Tour." City of Orlando. http://sanfordhistory.tripod.com/Links/wtour.pdf.
"Elks History Project." The Benevolent and Protective Order of Elks of the United States of America. http://www.elks.org/history/.
"Orange County Courthouse," Ninth Judicial Circuit Court of Florida. http://www.ninthcircuit.org/about/courthouses/orange/.
Rajtar, Steve. A Guide to Historic Orlando. Charleston, SC: History Press, 2006.
External Reference Title
Transcript
ORLANDO, FLORIDA, THE CITY BEAUTIFUL 21.
COURT HOUSE AND LAKE EOLA.

POST CARD

THIS SPACE FOR WRITING MESSAGES

THIS SPACE FOR ADDRESS ONLY

PLACE STAMP HERE
ONE CENT
FOR UNITED STATES
AND ISLAND POSSESSIONS, CUBA, CANADA, AND MEXICO
TWO CENTS FOR FOREIGN
Still Image Item Type Metadata
Original Format
1 color postcard
Physical Dimensions
5.5 x 3.5 inch
Collection
Citation
C. T. American Art. "Court House and Lake Eola Postcard." RICHES of Central Florida accessed September 26, 2023, https://richesmi.cah.ucf.edu/omeka/items/show/988.
Categories
Transcribe This Item