The Watermark, Vol. 12, No. 11, June 2-15, 2005
Files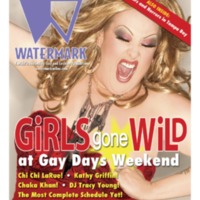 Dublin Core
Title
The Watermark, Vol. 12, No. 11, June 2-15, 2005
Alternative Title
Watermark, Vol. 12, No. 11
Subject
Gay culture--United States
Description
The eleventh issue of the twelfth volume of The Watermark was published on June 2, 2005 and covered a wide range of topics and stories of interest to the LGBTQ+ (Lesbian, Gay, Bisexual, Trans, Queer/Questioning, and others) community. The headline story surrounded the ongoing investigtion of the deaths of two Tampa men, Jason Galehouse (1977-2003) and Michael Wachholtz (1977-2003). Steve Lorenzo and Scott Schweickert, who were arrested in 2005 for the murders, would not be convicted until over a decade later. Also included in this issue was the proposal of a new federal bill that included transgendered people as a protected class, the postponement of WorldPride, and the closing of a local Tampa business. In the Water Colors section, former Christian singers Jason and DeMarco gave an interview. This issue of The Watermark featured spotlights of many famous women who would be entertaining the masses at Gay Days Weekend 2005, the largest annual gathering of LGBTQ+ people in Orlando, as well as a schedule of events. Overall, this issue provided readers with answers, information, and entertainment.

Since 1994, The Watermark has been the cornerstone source of LGBTQ+ centered news for the Central Florida region. Founded by Tom Dyer in Orlando, the publication began generating bi-weekly issues beginning August 31, 1994. Since then, The Watermark has consistently published newspaper-style issues every other Thursday. Gaining traction, the publication expanded in 1995 to include Tampa and, in 1997, The Watermark became a permanent piece of LGBTQ+ culture when the publication initiated the first large-scale Gay Days Weekend event, the Beach Ball at Disney's Typhoon Lagoon. Before 1999, the publication printed 20,000 copies every week, distributing them to over 500 locations between its two major cities. Following 1999, the publication launched watermarkonline.com shifting to an online publication style. In 2016, Rick Claggett purchased The Watermark.
Creator
Baber, Keith
Blanchard, Steve
Crescitelli, Jim
DeJesus, Edwin
Dyer, Tom
Ferber, Lawrence
Hartlage, Kirk
Jenkins, Georgia
Kundis, Ken
Leiner, Victor
Masters, Billy
Middour, Bryan L.
Murray-Parker, Karen S.
Nolan, Margaret
Paull, Anthony
Roehr, Bob
Triggs, Greg
Walen, Rick
Wiethop, Dave
Wiggins, Jayelle
Wilde, Diane
Source
Original 80-page newspaper:
The Watermark
, Vol. 12, No. 11, June 2-15, 2005: Watermark Publishing Group, Orlando, Florida.
Publisher
Date Created
ca. 2005-06-02
Date Copyrighted
2005-06-02
Requires
Coverage
Orlando, Florida
Tampa, Florida
Sarasota, Florida
Tomes and Treasures, Tampa, Florida
Washington, D.C.
Jerusalem, Israel
Pulse, Orlando, Florida
Wyndham Palace Resort and Spa, Lake Buena Vista, Florida
Sheraton World Resort, Orlando, Florida
Courtyard by Marriott Orlando, Lake Buena Vista, Florida
Digital Collection
Source Repository
Collection
Citation
Baber, Keith et al.. "The Watermark, Vol. 12, No. 11, June 2-15, 2005." RICHES of Central Florida accessed September 27, 2023, https://richesmi.cah.ucf.edu/omeka/items/show/10728.
Categories
Transcribe This Item