PO Box Receipt for R. C. M. Zachary (September 30, 1954)
Files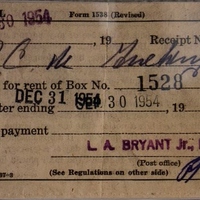 Dublin Core
Title
PO Box Receipt for R. C. M. Zachary (September 30, 1954)
Alternative Title
PO Box Receipt for Zachary (September 30, 1954)
Subject
Orlando (Fla.)
Post offices
Description
A receipt for a PO box for R. C. M. Zachary with the box number that he paid for, listed along with the dates of purchase and when the rent for the PO box expires. In addition, the receipt shows the exact amount of $4.52 that Zachary paid along with the stamp of approval from postmaster L. A. Bryant Jr.
Creator
Bryant, L. A., Jr.
Is Format Of
Digital reproduction of original receipt, September 30, 1954.
Coverage
Downtown Orlando Post Office, Downtown Orlando, Florida
Mediator
History Teacher
Civics/Government Teacher
Provenance
Originally created by L. A. Bryant, Jr.
Contributing Project
Curator
Tran, Tristan
Cepero, Laura
Digital Collection
Source Repository
Transcript
Original For, 1538( revised) 1422
Date Sep. 30, 1954, 19__, Reciept No. ___________
M R. C. Zachary
Has paid for rent of Box No. 1528
For quarter ending Dec 31 1954 , 19__ $4.50
Received payment_______________________
L. A. Bryant Jr., postmaster
Document Item Type Metadata
Original Format
1-page receipt
Collection
Citation
Bryant, L. A., Jr.. "PO Box Receipt for R. C. M. Zachary (September 30, 1954)." RICHES of Central Florida accessed September 21, 2023, https://richesmi.cah.ucf.edu/omeka/items/show/5552.
Categories
Transcribe This Item