Browse Items (5 total)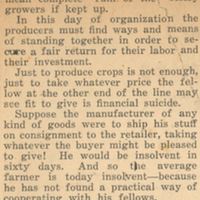 A newspaper article published by The Central Florida Press on June 20, 1930. This article argues the need for Seminole County to develop a cooperative for celery growers. Seminole County, especially Sanford, was well-known in the late 19th and early…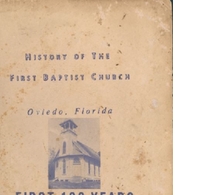 A history of the First Baptist Church of Oviedo from its founding in 1869 to its centennial celebration in 1969. The book begins with a brief history of the Central Florida area, followed by a history of Oviedo. The first service for the First…
Tags: A. A. Daniel; A. A. Myers; A. B. Tedford; A. C. Hart; A. C. Turner; A. Flourny Jernigan; A. J. Metcalf; A. P. Farnell; A. R. Metcalf, Jr.; A. Solaria; Alex Lawton; American Civil War; Amerindian; Andrew Aulin; Andrew Aulin, Sr.; Andrew Lawton; anniversary; Apopka; Argo's Store; Arthur Scott; B. F. Ward, Jr.; B. F. Ward, Sr. R. F. Cooper; B. F. Wheeler; B. F. Wheeler, Jr.; B. F. Wheeler, Sr.; B. Z. Hunter; Baptists; Basil Mays; Beasley; Benjamin Franklin Wheeler; Benjamin Franklin Wheeler, Jr.; Benjamin Franklin Wheeler, Sr.; Billie Buster; Brewster; Broadway Street; Brush Arbor; C. A. Love; C. D. Weaver; C. F. Rolquist; C. J. Broome; C. K. Buckelew; C. W. Holder; Caloosa; centennial; Charles Simeon Lee, Jr.; Christian; Christianity; Chuluota; Chuluota Baptist Church; churches; citrus; Civil War; clergy; Clermont; Clifton Springs; colonization; colony; Creek; D. D. Gammage; Dan F. Thomas; deacon; Delco Light Plant. Goldenrod; Diane Aulin; Diane Aulin Keller; Donald L. Orman; E. A. Farnell; E. Lee Smith; education; enterprise; F. A. Peirson; F. C. Edwards; F. C. Morgan; FBC; First Baptist Church of Oviedo; Florida Mosquito Territory; Fort Christmas; Fort Drum; Fort Gatlin; Freeze of 1894; freezes; G. W. Alford; Goldenrod Baptist churches; Groveland; groves; growers; H. B. McCall; H. H. Link; Hammond organ; Henry Walcott; Homecoming Day; Howard S. Gott; Indian; Iniah Honchin; Ira Rouse; Isaacs; J. A. Richardson; J. B. Rogers; J. C. Hatlzelow; J. E. Okerlund; J. F. Mitchell; J. G. Black; J. H. King; J. H. Lee, Sr.; J. I.; J. I. Beasley; J. M. Jones; J. M. Kones; J. Max Cook; J. N. Thompson; J. O. Fries; J. O. Jelks; J. P. Jacobs; J. S. Day; J. T. Bryant; J. T. Wheeler; J. W. Martin; Jack T. Bryant; James G. Speer; Jelks; Joe Fox; Joe Leinhart; John Hiram Lee, Sr.; John M. Camp; John S. Womble; Joseph Leinhart; Joshua P. Jacobs; Julia Golden; K. Swonson; L. A. Hardy; L. L. Day; Ladies Aid Society; Lake Charm; Lake Jessup Avenue; Lake Jessup Community; Lake Jessup Settlement; Lake Jesup; Lawton; Lois Ruddell; Lord; Lund; M. E. Brock; Magazine Club of Oviedo; Maitland; Mary Gwynn; Mary Jacobs; Mary Walker; Milton Gore; Missionary Baptist churches; Mosquito County; Muskogan; Native American; Needham Jelks; Nelson; Nelson Brothers; Nettie Aulin; Nettie Jacobs; Nettie Jacobs Aulin; O. M.; orange county; Orange Grove Baptist Church; oranges; organ; orlando; Oviedo; Oviedo Baptist churches; P. H. Brown; pastor; Pearl G. Martin; Pride of Oviedo; R. L. Ward; R. L. Wheeler; R. M. Hickman; R. W. Dickert; R. W. Lawton; religious education; Reminiscence Fair; reverend; Robert Lawton; S. C. Dorsey; S. W. Sheffield; schools; Seminole; Seminole County; Sexton; shipping; slave; slavery; Solaria's Wharf; St. Johns River; St. Volusia; Statson University; Sunday schools; T. H. Daniell, Sr.; T. J. Bell; T. W. Lawton; Ted Aulin; The Lodge; Theodore Aulin; Theodore Aulin, Jr.; Theodore Aulin, Sr.; Thomas Willington Lawton; Tom Lawton; Tom Wheeler; Tomokan; Tucker; Tuscovilla; W. A. Jelks; W. A. Ward, Jr.; W. E. Alexander; W. G. Powell; W. H. Luther; W. H. Martin; W. J. Lawton, Sr.; W. P. Carter; W. P. Rogers; W. S. Sommerville; W. T. Walker; W. W. Townson; Walter Gwynn; Whitney-Wolcott House; Will Alexander; William Clevor; William H. Martin; Williams Stones; Winborn Joseph Lawton, Sr.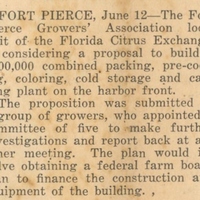 A newspaper article published by The Central Florida Press on June 20, 1930. According to the article, the Fort Pierce Growers' Association, which was a local unit of the Florida Citrus Exchange (FCE), was considering a proposal to build a packing,…

An original letter of correspondence written by Sydney Octavius Chase, Jr. to Sydney Octavius Chase, Sr. and Joshua Coffin Chase. The letter summarizes a meeting that Sydney, Jr. attended relating to the marketing and selling of citrus products…
Tags: American Telephone & Telegraph Company; Attaberry; Austin car; Australia; Burton; Chase and Company; Chase, Joshua Coffin; Chase, Sydney Octavius; Chase, Sydney Octavius, Jr.; Chase, Sydney Octavius, Sr.; citrus; citrus industry; farmers; Farmers' Marketing System; fruits; growers; Lake County; market; marketing; Mellon, Andrew; Municipal Auditorium; Nutting, L. B; Nutting, L.B.; orlando; Pennsylvania Railway; Pickard, A. E.; shippers; shipping; Southern Railway; Stockfeld, H. H.; vegetables; Way, S. Y.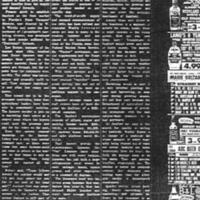 Newspaper article, written for the The Sanford Herald in 1969, on the history and business of the Sanford State Farmers' Market.

Located at 1300 South French Avenue, was founded in 1934 in order to provide a central location in which farmers would…