Browse Items (5 total)
Tags: Benjamin Franklin Wheeler, Jr.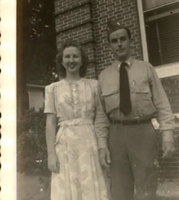 Wife and husband, Jean Maran Wheeler (1921-2001) and Benjamin Franklin Wheeler, Jr. (1920-2006) around 1943. Wheeler was the son of prominent citrus grower, celery cultivator, and politician Benjamin Franklin Wheeler, Sr. (1878-1954) and George Lee…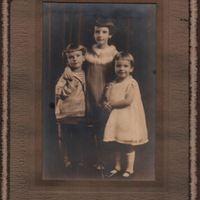 The children of prominent citrus grower, celery cultivator, and politician Benjamin Franklin Wheeler, Sr. (1878-1954) and George Lee Wheeler in the mid-1920s.. Photographed from left to right are Benjamin Franklin Wheeler, Jr. (1920-2006); Clara Lee…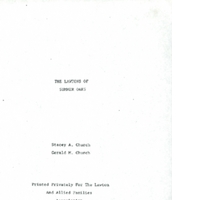 The family lineage for the Lawtons of Summer Oaks in Oviedo, Florida. This family tree begins with William Lawton, who was born in England, and continues through to the family of Betty Jean Aulin Reagan. This booklet is missing pages 2, 3, and 5.…
Tags: Alan Denise Evans; Alan Laurie; Alexander Benjamin Lawton; Alice Irene Barlett; Alice Kathryn Aulin; Alice Kathryn Aulin Bunch; Allen Baker Grogan; Allene Baker; Allie Belle McLeish; Allie Belle McLeish Lawton; Allison Susanne Taylor; Allyson Clare Kinsey; Allyson Clare Kinsey Evans; Almarion Lorraine Colquitt; Almarion Lorraine Colquitt King; Alton Asa Dunaway; Amber Miller; Amy Clark Lawton; Amy Louise Hendrix; Amy Louise Hendrix Steil; Andrea Nicole Phillips; Andrea Nicole Phillips Hendrix; Andrew Aulin; Andrew Scott Reagan; Andy Aulin; Ann Neely Lawton; Ann Reagan; Anna Leola Hats; Anna Leola Hays Miller; Anna Lona Miller; Anna Lona Miller Johnson; Annabelle Linger; Annabelle Linger Lawton; Arthur Frank Evans; Audrey June Wilson; B. F. Wheeler, Jr.; B. F. Wheeler, Sr.; Ben Franklin Wheeler; Benjamin F. Lawton; Benjamin Franklin Wheeler III; Benjamin Franklin Wheeler, Jr.; Benjamin Franklin Wheeler, Sr.; Benjamin Themistocles Dion Lawton; Bennett Jay Johnson; Betty Joan Ottalani; Betty Joan Ottalani Freckelton; Betty Lou Brau; Betty Lou Brau Miller; Betty Sue Terry; Betty Sue Terry Lawton; Betty Virginia Miller; Bettye Jean Aulin; Bettye Jean Aulin Reagan; Beulah Lawton; Beverly Elaine Hughes; Beverly Elaine Hughes Evans; Billie Beatrice Bunch; Billie Beatrice Bunch Dingman; Bird Mary Lee; Birdie Lawton; Birdie Lawton Grogan; Brandi Lawton Tolar; Brandon Wayne Langham; Brett Thomas Lawton; Brian Douglas Swank; Brian Keith Leibfried; Brian Ottalani; Brooksville; Buddy Keller; Calhoun Wilson Hendrix; Carol Lorraine King; Carol Lorraine King Rhyme; Carole Joan Norton; Carole Joan Norton Berrong; Caroline Elizabeth Evans; Caroline Elizabeth Evans Leibfried; Casey Dyan Carron; Casey Dyan Carron Keller; Catherine Elizabeth Long; Catherine Elizabeth Long Evans; Charles Aulin; Charles Hampton Harris; Charles Homer Colquitt; Charles John Lawton; Charles Warren Aulin; Charles William Evans; Charlet Sue Genton; Charlet Sue Genton Wheeler; Charlotte Lee; Charlotte Lee Lawton; Charlotte Lee Lawton Mikesell; Chester Lee Phillips; Christopher Kevin Grogan; Christopher Leon; Christopher Wilson; Cindy Deborah Church; Cindy Deborah Church Hunt; Claire Lee Wheeler; Claire Lee Wheeler Evans; Claire Marena Leinhard; Claire Marena Leinhard O'Brien; Clara Curtis Lawton; Clara Curtis Lawton Leinhard; Clara Isabelle Lawton; Clara Isabelle Lawton Wheeler; Clara Lawton; Clara Lawton McKinney; Clara Lee Wheeler; Clara Lee Wheeler Evans; Clara Lillian Adams; Clara Lillian Adams Sullivan; Clara Mattie Colquitt; Clara Mattie Colquitt Allen; Claude DeWitt Moore; Clifford Lilburn Rhyme; Connie Lawton; Connie Lawton Griggs; Connor Lucas Keller; Courtney Ann Erwin; Craig Allen Berrong; Dan Lloyd McKibber; Daniel Blaine Mikesell; Daniel Lee Reagan; David Guy Ottalani; David Lee Evans; Dawn Michelle Grogan; Debbie Lynn Reagan; Deborah Bailey; Deborah Bailey Lawton; Debra Jane Harris; Debra Jane Harris Matkin; Dee Royston Allen; Diana Leigh Evans; Diane Jean Berrong; Diane Sue Aulin; Diane Sue Aulin Keller; Diane Sue Aulin Pentz; Donald Henry Stiel; Donald T. Reagan; Donna Lee Barrack; Donna Lee Barrack Evans; Donna Neely; Donna Susan Miller; Doris Arine McKinney; Doris Arine McKinney Lawton; Dorothy Louise Stone; Dorothy Louise Stone Grogan; Dorothy Virginia Lawton; Dorothy Virginia Lawton Johnson; Doyle Dauphin; Dustin Chavallier; Edisto Island Plantation; Edward Paul Chavallier; Edwina Tuggle; Edwina Tuggle Lawton; Eldred Pierce Bruce; Eliaine Allison Grogan; Elizabeth Ann McKinney; Elizabeth Ann Moon; Elizabeth Ann Moon Aulin; Elizabeth Joan Freckelton; Elizabeth Joan Freckelton McGowan; Elizabeth Lawton Andress; Elizabeth Mary Brisbane; Elizabeth Mary Brisbane Lawton; Elizabeth Moon; Elizabeth Moon Aulin; Emily Wilson; Emily Wilson Lawton; Emma Lenora Lawton; Emma Lenora Lawton Aulin; Emma Marie Aulin; Eric Lawton Grogan; Ethel Elizabeth Kramer; Ethel Elizabeth Kramer Colquitt; Eusebia Lawton; Evelyn Wheeler; Evelyn Wheeler Kemp; Fannie Pearl Colquitt; Florence Wheeler; Florence Wheeler Campbell; Frances Carden; Frances Carden Bernreuter; Frank Wheeler, Jr.; Frank Wheeler, Sr.; Fred Emmett Hamiter; Frederick Clinton Berrong; Freida Lou Guy; Freida Lou Guy McKinney; G. Douglas Swank; Gary Lawton Grogan; Geneva; George Beauregard Wilber; George Joseph Lawton; George L. Simpson; George Lee; George Lee Wheeler; George William Martin; Georgia Lee; Georgia Lee Wheeler; Gerald Marshall Church; Glenda Lawton; Gloria Lewis; Gloria Lewis McKinney; Glorianna Lawton; Glover L. Bernreuter; Grace Marie Smith; Grace Marie Smith Lawton; Greta Lynn Simpson; Guinever Elizabeth Morgan Lawton; Guinevere Elizabeth Morgan; Guy Adams Ottalani; Guy Felix Ottalani; Guy Nixon Lawton; Guy Wayne Langham; Harrison Jean Laney; Hazel Pamela West; Hazel Pamela West Martin; Helen Bernreuter; Helen Lawton; Helen Lawton Bernreuter; Henry Franklin Colquitt; Henry Peyton Colquitt; Henry Wilson Keller; Herb Bickers; Hugh Benjamin McKinney; Hugh Clifford McKinney; Ida Jane Carson; Ida Jane Carson Lawton; Ida Lawton; Ida Lawton Colquitt; Ida Peyton Colquitt; Ida Peyton Colquitt Wilber; Irene Lavelle Lawton; Irene Lavelle Lawton Sibley; Jack Lilburn King; Jack Todd Miller; Jackson McGowan; Jacksonville; James A. Miller; James Alexander Graham; James Barry Freckelton; James Clayton; James Elbert Moncrief; James Garrett Lawton; James Guy Freckelton; James Longeran Sullivan; James Lutellus Nichols; James Richards; James Russell Lee; James Theodore Aulin; James Tillman Grogan; James Wilburn Grogan; Jane Ann Beauregard; Jane Anne Grogan; Jane Anne Grogan Church; Jane Kathryn Polk; Jane Kathryn Polk Beauregard; Jane Lawton Moncrief; Jane Lawton Moncrief Miller; Jane Mosse; Jane Mosse Lawton; Jason Bickers; Jason Lilburn King; Jason Theodore Aulin; Jean Audrey Moran; Jean Audrey Moran Wheeler; Jefferson Miller Moncrief; Jeffrey Martin Hendrix; Jeffrey Neal Berrong; Jeremiah Lawton; Jeremy Dauphin; Jill Lawton; Jo Ann Miller; Jo Ann Miller Nichols; Jo Lynn Moncrief; Jo Lynn Moncrief Laurie; Joan Berrong; Joan Berrong Anderson; Joan Lareatha Bernreuter; Joan Lareatha Bernreuter Trowbridge; John Arthur Evans; John Cater Lawton; John Joseph Leinhard; John Kinglsey Lawton; John Lilburn King; John Marion Miller; John O'Connor Adams; John Raymond Shearer; John Settle; John Thomas Wheeler; John Wesley Evans; John William Martin; John Winborn Miller; Joseph James Lawton; Joseph Lawton; Josephine Lawton; Josiah Lawton; Judge Aulin; Judi Berrong; Julia Ann Hamiter; Julia Ann Hamiter Andress; Julia Lawton; Julia Lawton Hamiter; Julia Nadine Davis; Julia Nadine Davis Aulin; Julie Karen Reagan; June Ann McCary; June Anne McCary Mitchell; Justin Miller; Katherine Louise McKinney; Katherine Louise McKinney Chavallier; Kathleen Reagan; Kathleen Susan Bernreuter; Kathryn Eileen Phillips; Kathryn Eileen Phillips Berrong; Kathryn Elizabeth Beauregard; Kathryn Elizabeth McKibber; Kathryn Lee Wheeler; Kathryn Lee Wheeler Leon; Kathryn Louise Lawton; Kathryn Louise Lawton Varn; Kathy Ann Harris; Kathy Ann Harris Langham; Kathy Irene Johnson; Kathy Irene Johnson Steen; Kathy Irene Johnson Wilkerson; Kathy Lee Wheeler; Kathy Lee Wheeler Leon; Katie May Adams; Katie May Adams Phillips; Kaylin Marie Evans; Kenneth Mitchell Griggs; Kevin Ottalani; Kevin Raymond Berrong; Kimberley Louise Morris; Kimberley Louise Morris Miller; Kirk Ashley Grogan; Kissimmee River; Lane Palmer Lundy; Lareatha Tonguet; Lareatha Tonguet Bernreuter; Larry Clinton McKinney; Laura Harmon; Laura Harmon Ottalani; Laura Lee Evans; Laura Lee Evans Neil; Lawrence Clifford Rhyme; Lawrence Wayne Hamby; Lawton and Allied Families Association; Lawton Gwynn Bernreuter; Lawton Smith Berrong; Lee Burton Hunt; Lee Holley Mitchell; Letcher Burton Hunt; Lillian Della Lee; Lillian Della Lee Lawton; Lillian Elizabeth Lawton; Lillian Elizabeth Lawton Laney; Lillie Clara McKinney; Lillie Clara McKinney Mitchell; Lily LaVange Neil; Linda Etel Colquitt; Linda Etel Colquitt Taylor; Linda Lou Davis; Lisa Ann Robinson; Lisa Ann Robinson Andress; Lisa Jane Lundy; Llewellyn Roberts Barlett, Jr.; Lona Kathryn Johnson; Lona Kathryn Johnson Clayton; Lona Kellam Colquitt; Lona Lawton; Lona Lawton Aulin; Lona Pierson Lawton; Lona Pierson Lawton Miller; Lorene Aulin; Lori Anne Roussell; Lori Anne Roussell Aulin; Lorraine Lawton; Lorraine Lawton Berrong; Lottie Lee; Lottie Lee Lawton; Lucille Adams; Lucille Adams Ottalani; Lucy Nell Wainwright; Lucy Nell Wainwright Colquitt; Margaret Elizabeth Grogan; Margaret Ellyn Barlett; Margaret Ellyn Barlett Torrence; Margaret Emily Lawton; Margaret Emily Lawton Dunaway; Marian Lee Swank; Marilyn Lee Mikesell; Marilyn Lee Mikesell Swank; Marissa Jane Hunt; Marjorie Lee Simpson; Mark McDannald Martin; Marlin Leon Smith; Marsha Greer Mikesell; Marsha Greer Mikesell Bremerkamp; Marsha Greer Mikesell Simpson; Martha Ann Bruce; Martha Ann Bruce Wilson; Martha Ann Colquitt; Martha Ann Colquitt Erwin; Martha Lawton; Martha Lee Courier; Martha Lee Courier Wheeler; Martha Lenora Aulin; Martha Lenora Aulin Wheeler; Martha S. Lawton; Martha S. Lawton Gwynn; Martin Leon Smith; Marty Ann Bruce; Marty Ann Bruce Wilson; Mary Alice Powell; Mary Alice Powell Aulin; Mary Ann Lawton; Mary Ann Lawton Harris Mary Ann Lawton Smith; Mary Anne Martin; Mary Anne Martin Hendrix; Mary Clarke; Mary Clarke Lawton; Mary Elizabeth Hamiter; Mary Elizabeth Matkin; Mary Gwynn; Mary Gwynn Lawton; Mary Hallie Colquitt; Mary Hallie Colquitt Settle; Mary Hannah Aulin; Mary Hannah Aulin Grogan; Mary Jane Lawton; Mary Kathryn Bunch; Mary Kathryn Bunch Hamby; Mary Lawton; Mary Leonora Aulin; Mary Leonora Aulin Barlett; Mary Lina Lawton; Mary Lisa Lawton; Mary Lorraine Cox; Mary Lorraine McKinney; Mary Martha Grogan; Mary Martha Grogan Lundy; Mary Mathews; Mary Pauline Wheeler; Mary Peyton Hendrix; Mary Ruth Griffin; Mary Ruth Griffin Lawton; Mary Sams; Mary Sams Grimball; Mary Sams Grimball Lawton; Mary Sams Grimball Lawton Fickling; Mary Stone Grimball; Mary Stone Grimball Lawton; Mary Winborn; Mary Winborn Lawton; Mattie Clifford McKinney; Mattie Clifford McKinney Lee; Mattie Josephine Lawton; Mattie Josephine Lawton Adams; Melanie Sommer Miller; Meriwether Blair Dickinson; Merle Lynn Eldridge Grogan; Merle Lynn Eldrige; Michael Douglas Berrong; Michelle Moran Bruce; Michelle Moran Bruce Piper; Miriam Ann Wheeler; Miriam Ann Wheeler Bruce; Miriam Louise Wheeler; Miriam Louise Wheeler Martin; Mulberry Grove Plantation; Myatt Bernard Johnson; Nancy Ann Barlett; Narcissa Melissa Lawton; Neal Erwin; Nettie Dorcas Jacobs; Nettie Dorcas Jacobs Aulin; Nicole Leigh Aulin; Nicole Leigh Aulin Jakubcin; Noah Benjamin Wheeler; Novella Almarine Carter; Novella Almarine Carter Aulin; Olan Ray Lundy; orlando; Oviedo; Oviedo: Biography of a Town; Pat Warren; Pat Warren Wheeler; Patricia Carol Dunaway; Patricia Carol Dunaway Shearer; Patricia Eileen Barlett; Patricia Eileen Barlett Armstrong; Patricia Gray Garrett; Patricia Gray Garrett Lawton; Patrick Kelley Reagan; Patrick O'Brien; Patrick Reagan; Patsey Louise Grogan; Patsey Louise Grogan Richards; Paul Campbell; Paula Jeanne Abbott; Paula Jeanne Abbott Martin; Pearl Allison; Pearl Allison Lawton; Peggy Ottalani; Phoebe Sarah Lawton; Pierce Sutherland Graham; Pierre Robert; Polly Wheeler; R. Edward Bremerkamp; Rachal McKinney; Ralph Raymond McKinney; Ralph Waldo Lawton; Randall Michael Miller; Raymond Christian McKinney; Raymond Winborn Lawton; Rebecca Ann Smith; Rebecca Ann Smith Tolar; Rebecca Carol Miller; Reid Gregory Hendrix; Richard Adicks; Richard Bickham Miller; Richard Burdette Bunch; Richard Eugen Anderson; Richard Roderick Jakubcin; Rita Catherine Robinson; Rita Catherine Robinson Grogan; Robert B. Trowbridge; Robert Charles Lawton; Robert Charles Matkin; Robert Edward Pentz; Robert Franklin Harris; Robert Gary Taylor; Robert James Lawton; Robert Kenneth Miller; Robert Lee Kemp Wheeler; Robert Lee Wheeler; Robert Themistocles Lawton; Robert Torrence; Robert William Lawton; Robin Clara McKinney; Roma Ann McKinney; Roman Ann McKinney Martin; Ronald Furman Lawton; Ronda Lawton; Ronda Lawton Dauphin; Rosemary Phillips; Rosemary Phillips Harris; Rowan Alexander Piper; Ruth Ida Aulin; Sandra Aulin; Sandra Elizabeth Procell; Sandra Elizabeth Procell McKinney; Sarah Lawton; Sarah Lucille Lawton; Sarah Lucille Lawton Dickinson; Sarah Marshall; Sarah Marshall Lawton; Sarah Robert; Sarah Robert Lawton; Scott Lawton; Scott Reagan; Sean Edward Piper; Shelley Moran Bruce; Shelley Moran Bruce Piper; Sherrie Gail Lawton; Sherrie Gail Lawton Bickers; Sherry Smith; Sheryl Guy Lawton; Skip Hendrix; St. James Island; Stacey Allen Church; Stacey Allene Church; Steven Aulin; Steven Kendall McKinney; Summer Oaks; Susan Denise Miller; Susan Denise Miller Evans; Susan Elaine Johnson; Susan Elizabeth Colquitt; Susan Elizabeth Colquitt McKibber; Susan Kathleen Perham; Susan Kathleen Perham Laney; Susan Ottalani; T. W. Lawton, Jr.; T. W. Lawton, Sr.; Ted Aulin; Terrell Hugh Mitchell; Thelma Lee; Thelma Lee Clonts; Thelma Louise Wheeler; Theodore Aulin; Thirza Lawton; Thomas Charles Lawton; Thomas J. Lawton; Thomas Wayne Armstrong; Thomas Wilkerson; Thomas Willingham Lawton, Jr.; Thomas Willingham Lawton, Sr.; Timothy Miles Matkin; Tina Grace Dunn Rogers; Tina Grace Dunn Rogers Wheeler; Todd Christopher Keller; Tom Lawton; Velma Leonora Grogan; Virgil Guy Martin; Virginia Olive Lawton; W. J. Lawton, Jr.; W. J. Lawton, Sr.; Walter Gwynn; Walter Gwynn Lawton; Walter Harold Varn; Walter Kenneth Neil; Wilber Gerald Beauregard; Wilber Lamar Sibley; Wilburn Aulin Grogan; Wilburn Michael Grogan; William Alex Colquitt; William E. Dingman; William Edward Lawton; William Henry Lawton; William Henry Martin; William Lawton, Jr.; William Lawton, Sr.; William LeRoy Mitchell; William Steen; Willie Knox Andress; Winborn Joseph Lawton, Jr.; Winborn Joseph Lawton, Sr.; Winborn Lawton; Winnie Evelyn Colquitt; Winnie Evelyn Colquitt Moore; Yvette Lorraine Anderson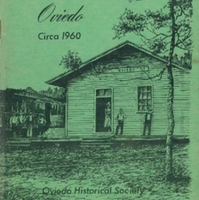 A booklet, compiled by the Oviedo Historical Society, featuring historic houses and buildings in Oviedo, Florida. The booklet features historic buildings constructed before 1960, just before the period of expanded housing developments in Oviedo. The…
Tags: A. A. Myers; A. Bradford Dinsmore; A. D. Sauer, Jr.; A. D. Sauer, Sr.; A. F. Cotton; A. L. Ruddell; A. M. Jones; A. W. Meares; African Methodist Episcopal; Agnes Smith; Alexandria Subdivision; Alice Brannon; Allison; AME; Amos Laster; Andrew Aulin; Andrew Aulin, Jr.; Andrew John McCulley; Andrew Leinhart; Anita King Crawford; Anna Leinhart; Annabelle Linger Lawton; Annette Sullivan Shrumpert; Annie Ethel Lee Carter; Antioch Missionary Baptist Church; Antonio Solary; Appleby; Arthur Evans; Arthur Metcalf; Arthur Riles Hunter; August D. Covington; Augusta Clause; Aulin Avenue; Aulin's Addition; B. F. Ward, Jr.; B. F. Wheeler III; B. F. Wheeler, Jr.; B. F. Wheeler, Sr.; B. G. Smith; B. J. Solomon; Bank of Oviedo; Baptists; Bay Street; Ben Blackburn; Ben Jones; Ben Wheeler; Benjamin Franklin Wheeler III; Benjamin Franklin Wheeler, Jr.; Benjamin Franklin Wheeler, Sr.; Bertha Huggins; Bertha Leinhart; Bertha P. Dixon; Bessie Fay Myers Fly; Bethany Circle; Betty Colbert; Beverly Hughes Evans; Bill Chance; Bill Jenkins, Jack Jenkins; Black Hammock; Blaine Edwards; Block Youth Building; Bob Cameron; Bob Gibbs; Bob King; Bob Ragsdale; Bob Slavik; Bob Ward; Bobby Standlifer; Bowers; Boyd Clonts; Brewster; Broadway Street; Bub Sloan; Bud Claxton; Butler Court Road; C. D. Crutchfield; C. J. Marshall; C. K. Phillips; C. L. West; C. N. Ogg; C. R. Clonts; C. R. Clonts, Jr.; C. S. Lee; C. T. Edwards; C. T. Niblack; cabins; Calvin Whitney; Carl Farnell; Catherine Young Gore; celery; Central Avenue; Charles Evans; Charles Niblack; Charles P. Williams; Charles Roy Clonts, Jr. Charles Roy Clonts, Sr.; Charles Shaffer; Charles Simeon Lee; Charlotte Lee Lawton; Chase Piano Company; Chester W. Shipley; Christine Leinhart; Chuluota; churches; citrus; city halls; Claire Lee Evans; Claire Lee Wheeler; Clara Deering; Clara Mariner; Clarence Ashe; Clark Street; Cleo Gore Leinhart; Clonts and Staley Block Company; Clyde Holder; Colonial architecture; Congregate Meals Program; construction; Courier Field; Crystal Shores; Curtis Estes; Cyrus B. Dawsey; D. D. Daniels; D. E. Hart; Dan Denmark; Daniel B. Hohn; Daniel Gore; David Corey; David Evans; David Hunter; Dawsey; Deering Harvester Company; Delco; Della Barnett; dentists; Dick Mitchell; Division Avenue; doctors; don Carraway; Don Shaffer; Don Ulrey; Donna Neely; Dora Kelsey; Dorothy Courier; Dorothy Lee; Douglas Jackson; Douglas Philpot; Downtown Oviedo; Dozier's; Drady Mathers; E. C. Harper; E. J. Moughton; E. M. Olliff; E. T. Standlifer; E. W. Stone; Earl Koontz; Edna Staley; education; Edward W. Stoner; Edwin A. Farnell; elementary schools; Elida Slavik; Elizabeth Farnell; Emmett Waltz; Emory Asbell; Ephfrom Whipper; Eric Anderson; Eric Anderson Subdivision; Essie Mae Clonts; Evelyn Alpaugh; Fay Stoner; Federation of Senior citizens Clubs of Seminole County, Inc.; Fellowship Hall; Fernando Daniel; Ferrell Beasley; First Baptist Church of Oviedo; First United Methodist Church of Oviedo; fisher; Florida State Road 419; Florida Technological University; Flournoy Jernigan; Foster Chapel; Fountainhead Baptist Church; Frank C. Morgan; Frank W. Talbott; Frank Wheeler; Franklin Street; Frazier Vail; Fred Dyson; Fred Robbins; Fred Tingley; FTU; Future Farmers of America; G. L. Baker; G. M. Arie; G. S. Abell; G. S. Moon; G. W. Johnson; Gammon and Deering Company; Garden Cove; Garden Street; Garth Bowers; Geneva; Geneva Abell; Geneva Drive; George C. Crawford; George Carlton; George Jakubcin; George K. Hollingsworth; George Lee Lawton; George Means; George Morgan; Georgia Lee Lawton; Georgian-Colonial architecture; Germans; Gladys Basford; Gladys Leinhart; Glen Stoner; Glenda Conley; Glenna B. Stoner; Goldie Eva Beckley Lee; Gordon Pendarivs; Gordon W. Johnson, Jr.; Gove Hill; Graham Avenue; Grant Chapel; Grant Chapel African Methodist Episcopal Church; Grant Chapel AME Church; groves; Guy Lingo; H. B. McCall; H. C. Park; H. R. Spencer, Sr.; Haig; Hamlin; Hansel; Hardem Webb; Harold Jordan; Harry P. Leu Company; Hazel Haley; Helen Leinhart; Helen Terrell; Henry Foster; Henry Jackson; Henry McAlister; Henry Whittier; Henry Wolcott; Herbert McCarley; Herbert Metcalf; Hettie Ragsdale; High Street; Hillcrest Avenue; Hillcrest Drive; Hillcrest Gardens; Holland Construction Company; homes; houses; housing; Howard-Packard Land Company; Howell Williams; Hubert E. Davis; Huggins Brothers, Inc.; Hugh Gregory; Hugh Morris; immigrants; Internal Improvement Fund; Irene Hollenbeck; Irvin Claxton; J. B. Jones; J. B. Jones, Jr.; J. B. Ludlow; J. Emmett Kelsey; J. Enoch Partin; J. H. King; J. H. Lee III; J. H. Lee IV; J. H. Lee, Jr.; J. H. Lee, Sr.; J. H. Staley; J. L. Walker; J. N. Thompson; J. W. Burns; J. W. McIntosh; J. Wes Evans; Jack T. Bryant; Jack Williams, Sr.; Jackson Heights Middle School; Jackson Heights School; Jake Gore; Jamerson Construction Company; James Arthur Partin; James D. Hagin; James Davidson; James Gamble Rogers; James H. Lee; James Hiram Lee III; James Hiram Lee IV; James Hiram Lee, Jr.; James Hiram Lee, Sr.; James J. Egan; James Marion Jones; James Wilson; Jane Cochran Moon; Jane Hill Walker; Jean Jordan; Jeanette Mills; Jenkins Realty Company; Jennifer Adicks; Jennings Neeld; Jerry Jacobs; Jessie Shaffer; Jewel Dean; JHMS; Jim Jones; Jim McGowan; Jim Staley; Jimmy McGowan; Joe Faircloth; John Batts Jones, Sr.; John Branscomb; John Courier; John Drury; John McCulley; John Ridenour; John Smith; John W. Evans, Sr.; Johnie Conley; Johnnie Conley; Johnnie Wright; Johnny Jones; Joseph Leinhart; Josephine Munson; Juanita Beasley; Julia Gaulden; Julia Lee Matheson; Katherine Teague; Kathryn Lawton; Katie Ruddell; King Street; Kinney; Kirby Buckelew; Kirby Grant; Kirkpatrick; L. B. Moore; L. E. Jordan; L. J. Flowers; L. L. Day; L. L. Faulk; Lake Charm; Lake Charm Circle; Lake Charm Fruit Company; Lake Charm Memorial Chapel; Lake Jessup Avenue; Lake Jesup; Langston; Lawton Elementary School; Leah Koontz; Lee Gary; Lee H. Gore; Lena Leinhart; Leon Olliff; Leon Ragsdale; Libby Wainwright; Lillian Lee Lawton; Link Hart; Lloyd Koontz; Lois Jones; Lois Ruddell; Long Lake; Lonnie Metcalf; Loretta E. Hohn; Lottie Lee Lawton; Louis Edward Jordan, Sr.; Louis Leinhart; Louise B. Gore; Louise Brown Gore; Louise Wilson; Lucille Campbell; Lucille Niblack; Lucille Partin Niblack; Lynum Brothers; M. C. Hagen; M. L. Gary; M. L. Wright; M. M. Estes; Madeline Foltz; Mae King; Magnolia Street; Main Street; Margaret Culpepper Wolcott; Margaret Harper; Marguerite Covington; Marguerite Parson Partin; Marion Estes; Marsh harvester; Martha King Spinks; Martha Staley Leinhart; Marvin L. Wright; Mary Alice Aulin; Mary Brannon; Mary C. Wolcott; Mary Etta Chance; Mary Leinhart; Mary Leinhart Wright; Mary Ninde; Mary Young; Max Leinhart; Mead Manor; Meals on Wheels; Mediterranean architecture; Memorial Building; Meredith Brock; Merritt Staley; Methodists; middle schools; Mildred Adicks; Mills M. Lord; Milton Gore; Mimi Wheeler; Minnie King; Minnie Means; Myrtle Street; N. F. Lezette; Nanearl Bradley; Nannie B. Giles; neighborhoods; Nell George Morgan; Nell King Morgan; Nelson and Company; Nita Rawlson; Novella Carter Aulin Driggers; O. Gus Wolcott; O. P. Swope; OES; OHS; Olive Babbitt; Olive Lezette; Oliver Farnell; Oliver Swope; oranges; Oreon Burnett; orlando; Orlando Drive; Ouida Anderson Wolcott; Oviedo; Oviedo City Council; Oviedo City Hall; Oviedo Clinic; Oviedo Department of Public Safety; Oviedo Elementary School; Oviedo High School; Oviedo Historical Society; Oviedo Land Company; Oviedo Oaks; Oviedo School; Oviedo Woman's Club; Oviedo: Biography of a Town; OWC; Owens; P. B. Boston; Patsy A. Booth; Paul M. Campbell; Paul Mikler; Paul Slavik; Peck; Pennie Olliff; Pete McCall; Peter C. H. Pritchard; Peter Helliar; Phil Coree; physicians; pioneers; Plant System; porches; R. B. Black; R. F. Cooper; R. J. Lawton; R. W. Estes; R. W. Lawton; R. W. Whittier; railroad depots; railroads; Ransford C. Pyle; Richard Adicks; Richard Apel; Richfield; Rick Snow; Robert Holloway; Robert L. Ward; Robert Lawton, Jr.; Robert R. Barber; Robert Soka; Roberta Sparks Lingo; Roger Slavik; Rollins College; Ross F. Dunn; Ruby Estes; Ruby Jones; Russell Daniel; Ruth Davidson; Ruth Metcalf; S. E. Kirkland; S. J. Lewis and Company; S. L. Murphy; S. R. Rembert; Sam Stephens; Sam Swope; Samuel L. Robinson; Samuel Lincoln Murphy; Samuel William Swope; Sanford; Sanford and Indian River Railroad; Sans Souci; schools; Schweizer Associates; SCPS; Seminole County Public Schools; Shed Grove; Sky King; Slavia; Smith Street; Solary's wharf; South Florida Railroad; Sparks Lee Clonts Ridenour; Sparks Lee Ridenour; Spencer R. Wainwright; SR 419; St. Hebrew African Methodist Episcopal Church; St. Hebrew AME Church; Stalnick; Stan Tillman; Stanley Brokhausen; Stanley Muller; Stanley T. Muller; Steen Nelson; Steve Somers; Steven Sommers; Stewart Catchell; Stewart Gatchell; Sweetwater Creek; T. C. Brannon; T. L. Lingo, Jr.; T. L. Lingo, Sr.; T. W. Lawton; T. W. Lawton Elementary School; Ted Estes; Tedford; Terry Raburn; Thelma Lee Clonts; Thelma Tew; Theodore Luqueer Mead; Thomas K. Brown; Thomas Moon, Sr.; Thomas Ratliff; Thomas Staley; Thomas Weaton; Thomas Willingham Lawton; Todd Whitney; Tom Deal; Tom Hollingsworth; Tom Purdom; Tom Risher; Tommy Estes; tony Daniels; UCF; University of Central Florida; V. H. Sley; Virginia Mikler; Virginia Staley; W. A. Clark; W. A. Teague; W. B. Williams; W. B. Young; W. C. Alpaugh; W. C. Betsy Anne Carter Apel; W. G. Mikell; W. H. Martin; W. J. Lawton; W. J. Varn; W. K. Kimble; W. P. Carter; W. Rex Clonts; W. T. Chance; W. W. Young; Wallace Sommerville; Walter A. Teague; Walter Cart; Walter Carter; Walter Eugene Olliff; Walter Guynn; Walter Gwynn; Warren McCall; Wayne Standlifer; Whispering Oaks; Wiley Abell; William Browning; William H. Deering; William Hyatt; William Marr; William R. Marr; William Wiley Lee; William X. Ninde; Willie Poole; Willis; Winborn Joseph Lawton; Windmeadow Farms; Winter Park; Women's Society for Christian Service; Wyatt L. Wyatt; Wyatt Lawrence Wyatt; Yarborough; Young Harris; Zack Spinks; Zetta Leinhart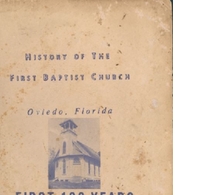 A history of the First Baptist Church of Oviedo from its founding in 1869 to its centennial celebration in 1969. The book begins with a brief history of the Central Florida area, followed by a history of Oviedo. The first service for the First…
Tags: A. A. Daniel; A. A. Myers; A. B. Tedford; A. C. Hart; A. C. Turner; A. Flourny Jernigan; A. J. Metcalf; A. P. Farnell; A. R. Metcalf, Jr.; A. Solaria; Alex Lawton; American Civil War; Amerindian; Andrew Aulin; Andrew Aulin, Sr.; Andrew Lawton; anniversary; Apopka; Argo's Store; Arthur Scott; B. F. Ward, Jr.; B. F. Ward, Sr. R. F. Cooper; B. F. Wheeler; B. F. Wheeler, Jr.; B. F. Wheeler, Sr.; B. Z. Hunter; Baptists; Basil Mays; Beasley; Benjamin Franklin Wheeler; Benjamin Franklin Wheeler, Jr.; Benjamin Franklin Wheeler, Sr.; Billie Buster; Brewster; Broadway Street; Brush Arbor; C. A. Love; C. D. Weaver; C. F. Rolquist; C. J. Broome; C. K. Buckelew; C. W. Holder; Caloosa; centennial; Charles Simeon Lee, Jr.; Christian; Christianity; Chuluota; Chuluota Baptist Church; churches; citrus; Civil War; clergy; Clermont; Clifton Springs; colonization; colony; Creek; D. D. Gammage; Dan F. Thomas; deacon; Delco Light Plant. Goldenrod; Diane Aulin; Diane Aulin Keller; Donald L. Orman; E. A. Farnell; E. Lee Smith; education; enterprise; F. A. Peirson; F. C. Edwards; F. C. Morgan; FBC; First Baptist Church of Oviedo; Florida Mosquito Territory; Fort Christmas; Fort Drum; Fort Gatlin; Freeze of 1894; freezes; G. W. Alford; Goldenrod Baptist churches; Groveland; groves; growers; H. B. McCall; H. H. Link; Hammond organ; Henry Walcott; Homecoming Day; Howard S. Gott; Indian; Iniah Honchin; Ira Rouse; Isaacs; J. A. Richardson; J. B. Rogers; J. C. Hatlzelow; J. E. Okerlund; J. F. Mitchell; J. G. Black; J. H. King; J. H. Lee, Sr.; J. I.; J. I. Beasley; J. M. Jones; J. M. Kones; J. Max Cook; J. N. Thompson; J. O. Fries; J. O. Jelks; J. P. Jacobs; J. S. Day; J. T. Bryant; J. T. Wheeler; J. W. Martin; Jack T. Bryant; James G. Speer; Jelks; Joe Fox; Joe Leinhart; John Hiram Lee, Sr.; John M. Camp; John S. Womble; Joseph Leinhart; Joshua P. Jacobs; Julia Golden; K. Swonson; L. A. Hardy; L. L. Day; Ladies Aid Society; Lake Charm; Lake Jessup Avenue; Lake Jessup Community; Lake Jessup Settlement; Lake Jesup; Lawton; Lois Ruddell; Lord; Lund; M. E. Brock; Magazine Club of Oviedo; Maitland; Mary Gwynn; Mary Jacobs; Mary Walker; Milton Gore; Missionary Baptist churches; Mosquito County; Muskogan; Native American; Needham Jelks; Nelson; Nelson Brothers; Nettie Aulin; Nettie Jacobs; Nettie Jacobs Aulin; O. M.; orange county; Orange Grove Baptist Church; oranges; organ; orlando; Oviedo; Oviedo Baptist churches; P. H. Brown; pastor; Pearl G. Martin; Pride of Oviedo; R. L. Ward; R. L. Wheeler; R. M. Hickman; R. W. Dickert; R. W. Lawton; religious education; Reminiscence Fair; reverend; Robert Lawton; S. C. Dorsey; S. W. Sheffield; schools; Seminole; Seminole County; Sexton; shipping; slave; slavery; Solaria's Wharf; St. Johns River; St. Volusia; Statson University; Sunday schools; T. H. Daniell, Sr.; T. J. Bell; T. W. Lawton; Ted Aulin; The Lodge; Theodore Aulin; Theodore Aulin, Jr.; Theodore Aulin, Sr.; Thomas Willington Lawton; Tom Lawton; Tom Wheeler; Tomokan; Tucker; Tuscovilla; W. A. Jelks; W. A. Ward, Jr.; W. E. Alexander; W. G. Powell; W. H. Luther; W. H. Martin; W. J. Lawton, Sr.; W. P. Carter; W. P. Rogers; W. S. Sommerville; W. T. Walker; W. W. Townson; Walter Gwynn; Whitney-Wolcott House; Will Alexander; William Clevor; William H. Martin; Williams Stones; Winborn Joseph Lawton, Sr.