Browse Items (6 total)
Tags: religious education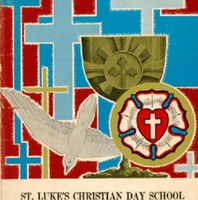 A yearbook for the 1966-1967 school year at St. Luke's Lutheran Church and School, located at 2021 West State Road 426 in Oviedo, Florida. In 1911, members of the Holy Trinity Slovak Lutheran Church in Cleveland, Ohio, formed the Slavia Colony…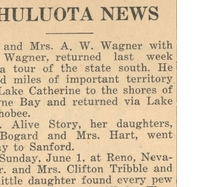 A newspaper article published by The Central Florida Press on June 20, 1930. The article reports news in Chuluota, an unincorporated community southeast of Oviedo, Florida. News topics include return of the Wagner family from their trip to South…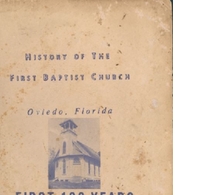 A history of the First Baptist Church of Oviedo from its founding in 1869 to its centennial celebration in 1969. The book begins with a brief history of the Central Florida area, followed by a history of Oviedo. The first service for the First…
Tags: A. A. Daniel; A. A. Myers; A. B. Tedford; A. C. Hart; A. C. Turner; A. Flourny Jernigan; A. J. Metcalf; A. P. Farnell; A. R. Metcalf, Jr.; A. Solaria; Alex Lawton; American Civil War; Amerindian; Andrew Aulin; Andrew Aulin, Sr.; Andrew Lawton; anniversary; Apopka; Argo's Store; Arthur Scott; B. F. Ward, Jr.; B. F. Ward, Sr. R. F. Cooper; B. F. Wheeler; B. F. Wheeler, Jr.; B. F. Wheeler, Sr.; B. Z. Hunter; Baptists; Basil Mays; Beasley; Benjamin Franklin Wheeler; Benjamin Franklin Wheeler, Jr.; Benjamin Franklin Wheeler, Sr.; Billie Buster; Brewster; Broadway Street; Brush Arbor; C. A. Love; C. D. Weaver; C. F. Rolquist; C. J. Broome; C. K. Buckelew; C. W. Holder; Caloosa; centennial; Charles Simeon Lee, Jr.; Christian; Christianity; Chuluota; Chuluota Baptist Church; churches; citrus; Civil War; clergy; Clermont; Clifton Springs; colonization; colony; Creek; D. D. Gammage; Dan F. Thomas; deacon; Delco Light Plant. Goldenrod; Diane Aulin; Diane Aulin Keller; Donald L. Orman; E. A. Farnell; E. Lee Smith; education; enterprise; F. A. Peirson; F. C. Edwards; F. C. Morgan; FBC; First Baptist Church of Oviedo; Florida Mosquito Territory; Fort Christmas; Fort Drum; Fort Gatlin; Freeze of 1894; freezes; G. W. Alford; Goldenrod Baptist churches; Groveland; groves; growers; H. B. McCall; H. H. Link; Hammond organ; Henry Walcott; Homecoming Day; Howard S. Gott; Indian; Iniah Honchin; Ira Rouse; Isaacs; J. A. Richardson; J. B. Rogers; J. C. Hatlzelow; J. E. Okerlund; J. F. Mitchell; J. G. Black; J. H. King; J. H. Lee, Sr.; J. I.; J. I. Beasley; J. M. Jones; J. M. Kones; J. Max Cook; J. N. Thompson; J. O. Fries; J. O. Jelks; J. P. Jacobs; J. S. Day; J. T. Bryant; J. T. Wheeler; J. W. Martin; Jack T. Bryant; James G. Speer; Jelks; Joe Fox; Joe Leinhart; John Hiram Lee, Sr.; John M. Camp; John S. Womble; Joseph Leinhart; Joshua P. Jacobs; Julia Golden; K. Swonson; L. A. Hardy; L. L. Day; Ladies Aid Society; Lake Charm; Lake Jessup Avenue; Lake Jessup Community; Lake Jessup Settlement; Lake Jesup; Lawton; Lois Ruddell; Lord; Lund; M. E. Brock; Magazine Club of Oviedo; Maitland; Mary Gwynn; Mary Jacobs; Mary Walker; Milton Gore; Missionary Baptist churches; Mosquito County; Muskogan; Native American; Needham Jelks; Nelson; Nelson Brothers; Nettie Aulin; Nettie Jacobs; Nettie Jacobs Aulin; O. M.; orange county; Orange Grove Baptist Church; oranges; organ; orlando; Oviedo; Oviedo Baptist churches; P. H. Brown; pastor; Pearl G. Martin; Pride of Oviedo; R. L. Ward; R. L. Wheeler; R. M. Hickman; R. W. Dickert; R. W. Lawton; religious education; Reminiscence Fair; reverend; Robert Lawton; S. C. Dorsey; S. W. Sheffield; schools; Seminole; Seminole County; Sexton; shipping; slave; slavery; Solaria's Wharf; St. Johns River; St. Volusia; Statson University; Sunday schools; T. H. Daniell, Sr.; T. J. Bell; T. W. Lawton; Ted Aulin; The Lodge; Theodore Aulin; Theodore Aulin, Jr.; Theodore Aulin, Sr.; Thomas Willington Lawton; Tom Lawton; Tom Wheeler; Tomokan; Tucker; Tuscovilla; W. A. Jelks; W. A. Ward, Jr.; W. E. Alexander; W. G. Powell; W. H. Luther; W. H. Martin; W. J. Lawton, Sr.; W. P. Carter; W. P. Rogers; W. S. Sommerville; W. T. Walker; W. W. Townson; Walter Gwynn; Whitney-Wolcott House; Will Alexander; William Clevor; William H. Martin; Williams Stones; Winborn Joseph Lawton, Sr.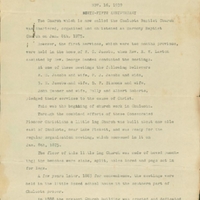 A history of the Chuluota Baptist Church from its founding to its 65th anniversary in 1939. The congregation's first services were held in November of 1874 in the home of W. C. Jacobs with Reverend R. W. Lawton and Reverend George Gandez leading…

An original manuscript titled "The Entrance of the Faith in the Eastern Part of the Peninsula and Some Early Presbyterian Plantings in the Region of Saint Johns Presbytery," written by J. N. Whitner. The first Presbyterians in Florida migrated from…
Tags: Americus, Georgia; Apopka; Army; Baker, Archibald; baptism; Beresford; Boone, Cornelia Frances; Boone, Janette Bruce; Boone, Mattie; Bruce, Agnus Donald; Bruce, Cornelia Frances Marks; Caldwell, Andrew C.; Caldwell, Andrew Curran; Caldwell, Julie Doak; Caldwell, Robert Ernest; Caldwell, Sallie Davidson; Christiania, Norway; church; church elder; circuit rider; Columbia County; Convention of the General Assembly; Darlington; deacon; DeLand; Dubose, John C.; education; elder; enterprise; Episcopal Church; Episcopalian; Episcopalianism; Euchee Valley; evangelism; evangelist; Evangelist of Florida Presbytery; Everglades; Fort Dallas; Fort Maitland; Fort Mellon; Fort Read; Galloway, Francis Lee; Galloway, Nancy; Gamble, William G.; Gould; Gould, Benjamin; Gound, Benjamin; Graften, C. W.; Green; Greensboro, North Carolina; Harrington; Holland; Holland, Ella; Holland, Herbert; Holland, Sarah Cochrane; Holland, Ursula; Lake Apopka; Leesburg; Little, James; Luraville; Madison; Maitland; Mar's Bluff, South Carolina; Markes, Maggie; Marks; Marks, Adeline Tomlinson; Marks, Jacinta; Marks, Maggie; Marks, Matthew R.; marriage; Mason; Mason, Zolotus; McCorkle, S. V.; McCormack, J. W.; McIlvaine, William E.; McLean, Josephine; McLean, Madison; McLean, Maggie; Mecklenburg County, North Carolina; Mellonville; Methodism; Methodist; Methodist church; Miami; Micanopy; mission; Montgomery, F F.; Montgomery, John W.; Native American; Nichols, Maria Stone; North Carolina; North Florida; Oakland; orange county; Orange House; orlando; Pensacola; pioneer; Presbyterian; Presbyterian church; Presbyterianism; Read, Ford; Rees, Margaret Bruce; religious education; reverend; Rossetter; Rossetter, Appleton T.; Saint Johns Presbytery; Sanford; school; Scotland; Seminole; Seminole War; settlement; Silver Lake Church; South Carolina; Speer; Speer, James G.; St. Johns River; Stagg, John W.; Stockton; Stockton, North Carolina; Sumter County; Sunday school; Suwannee County; Tallahassee; Telford; Telford, R. L.; Telford, William B.; The Early Planting of Presbyterianism in West Florida; The Entrance of the Faith in the Eastern Part of the Peninsula and Some Early Presbyterian Plantings in the Region of Saint Johns Presbytery; Tufts, Edgar; Turner, George D.; U.S. Army; Volusia County; Walton County; Watson; wedding; Weinrich, Charles; West Florida; Whipple; Whitner, Amelia Melvina Howard; Whitner, B. F.; Whitner, B.F.; Whitner, J. N.; Whitner, Joseph Newton; Whitner, Mary Golphin; Whitner, Sarah Jane Church; Willy, John; Woodruff, Nancy Galloway; Woodruff, W. W.; Wylly, George W.; Young People's Musical Group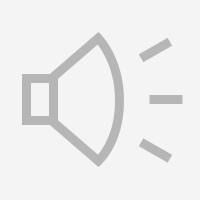 Episode 40 of RICHES Podcast Documentaries: Bethune Cookman University Founding. RICHES Podcast Documentaries are short form narrative documentaries that explore Central Florida history and are locally produced. These podcasts can involve the…
Tags: African American; Bethune-Cookman College; Bethune-Cookman College, 1904-1994: The Answered Prayer to a Dream; Bethune-Cookman University; Bethune, Albertus; Bethune, Mary Jane McLeod; Christian; Christianity; church; civil rights; civil rights activist; co-educational; college; Colored Women's Association; Cookman Institute of Jacksonville; Daytona Beach; Daytona Educational and Industrial Training School; Daytona Normal and Industrial School for Negro Girls; documentary; education; educator; Florida A&M College; Florida A&M University; Florida Agricultural and Mechanical College; Florida Agricultural and Mechanical University; fundraising; Gamble, James; Gray, Willam H. III; HBCU; high school; historically black colleges and universities; Hunter, Sheila Flemming; Jim Crow South; junior college; KKK; Ku Klux Klan; Laney, Lucy Craft; literacy; Mayseville, South Carolina; Methodism; Methodist; Methodist church; mission school; National Council of Negro Women; podcast; Presbyterian; Presbyterian church; Presbyterianism; private school; Procter & Gamble Company; public school; religion; religious education; RICHES Podcast Documentaries; school; separation of church and state; teacher; Tuskegee Institute; Tuskegee University; university; voter registration; voter registration movement; voting; Washington, Booker Taliaferro; White Sewing Machine Company; white supremacy; White, Thomas H.