Browse Items (5 total)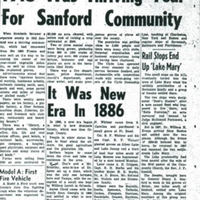 A newspaper article about Sanford, Florida, during the year of 1913. According to the article, the Sanford community had recovered from the Great Freeze of 1886 and was thriving economically by 1913. This page also included an article on the Ford…
Tags: ACL; Atlantic Coast Line Railroad Company; Belle Fontaine; Bent; Bent's Station; Brantley; Brown; Bruce, A. D.; Burrell; Caldwell, Andrew C.; Cameron; Clud, Aaron; Clyde Steamship Line; Cocke; Crippen, A. H.; Deane; Dickenson; Doyle, M. J.; Duval; Evans, William H.; Finegan; Ford; Foster, E. K.; Foster, Frank; freezes; Goodrich; Great Freeze of 1886; Hall; Harris; Hayden; Holland; Humphrey, William; Ingraham; Jacksonville; Lake Jesup; Lake Mary; Lake Monroe; Levy Grant; Lovell, William; Marks, M. R.; Marks, R. H.; McCall; Mellonville; Model A; Model A Ford Truck; Munday; Nichols; Noble; Oviedo; Palmetto Avenue; Parramore, McDonald; Randolph; Robinson; Sanford; Sanford, Henry Shelton; Scott; Seminole County; Silver Lake; Sjoblom, A. E.; Speer; Spencer; Sundell, J. F.; Swedes; Telford; The Sanford Herald; Tucker, J. W.; Ward, W. A., Sr.; Webster; Whitner, B. F.; Whitner, J. N.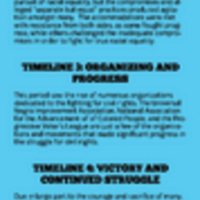 The Long History of the African American Civil Rights Movement in Florida, an exhibit created by Dr. Robert Cassanello and his students at the University of Central Florida. The exhibit chronicles both national and local events in the civil rights…
Tags: 101st Airborne Division; 14th Amendment; 15th Amendment; 99th Fighter Squadron; A Red Record; African Americans; Afro-Cubans; American Civil War; Anderson, Patrick; Asa Philip Randolph; Atlanta Exposition; Bahamians; Barton, Juanita; beach; beaches; Bethel Baptist Institutional Church; Bethune-Cookman College; Bethune, Mary McLeod; Black Cabinet; Booker Taliaferro Washington; Brevard County; Brotherhood of Sleeping Car Porters; Brown v. Board of Education of Topek; bus boycotts; Callovi, Andrew; Central Florida; Cepero, Laura; Chambers v. Florida; Chaney, James; Charles Kenzie Steele; Chicago, Illinois; civil disobedience; civil rights; Civil Rights Act of 1875; Civil Rights Act of 1964; Civil Rights March; Civil Rights Movement; Clara White Mission; Cocoa; Cocoa Elementary School; Confederates; Constitution; Constitutional League of Florida; Cook, Jennifer; Cookman Institute; Corbett, Joseph Francis II; Dale Mabry Field; Davis, Ed; Davis, John A.; Daytona Beach; Democratic Party; desegregation; discrimination; disfranchisement; Double V Campaign; Dwight David Eisenhower; Eartha M. M. White; Eartha Mary Magdalene White; Eatonville; educators; Eisenhower, Dwight D.; Englehardt, Tanya; equal pay; exhibits; FDR; Federal Council of Negro Affairs; Fifteenth Amendment; Florida Civil Rights Act; Florida Memorial college; Florida Photographic Collection; Florida Streetcar Segregation Law; Florida Supreme court; Florida Teachers Association; Flynn, Jacob; Fort Lauderdale; Fourteenth Amendment; Franklin D. Roosevelt; Franklin Delano Roosevelt; Franklin, William; Freedom Riders; Freedom Rides; Freedom Summer; Garvey, Marcus; Gary, Bill; Gibson v. Board of Public Instruction of Dade County; Goff, Cynthia; Goodman, Andrew; Grant, Ulysses S.; Great Depression; Greensboro Sit-in; Greensboro, North Carolina; Groveland; Groveland Four; Harry T. & Harriette V. Moore Cultural Complex, Inc.; Hawkins, Virgil D.; Holland; Houser, Barbara; Houston, Texas; Howard, Willie James; Hurston, Zora Neale; Ida Bell Wells-Barnett; Ike Eisenhower; Jacksonville; Jakes, Wilhelmina; Jim Crow South; King, Martin Luther, Jr.; KKK; Knoxville, Tennessee; Ku Klux Klan; Library of Congress; Lincoln, Abraham; Literary and Industrial Training School for Negro Girls; Little Rock 9; Little Rock Central High School; Little Rock Nine; Little Rock, Arkansas; Live Oak; Lloyd, Rustin; lynchings; Madison County; Marcus Mosiah Garvey, Jr.; Marshall, Thurgood; Mary Jane McLeod Bethune; McCall, Willis V.; McDivitt, Anne Ladyem; Miami; Michael Henry Schwerner; Mississippi Plan; Montgomery Bus Boycott; Montgomery, Alabama; Moore, Harriette V.; Moore, Harriette Vyda Simms; Moore, Harry T.; Moore, Harry Tyson; NAACP; National Afro-American League; National Association for the Advancement of Colored People; National Equal Rights League; NERL; New Deal; New York; Niagara Movement; Ocoee Massacre; Ocoee Riot; Omaha, Nebraska; Orchard Villa Elementary School; Palatka; Parks, Rosa; Patterson, Carrie; Payne, Jesse; Petitt, Joshua; Plessy v. Ferguson; Progressive Voter's League; protests; Pulaski, Tennessee; race relations; race riots; racial equality; racism; Randolph, A. Philip; Reconstruction; Red Summer of 1919; Republican Party; Robert Cassanello; Rosa Louise McCauley Parks; Rosewood Massacre; Saunders, Robert; Schomburg Center for Research in Black Culture; Schwerner, Michael; Scottsboro Boys; Scottsboro, Alabama; SCOTUS; segregation; Selma, Alabama; separate but equal; Shepard; sit-ins; slavery; Sociedad la Union Marti-Maceo; soldiers; South Carolina; Southern Horrors: Lynch Law in All Its Phases; St. Augustine; State Library and Archives of Florida; Steele, C. K.; Supreme Court; Supreme Court of the United States; Syracuse, New York; Tallahassee; Tallahassee Bus Boycott; Tampa; teachers; The Long History of the African American Civil Rights Movement in Florida; Timothy Thomas Fortune; To Secure These Rights: The Report of the President's Committee on Civil rights; Truman, Harry S.; Turnbull, Lindsey; Tuskegee University; Tuskegee, Alabama; U.S. Armed Forces; U.S. Army; U.S. Supreme Court; UF; UNIA; Union; Universal Negro Improvement Association; University of Florida; veterans; voting; voting rights; Voting Rights Act of 1965; W. E. B. Du Bois; wade-ins; Waldron, J. Milton; Washington, Booker T.; Wells, Ida B.; Wetmore, J. Douglas; white supremacy; White, Clara; William Edward Burghardt Du Bois; Williams, Alice; Willis Virgil McCall; Wolfe, Jon; Woolworth; Woolworth's; World War II; WWII

An original manuscript titled "The Entrance of the Faith in the Eastern Part of the Peninsula and Some Early Presbyterian Plantings in the Region of Saint Johns Presbytery," written by J. N. Whitner. The first Presbyterians in Florida migrated from…
Tags: Americus, Georgia; Apopka; Army; Baker, Archibald; baptism; Beresford; Boone, Cornelia Frances; Boone, Janette Bruce; Boone, Mattie; Bruce, Agnus Donald; Bruce, Cornelia Frances Marks; Caldwell, Andrew C.; Caldwell, Andrew Curran; Caldwell, Julie Doak; Caldwell, Robert Ernest; Caldwell, Sallie Davidson; Christiania, Norway; church; church elder; circuit rider; Columbia County; Convention of the General Assembly; Darlington; deacon; DeLand; Dubose, John C.; education; elder; enterprise; Episcopal Church; Episcopalian; Episcopalianism; Euchee Valley; evangelism; evangelist; Evangelist of Florida Presbytery; Everglades; Fort Dallas; Fort Maitland; Fort Mellon; Fort Read; Galloway, Francis Lee; Galloway, Nancy; Gamble, William G.; Gould; Gould, Benjamin; Gound, Benjamin; Graften, C. W.; Green; Greensboro, North Carolina; Harrington; Holland; Holland, Ella; Holland, Herbert; Holland, Sarah Cochrane; Holland, Ursula; Lake Apopka; Leesburg; Little, James; Luraville; Madison; Maitland; Mar's Bluff, South Carolina; Markes, Maggie; Marks; Marks, Adeline Tomlinson; Marks, Jacinta; Marks, Maggie; Marks, Matthew R.; marriage; Mason; Mason, Zolotus; McCorkle, S. V.; McCormack, J. W.; McIlvaine, William E.; McLean, Josephine; McLean, Madison; McLean, Maggie; Mecklenburg County, North Carolina; Mellonville; Methodism; Methodist; Methodist church; Miami; Micanopy; mission; Montgomery, F F.; Montgomery, John W.; Native American; Nichols, Maria Stone; North Carolina; North Florida; Oakland; orange county; Orange House; orlando; Pensacola; pioneer; Presbyterian; Presbyterian church; Presbyterianism; Read, Ford; Rees, Margaret Bruce; religious education; reverend; Rossetter; Rossetter, Appleton T.; Saint Johns Presbytery; Sanford; school; Scotland; Seminole; Seminole War; settlement; Silver Lake Church; South Carolina; Speer; Speer, James G.; St. Johns River; Stagg, John W.; Stockton; Stockton, North Carolina; Sumter County; Sunday school; Suwannee County; Tallahassee; Telford; Telford, R. L.; Telford, William B.; The Early Planting of Presbyterianism in West Florida; The Entrance of the Faith in the Eastern Part of the Peninsula and Some Early Presbyterian Plantings in the Region of Saint Johns Presbytery; Tufts, Edgar; Turner, George D.; U.S. Army; Volusia County; Walton County; Watson; wedding; Weinrich, Charles; West Florida; Whipple; Whitner, Amelia Melvina Howard; Whitner, B. F.; Whitner, B.F.; Whitner, J. N.; Whitner, Joseph Newton; Whitner, Mary Golphin; Whitner, Sarah Jane Church; Willy, John; Woodruff, Nancy Galloway; Woodruff, W. W.; Wylly, George W.; Young People's Musical Group

An original letter of correspondence written by Joshua Coffin Chase to his father and Chase & Company business partner, Sydney Octavius Chase. The letter discusses a meeting Joshua attended in Lakeland about the specifics on the proposed Federal…
Tags: AFG; Asheville, North Carolina; Askew, Harry L.; Atlantic Commission Company; Auburndale; Aurin; Aycrigg, George B.; Blend, W. T.; Borland, Harry L.; California; Chase and Company; Chase, Joshua Coffin; Chase, Sydney Octavius; citrus; citrus growers' Florida Citrus Exchange; citrus industry; Clark, Frank G.; Clearing House; Commander, C. C.; Cornell, H. E.; Daniells, W. C.; Daniells, W.C.; DeLand; Democrats; Edwards, L. C.; FCE; Federal Marketing Agreement; freight rates; Frostproof; grapefruit; Grower Control Committee; Hitler, Adolf; Holland; Howey; Jews; Kirkland, L. P.; Lake Gem; Lake Wales; Lakeland; Largo; Lowry, L. L.; LWCGA; McReynolds, Judson J.; Mouser, W. H.; Ocala; oranges; orlando; Parrish, J. J.; Patterson, E. E.; Pickard, A. F.; Portland, Oregon; Republican; River City; Roe, W. G.; Sanford; Seattle, Washington; Sebastian; shipping; Sligh, Jeff; Southern Railway; Spokane, Washington; Stewart, C. A.; Tampa; Taylor, John S.; The Orlando Sentinel; The Tampa Tribune; Tillman, James; Titusville; U.S. Department of Agriculture; USDA; Valencias; Vero Beach; Vickers, E. W.; Walker, Marvin H.; Washington, D.C.; Whitehair, Francis P.; Winter Haven; Winter Park; Yarnell, I. A.; Young, A. W.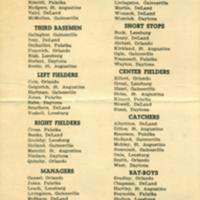 This ballot is from the Florida State League with the purpose of selecting an all-start team to meet the Sanford team at the leagues's celebration of the 100th anniversary of baseballThe instructions are to vote for one man for each position, plus…