Browse Items (2 total)

An original letter of correspondence written by Joshua Coffin Chase to his father and Chase & Company business partner, Sydney Octavius Chase. The letter discusses a meeting Joshua attended in Lakeland about the specifics on the proposed Federal…
Tags: AFG; Asheville, North Carolina; Askew, Harry L.; Atlantic Commission Company; Auburndale; Aurin; Aycrigg, George B.; Blend, W. T.; Borland, Harry L.; California; Chase and Company; Chase, Joshua Coffin; Chase, Sydney Octavius; citrus; citrus growers' Florida Citrus Exchange; citrus industry; Clark, Frank G.; Clearing House; Commander, C. C.; Cornell, H. E.; Daniells, W. C.; Daniells, W.C.; DeLand; Democrats; Edwards, L. C.; FCE; Federal Marketing Agreement; freight rates; Frostproof; grapefruit; Grower Control Committee; Hitler, Adolf; Holland; Howey; Jews; Kirkland, L. P.; Lake Gem; Lake Wales; Lakeland; Largo; Lowry, L. L.; LWCGA; McReynolds, Judson J.; Mouser, W. H.; Ocala; oranges; orlando; Parrish, J. J.; Patterson, E. E.; Pickard, A. F.; Portland, Oregon; Republican; River City; Roe, W. G.; Sanford; Seattle, Washington; Sebastian; shipping; Sligh, Jeff; Southern Railway; Spokane, Washington; Stewart, C. A.; Tampa; Taylor, John S.; The Orlando Sentinel; The Tampa Tribune; Tillman, James; Titusville; U.S. Department of Agriculture; USDA; Valencias; Vero Beach; Vickers, E. W.; Walker, Marvin H.; Washington, D.C.; Whitehair, Francis P.; Winter Haven; Winter Park; Yarnell, I. A.; Young, A. W.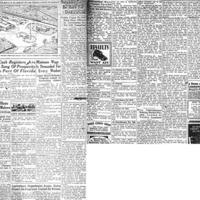 Newspaper article in the The Sanford Herald on the planned dedication of the Sanford State Farmers' Market in 1934. The Sanford State Farmers' Market, located at 1300 South French Avenue, was founded in 1934 in order to provide a central location in…
Tags: 13th Street; ACL; administrator; Apgar, T. K.; Atlantic Coast Line Railroad Company; Brant, Martin J.; Central Florida; chamber of commerce; City of Sanford; commissioner; Commissioner of Agriculture; congressman; dedication; Dorner, Fred F.; farmers' mark; farming; Federal Emergency Relief Administration; FERA; Florida Governor; Florida State Comptroller; Florida State Marketing Commissioner; Florida state senator; Florida State Treasurer; French Avenue; governor; Hiatt, S. W.; Knott; Lee, J. M.; Leffler, William A.; Lehmann, Karl; marketing; Mayo, Nathan; Meisch, John; Michael, J. G.; O'Kelley, E. B.; O'Kelley, E.B.; Papworth, Harry M.; Parrish, J. J.; Rhodes, L. M.; Sanford; Sanford Rotary Club; Sanford State Farmers' Market; Scholtz, David; Sears, Joe; Seminole County; senator; Shinholser, S. O.; Shinholser, S.O.; Smith, W. R.; superintendent; Swope, O. P.; The Sanford Herald; Thirteenth Street; Thurston, Peter; Valdez Hotel; Walker, J. P.; warehouse; WDBO; wholesale; Williams, Susan; Williams, William N.