Browse Items (3 total)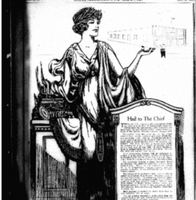 The Apopka Chief, volume I, number 47 for March 7, 1924. This edition of the newspaper announces a new publishing plant, built by Lee F. Lovell, measuring 80 feet by 35 feet and featuring a Single Keyboard 14 Linotype. Published by the Apopka…
Tags: 77th Division; Altamonte Springs; American Type Founders Company; Apopka; Apopka City Hall; Apopka Fire Department; Apopka Hardware and Supply Company; Apopka Heights Subdivision; Ayers Electric Company; Babson, Roger W.; Big Audubon Park Project; Bok, Edward; Bowman, T. B.; Brisbane, Arthur; Bryan, Conn; Bryan, William Jennings; Buckannon, West Virginia; Cabinet sewing machine; Camp Jackson; Campbell cylinder press; Capper, Arthur; Catts; Central Avenue; Central Florida; Charleston, West Virginia; city commissioner; City Commissioner of Apopka; city hall; Collier, B. B.; Collier, Barron; congressman; Conners, William J.; Console sewing machine; Crowley; Curry Electric Company; Dade City; Davis, West Virginia; Desk Model sewing machine; Desk sewing machine; Dream Lake; Edison, Thomas; Edmonds, Richard H.; Edwards, William; Falmouth Punching machine; Fisher, Carl; Florida Land and Fruit Company; Forbes, B. C.; Ford, Henry; France; Free Sewing Machine Company; Free Six Drawer sewing machine; Free-Westinghouse; Free-Westinghouse Electric sewing machine; French Army; Gillion, J. M.; governor; Hager; Haines, Charles D.; Hall, A. M.; Hall, Albert M.; Hall, D. F.; Hall, M. Jessie; Hermans, S. M.; Horney Brothers; Jackson, Carl; Jefcoat, Glover; Jennings; Johnson Electric Company; Johnson, A. B.; Jones, Charlie; Lake Apopka; Lee cylinder press; Lehmann, Karl; Linotype; Lovell & Harris; Lovell, A. J.; Lovell, Lee F.; Lovell, M. Jessie Hall; MacWhorter, Olive J.; MacWhorter, W. E.; Madison Square Garden; Mahaffey; Martin, A. O.; Martin, John; McDowell, Frank; McNaughton, D. P.; Mergenthaler Linotype Company; Miller Saw Trimmer; Miss Apopka; Mitchell; Moffett; Montverde School; Morrey, E. B.; Moses, G. M.; New Orleans; New York; newspaper; Orange Avenue; orange county; Orange County Chamber of Commerce; orlando; Orlando and Orange County Advertising Club; Pine Street; popka Printing Company, Inc.; Roberts, E. Mason; Sanford; sewing machine; Showalter; Single Keyboard Model; Squires, Q. R.; State Bank of Apopka; Taltnn, William G.; Tampa; The Apopka Chief; The Dade City Banner; The National Pilgrim; The Plant city courier; Waite, Leslie; Waite, Leslie P.; Walker's Market; Walkers Electric Company; Wells, Lee; Wells' Gap; West Virginia; West Virginia Association; Westinghouse Electric & Manufacturing Company; Winter Garden; Winter Park; Winter Park Electric & Construction Company; Wire Stitcher; Witherington Block; Witherington, Harry P.; Youth's Companion; Yowell-Drew Company; Zepp, F. E.
Selected pages from History of Orange County Florida: Narrative and Biographical by William Fremont Blackman, Ph.D., L.L.D. Blackman was formally a professor at Yale University and President of Rollins College. The book was published by the E. O.…
Tags: Albertson Public Library; American Red Cross; Apopka; Atlantic Coast Line Railroad Company; Autrey, L. M.; Beacham, B.; Beardall, William; Bithlo; Blackman, Lucy Worthington; Blackman, William Fremont; Boyer, Chauncey A.; Bradshaw, J. N.; Browne, Charles A.; Cawston, Arthur H.; Central Avenue; Cheney, J. M.; Christ, C. D.; Coursen, W. A.; Court Street; Crawford, George W. Yancey, T. A.; Dick, E. A.; Dickenson, R. M.; Dickson, H. H.; E. O. Painter Printing Company; Edwards, William; Ferguson, F. L.; Fort Christmas; Fort Gatlin; Fuller, John T.; Giles, James L.; Glenn, William; Gotha; Greenwood Cemetery; Guild, William A.; Hand, Carey; Hill, S. B.; Holt, Chauncey; Holt, Hamilton; Hutchins, Victory; Jenkins, R. A.; Johnson, S. A.; Lawton, J. A.; Lehmann, Karl; Lewter, F. A.; Lynch, W. B.; MacDonald, R. D.; Maitland; Martin, W. E.; Morse, C. H.; Mosquito County; Newton, V. B.; O'Neal, W. R.; Oakland; Ocoee; Orange Avenue; orange county; Orange County Chamber of Commerce; Orange County Courthouse; Orange General Hospital; orlando; Orlando Chamber of Commerce; Orlando Municipal Auditoriuml; Palmer, Willis L.; public schools; Rand, Frederic H.; Robinson; Robinson, B. M.; Robinson, Samuel A.; Rollins College; Safford, Mary A.; Sanford; settlers; Simmons, J. W.; Sinclair's Real Estate Agency; Speer, James G.; Sperry, Frank Ezra; Sweetapple, H. B.; Swope, O. P.; Taft; Tangerine; Temple, W. C.; The Making of Hawaii: A Study in Social Evolution; Tilden, L. W.; town well; Townsend, L. C.; Ward, C. H.; Whitman, Alton B.; Whitner, J. N.; Windermere; Winter Garden; Winter Park; Wright, A. L.; Yale University; Yowell, N. P.; Zellwood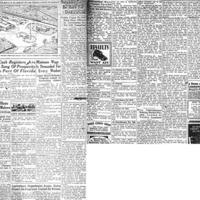 Newspaper article in the The Sanford Herald on the planned dedication of the Sanford State Farmers' Market in 1934. The Sanford State Farmers' Market, located at 1300 South French Avenue, was founded in 1934 in order to provide a central location in…
Tags: 13th Street; ACL; administrator; Apgar, T. K.; Atlantic Coast Line Railroad Company; Brant, Martin J.; Central Florida; chamber of commerce; City of Sanford; commissioner; Commissioner of Agriculture; congressman; dedication; Dorner, Fred F.; farmers' mark; farming; Federal Emergency Relief Administration; FERA; Florida Governor; Florida State Comptroller; Florida State Marketing Commissioner; Florida state senator; Florida State Treasurer; French Avenue; governor; Hiatt, S. W.; Knott; Lee, J. M.; Leffler, William A.; Lehmann, Karl; marketing; Mayo, Nathan; Meisch, John; Michael, J. G.; O'Kelley, E. B.; O'Kelley, E.B.; Papworth, Harry M.; Parrish, J. J.; Rhodes, L. M.; Sanford; Sanford Rotary Club; Sanford State Farmers' Market; Scholtz, David; Sears, Joe; Seminole County; senator; Shinholser, S. O.; Shinholser, S.O.; Smith, W. R.; superintendent; Swope, O. P.; The Sanford Herald; Thirteenth Street; Thurston, Peter; Valdez Hotel; Walker, J. P.; warehouse; WDBO; wholesale; Williams, Susan; Williams, William N.