Browse Items (6 total)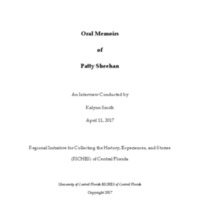 An oral history interview of Patty Sheehan, Orlando's first openly gay city commissioner. The interview was conducted by Kalynn Smith at Sheehan's offices at Orlando City Hall in Orlando, Florida, on April 11th, 2017. Some of the topics covered…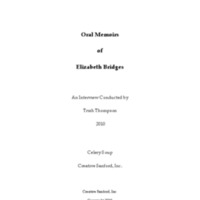 An oral history of Elizabeth Bridges. Bridges discusses what life was like in Singapore as a child in the 1960s. She also talks about how she met her first husband, Victor Green. Green worked on an oil rig in the Pacific Ocean for HuffCo. Bridges…
Tags: alcoholism; Beth Bridges; Bridges, Jack J.; Bridges, Mary; Celery Soup: Florida's Folk Life Play; Chinese; Chinese culture; city commissioner; Cleveland, Mac; Clinton, Bill; Clinton, William "Bill" Jefferson; cooking; Creative Sanford, Inc.; cuisine; Elizabeth Bridges; Fay, Michael; Fleming, Penny; Fort George G. Meade; Fort Meade, Maryland; Gainesville; Grandview Avenue; Green, Alfred; Green, Elizabeth; Green, Victor "Mapes"; groceries; Grout, Lonnie; Hainaese; Hainan Island, China; Indonesia; Jack J. Bridges; King's English; Kuhn, Linda; Lake Mary Boulevard; Law Office of Jack J. Bridges; lawyer; Lee, Bill; lung cancer; Mandarin; Martin, Trayvon Benjamin; Mary Bridges; oil field; Ritz Theatre; Seminole County; Sheriff's Office; Singapore; Southern cuisine; Sports Illustrated; Spring Hills Lake Mary; The Rib Ranch; Thompson, Trish; Zimmerman, George Michael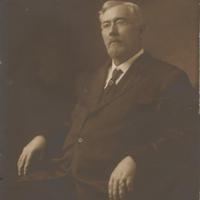 James Lafayette Dillard (1858-1943) is a local icon in Winter Garden, Florida. Dillard migrated to Central Florida from Virginia with his wife, Mattie Showalter, in 1887. He established himself primarily as a citrus and vegetable grower, but he also…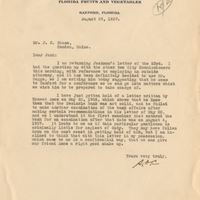 An original letter of correspondence between brothers and business partners Sydney Octavius Chase and Joshua Coffin Chase. Topics discussed in the letter include deciding what attorney to use in Sanford and Ernest Amos' neglect of duty in his failure…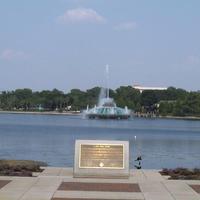 Lake Eola Park in Downtown Orlando, Florida, 2001. Lake Eola and its surrounding park is one of the unusual features that sets Orlando apart from other cities. In the middle of the lake rests the Linton E. Allen Memorial Fountain, Orlando's…
Tags: Allen, Linton E.; Benevolent and Protective Order of Elks; Butler, Mable; Centennial Fountain; city commissioner; City of Orlando; Clark, Jeff B.; Cook, Thomas; Downtown Orlando; duck; Ford, Nap; fountain; Frederick, Bill; Grannis, C. F.; Grannis, Jenny E.; Hood, Glenda E.; Howe, Georgia L.; Johnson, Mary I.; lake; Lake Eola; Lake Eola Park; Linton E. Allen Memorial Fountain; mayor; Mayor of Orlando; Musselwhite; Musselwhite, J. P.; Musselwhite, Theresa; orlando; Orlando Chamber of Commerce; Orlando City Commission; Orlando city commissioner; Orlando Lodge No. 1079; Orlando Utilities Commission; park; plaque; Pratt, Mary W.; Reeves, Orlando; Schwartz, Pat; Sperry, Frank Ezra; Sperry, Mary W. Pratt; St. Luke's Cathedral; Strong, Frederick A.; Strong, May W.; Summerlin Park; Summerlin, Fanny; Summerlin, Jacob; swan-peddle boats; The City Beautiful; Waters, S.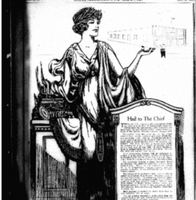 The Apopka Chief, volume I, number 47 for March 7, 1924. This edition of the newspaper announces a new publishing plant, built by Lee F. Lovell, measuring 80 feet by 35 feet and featuring a Single Keyboard 14 Linotype. Published by the Apopka…
Tags: 77th Division; Altamonte Springs; American Type Founders Company; Apopka; Apopka City Hall; Apopka Fire Department; Apopka Hardware and Supply Company; Apopka Heights Subdivision; Ayers Electric Company; Babson, Roger W.; Big Audubon Park Project; Bok, Edward; Bowman, T. B.; Brisbane, Arthur; Bryan, Conn; Bryan, William Jennings; Buckannon, West Virginia; Cabinet sewing machine; Camp Jackson; Campbell cylinder press; Capper, Arthur; Catts; Central Avenue; Central Florida; Charleston, West Virginia; city commissioner; City Commissioner of Apopka; city hall; Collier, B. B.; Collier, Barron; congressman; Conners, William J.; Console sewing machine; Crowley; Curry Electric Company; Dade City; Davis, West Virginia; Desk Model sewing machine; Desk sewing machine; Dream Lake; Edison, Thomas; Edmonds, Richard H.; Edwards, William; Falmouth Punching machine; Fisher, Carl; Florida Land and Fruit Company; Forbes, B. C.; Ford, Henry; France; Free Sewing Machine Company; Free Six Drawer sewing machine; Free-Westinghouse; Free-Westinghouse Electric sewing machine; French Army; Gillion, J. M.; governor; Hager; Haines, Charles D.; Hall, A. M.; Hall, Albert M.; Hall, D. F.; Hall, M. Jessie; Hermans, S. M.; Horney Brothers; Jackson, Carl; Jefcoat, Glover; Jennings; Johnson Electric Company; Johnson, A. B.; Jones, Charlie; Lake Apopka; Lee cylinder press; Lehmann, Karl; Linotype; Lovell & Harris; Lovell, A. J.; Lovell, Lee F.; Lovell, M. Jessie Hall; MacWhorter, Olive J.; MacWhorter, W. E.; Madison Square Garden; Mahaffey; Martin, A. O.; Martin, John; McDowell, Frank; McNaughton, D. P.; Mergenthaler Linotype Company; Miller Saw Trimmer; Miss Apopka; Mitchell; Moffett; Montverde School; Morrey, E. B.; Moses, G. M.; New Orleans; New York; newspaper; Orange Avenue; orange county; Orange County Chamber of Commerce; orlando; Orlando and Orange County Advertising Club; Pine Street; popka Printing Company, Inc.; Roberts, E. Mason; Sanford; sewing machine; Showalter; Single Keyboard Model; Squires, Q. R.; State Bank of Apopka; Taltnn, William G.; Tampa; The Apopka Chief; The Dade City Banner; The National Pilgrim; The Plant city courier; Waite, Leslie; Waite, Leslie P.; Walker's Market; Walkers Electric Company; Wells, Lee; Wells' Gap; West Virginia; West Virginia Association; Westinghouse Electric & Manufacturing Company; Winter Garden; Winter Park; Winter Park Electric & Construction Company; Wire Stitcher; Witherington Block; Witherington, Harry P.; Youth's Companion; Yowell-Drew Company; Zepp, F. E.