Browse Items (8 total)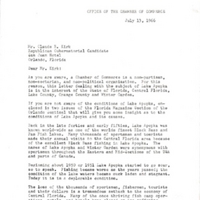 A letter from Arthur W. Sinclair, Executive Secretary-Manager of the Winter Garden Chamber of Commerce, to Claude Roy Kirk, Jr., the 1966 Republican candidate for Governor of Florida. The letter describes Lake Apopka's current polluted state and its…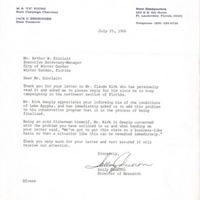 A letter from Sally Cameron, Director of Research for Claude Roy Kirk, Jr.'s (1926-2011) gubernatorial campaign, in response to an earlier letter from Arthur W. Sinclair, the Executive Secretary-Manager for the City of Winter Garden, asking for…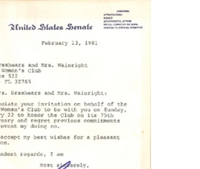 A letter from Senator Lawton Mainor Chiles, Jr. to Mrs. Brashears and Herly Mae Wainright dated February 13, 1981. In the letter, Senator Chiles declines an invitation to attend the 75th anniversary celebration of the Oviedo Woman's Club (OWC), which…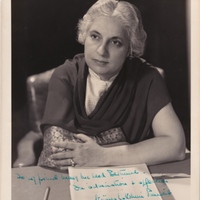 An autographed portrait of Vijaya Lakshmi Nehru Pandit, which is housed at the Mary McLeod Bethune Foundation, located at 640 Dr. Mary McLeod Bethune Boulevard in Daytona Beach, Florida. Pandit was born on August 18, 1900, in Allahabad in the…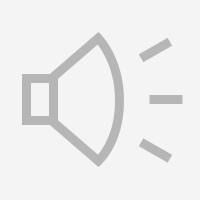 Episode 48 of RICHES Podcast Documentaries: The Groveland 4. RICHES Podcast Documentaries are short form narrative documentaries that explore Central Florida history and are locally produced. These podcasts can involve the participation or…
Tags: African American; Assistant District Attorney; attorney; boycott; capital punishment; citrus; citrus boycott; citrus industry; civil rights; Clermont; Collins, LeRoy; Collins, Thomas LeRoy; Communist; Communist Party; court; court case; crime; criminal case; criminal justice; death penalty; death sentence; Devil in the Grove: Thurgood Marshall, the Groveland Boys, and the Dawn of a New America; documentary; electric chair; execution; false accusation; false conviction; Florida State Attorney; Francis, Willie; fundraising; governor; Governor of Florida; Greenlee, Charles; Groveland; Groveland 4; Groveland Boys; Groveland Boys Trial; Howard, Willie James; Irvin, Walter Lee; judge; justice; kidnapping; King, Gilbert; KKK; Ku Klux Klan; Lake County; Lake County Sheriff; Lake County Sheriff's Office; lawyer; LDF; legal defense fund; legal representation; Library of Congress; life in prison; life sentence; LOC; lynch mob; lynching; Marshall, Thurgood; McCall, Willis Virgil; media; mob; Moore, Harry Tyson; murder; NAACP; National Association for the Advancement of Colored People; news; newspaper; Padgett, Norma; Padgett, Willie; podcast; prisoner; prosecution; protest; publicity; race relations; racism; rape; RICHES Podcast Documentaries; Robert Cassanello; Shepherd, Samuel "Sam"; sheriff; Sheriff's Office; State Archives of Florida; Supreme Court; Supreme Court justice; suspect; Suwannee River; Thomas, Ernest; trial; U.S. Supreme Court; UM; University of Miami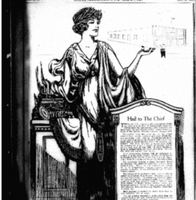 The Apopka Chief, volume I, number 47 for March 7, 1924. This edition of the newspaper announces a new publishing plant, built by Lee F. Lovell, measuring 80 feet by 35 feet and featuring a Single Keyboard 14 Linotype. Published by the Apopka…
Tags: 77th Division; Altamonte Springs; American Type Founders Company; Apopka; Apopka City Hall; Apopka Fire Department; Apopka Hardware and Supply Company; Apopka Heights Subdivision; Ayers Electric Company; Babson, Roger W.; Big Audubon Park Project; Bok, Edward; Bowman, T. B.; Brisbane, Arthur; Bryan, Conn; Bryan, William Jennings; Buckannon, West Virginia; Cabinet sewing machine; Camp Jackson; Campbell cylinder press; Capper, Arthur; Catts; Central Avenue; Central Florida; Charleston, West Virginia; city commissioner; City Commissioner of Apopka; city hall; Collier, B. B.; Collier, Barron; congressman; Conners, William J.; Console sewing machine; Crowley; Curry Electric Company; Dade City; Davis, West Virginia; Desk Model sewing machine; Desk sewing machine; Dream Lake; Edison, Thomas; Edmonds, Richard H.; Edwards, William; Falmouth Punching machine; Fisher, Carl; Florida Land and Fruit Company; Forbes, B. C.; Ford, Henry; France; Free Sewing Machine Company; Free Six Drawer sewing machine; Free-Westinghouse; Free-Westinghouse Electric sewing machine; French Army; Gillion, J. M.; governor; Hager; Haines, Charles D.; Hall, A. M.; Hall, Albert M.; Hall, D. F.; Hall, M. Jessie; Hermans, S. M.; Horney Brothers; Jackson, Carl; Jefcoat, Glover; Jennings; Johnson Electric Company; Johnson, A. B.; Jones, Charlie; Lake Apopka; Lee cylinder press; Lehmann, Karl; Linotype; Lovell & Harris; Lovell, A. J.; Lovell, Lee F.; Lovell, M. Jessie Hall; MacWhorter, Olive J.; MacWhorter, W. E.; Madison Square Garden; Mahaffey; Martin, A. O.; Martin, John; McDowell, Frank; McNaughton, D. P.; Mergenthaler Linotype Company; Miller Saw Trimmer; Miss Apopka; Mitchell; Moffett; Montverde School; Morrey, E. B.; Moses, G. M.; New Orleans; New York; newspaper; Orange Avenue; orange county; Orange County Chamber of Commerce; orlando; Orlando and Orange County Advertising Club; Pine Street; popka Printing Company, Inc.; Roberts, E. Mason; Sanford; sewing machine; Showalter; Single Keyboard Model; Squires, Q. R.; State Bank of Apopka; Taltnn, William G.; Tampa; The Apopka Chief; The Dade City Banner; The National Pilgrim; The Plant city courier; Waite, Leslie; Waite, Leslie P.; Walker's Market; Walkers Electric Company; Wells, Lee; Wells' Gap; West Virginia; West Virginia Association; Westinghouse Electric & Manufacturing Company; Winter Garden; Winter Park; Winter Park Electric & Construction Company; Wire Stitcher; Witherington Block; Witherington, Harry P.; Youth's Companion; Yowell-Drew Company; Zepp, F. E.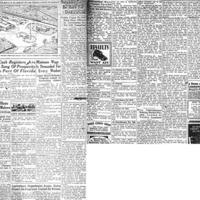 Newspaper article in the The Sanford Herald on the planned dedication of the Sanford State Farmers' Market in 1934. The Sanford State Farmers' Market, located at 1300 South French Avenue, was founded in 1934 in order to provide a central location in…
Tags: 13th Street; ACL; administrator; Apgar, T. K.; Atlantic Coast Line Railroad Company; Brant, Martin J.; Central Florida; chamber of commerce; City of Sanford; commissioner; Commissioner of Agriculture; congressman; dedication; Dorner, Fred F.; farmers' mark; farming; Federal Emergency Relief Administration; FERA; Florida Governor; Florida State Comptroller; Florida State Marketing Commissioner; Florida state senator; Florida State Treasurer; French Avenue; governor; Hiatt, S. W.; Knott; Lee, J. M.; Leffler, William A.; Lehmann, Karl; marketing; Mayo, Nathan; Meisch, John; Michael, J. G.; O'Kelley, E. B.; O'Kelley, E.B.; Papworth, Harry M.; Parrish, J. J.; Rhodes, L. M.; Sanford; Sanford Rotary Club; Sanford State Farmers' Market; Scholtz, David; Sears, Joe; Seminole County; senator; Shinholser, S. O.; Shinholser, S.O.; Smith, W. R.; superintendent; Swope, O. P.; The Sanford Herald; Thirteenth Street; Thurston, Peter; Valdez Hotel; Walker, J. P.; warehouse; WDBO; wholesale; Williams, Susan; Williams, William N.
Newspaper article in the The Sanford Herald on plans to rebuild the Sanford State Farmers' Market after it was burned down in a fire in 1957. The Sanford State Farmers' Market, located at 1300 South French Avenue, was founded in 1934 in order to…
Tags: 13th Street; Anderson Refrigeration Service; Anderson, Sandy; cabinet; Chase & Company; Cleveland, Mack N., Jr.; Collins, LeRoy; commissioner; Commissioner of Agriculture; Corley, Joe; Downtown Sanford; Emerson, J. A.; farmers' market; fire; fire chief; fire insurance; Frederick, Gordon V.; French Avenue; Goldsboro; governor; Henson, Darrell; insurance; Johnson, A. L.; Johnson, M. J.; Justice, W. Leonard; Kastner, Harold; Kirchhoff, W.E.; Larson, J. Edwin; Lewis, L. H.; Market News Service; Mayo, Nathan; Pate, Theo; Phillips, C. R.; representative; Ripe and Ready Tomato Company; Robinson, Robby; Sanford; Sanford Fire Department; Sanford State Farmers' Market; senator; State Fire Fund; Strenstrom, Douglas; Stymes, Roy; The Sanford Herald; Thirteenth Street; Thompson, Lee; Took, Harry; Tooke, Harry; U.S. Navy; Winn-Dixie