Browse Items (10 total)
Tags: Florida Agricultural and Mechanical University
This podcast features an interview with Gilbert C. Din, Professor Emeritus at Fort Lewis College in Durango, Colorado. He is the author of several books on colonial Louisiana and a frequent contributor to The Florida Historical Quarterly. This…
Episode 45 of A History of Central Florida podcasts: Diploma Plate. RICHES Podcast Documentaries are short form narrative documentaries that explore Central Florida history and are locally produced. These podcasts can involve the participation or…
Tags: A History of Central Florida; activism; anti-war; Army; astronaut; BJC; Bledsoe, Robert; Boca Raton; Bradenton; Brevard Junior College; Canavan, Mike; Cental Florida Junior College; CFJC; Chipola Junior College; CJC; Clarke, Bob; Cocoa; cold war; college; commencement; construction; Davis, Henry; Daytona Beach; Daytona Beach Junior College; DBJC; demonstration; diploma; East Central University; ECU; Edison Junior College; education; educator; EJC; FAMU; FAU; female; Florida A&M University; Florida Agricultural and Mechanical University; Florida Atlantic Unviersity; Florida Institute for Continuing University Studies; Florida Legislature; Florida Technological University; Ford, Chip; Fort Lauderdale; Fort Myers; FTU; Gainesville; GCJC; GI Bill; Gibbs Junior College; Gibson, Ella; GJCl St. Petersburg; Goff, Tom; Gougleman, Paul; government assistance; graduation; Grant; Gray, Ben; Gulf Coast Junior College; Hampton Junior College; Hazen, Kendra; HEA; higher education; Higher Education Act of 1965; Hill, Hank; HJC; homemaker; honors convocation; housing; Indian River Junior College; IRJC; Jackson Junior College; JCBC; JJC; Johnson Junior College; junior college; Junior College of Broward County; Kelley, Katie; Kent State University; Kent State University Shootings; Key West; King, Richard; KSU; Lake City; Lake City Junior College; Lake Worth; Lake-Sumter Junior College; LCJC; Leesburg; legislative branch; legislature; Lenfest, Gene; Lincoln Junior College; LJC; loan; Loss, Christopher; LSJC; Madison; Manatee Junior College; Marianna; MDJC; Men's Residence Association; Miami- Dade County; Miami-Dade Junior College; Millican, Charles Norman; MJC; Monroe Junior College; MRA; Municipal Auditorium; NASA; National Aeronautics and Astronautics Administration; National Defense Education Act; NDEA; NFJC; North Florida Junior College; Ocala; OCRHC; Okaloose-Walton Junior College; Orange County Regional History Center; orlando; OWJC; Palatka; Palm Beach Junior College; Panama City; PBJC; peace; peace movement; Pegasus Drive; Pensacola; Pensacola Junior College; Perkins, Joyce Hart; PJC; podcast; political activism; professor; protest; public college; public junior college; public state university; public university; Richard, Hank; RICHES; RJC; Robert Cassanello; Roosevelt Junior College; Rosenwald Junior College; Rowley, Ken; school; Sebastian, Dave; self-determination; Servicemen's Readjustment Act of 1944; SJRJC; space program; SPJC; SRJC; St. Johns River Junior College; St. Petersburg Junior College; strike; student; student government; student grant; student housing; student loan; Sun Belt; Suwannee River Junior College; Tallahassee; Tampa; teacher; U.S. Army; UCF; UF; Underwood, Retha Riley; Univerity of Florida; university; University of Central Florida; University of Central Florida Libraries; University of South Florida; University of West Florida; USF; UWF; Valparaiso Junior College; Vanderbilt University; VCJC; Velásquez, Daniel; veteran; Vietnam War; Volusia County Junior College; VU; Washington Junior College; West Palm Beach Junior College; Wetherington, Mike; Wightman, Ed; WJC; woman; Woods, Pauk; work-study program; yearbrook; Young, John W.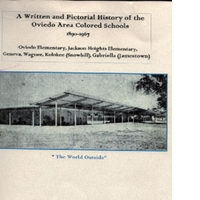 In 2001, former students of the African-American schools planned a class reunion for alumni who attended the schools between 1953 and 1967. The schools included were Oviedo Colored School (later called Oviedo Elementary School), Jackson Heights…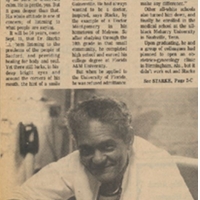 This newspaper article commemorates Dr. George H. Starke's (1898-1978) 50 years of service to the Sanford community. Dr. Starke was a practicing medical doctor who opened his practice in Sanford, Florida, on September 15, 1927. Shortly thereafter,…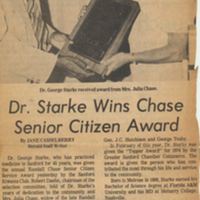 This newspaper clipping concerns the awarding of the Chase Senior Citizen Award to Dr. George H. Starke (1898-1978). The precise newspaper is unknown, but it is presumed to be The Sanford Herald. The year the award was given is believed to be…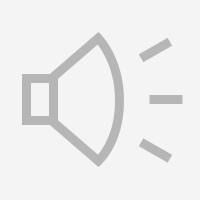 Episode 40 of RICHES Podcast Documentaries: Bethune Cookman University Founding. RICHES Podcast Documentaries are short form narrative documentaries that explore Central Florida history and are locally produced. These podcasts can involve the…
Tags: African American; Bethune-Cookman College; Bethune-Cookman College, 1904-1994: The Answered Prayer to a Dream; Bethune-Cookman University; Bethune, Albertus; Bethune, Mary Jane McLeod; Christian; Christianity; church; civil rights; civil rights activist; co-educational; college; Colored Women's Association; Cookman Institute of Jacksonville; Daytona Beach; Daytona Educational and Industrial Training School; Daytona Normal and Industrial School for Negro Girls; documentary; education; educator; Florida A&M College; Florida A&M University; Florida Agricultural and Mechanical College; Florida Agricultural and Mechanical University; fundraising; Gamble, James; Gray, Willam H. III; HBCU; high school; historically black colleges and universities; Hunter, Sheila Flemming; Jim Crow South; junior college; KKK; Ku Klux Klan; Laney, Lucy Craft; literacy; Mayseville, South Carolina; Methodism; Methodist; Methodist church; mission school; National Council of Negro Women; podcast; Presbyterian; Presbyterian church; Presbyterianism; private school; Procter & Gamble Company; public school; religion; religious education; RICHES Podcast Documentaries; school; separation of church and state; teacher; Tuskegee Institute; Tuskegee University; university; voter registration; voter registration movement; voting; Washington, Booker Taliaferro; White Sewing Machine Company; white supremacy; White, Thomas H.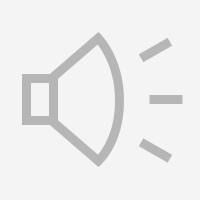 Episode 19 of RICHES Podcast Documentaries: The Home of Dr. Mary McLeod Bethune. RICHES Podcast Documentaries are short form narrative documentaries that explore Central Florida history and are locally produced. These podcasts can involve the…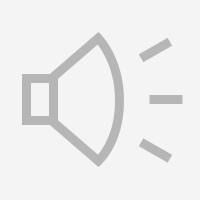 Episode 4 of RICHES Podcast Documentaries: Gentrification and Urban Renewal. RICHES Podcast Documentaries are short form narrative documentaries that explore Central Florida history and are locally produced. These podcasts can involve the…
Tags: African American; African-American community; African-American neighborhood; Amway Center; apartheid; Bank of America; Basie, William James "Count"; Bellows, Dan; Beyond the Theme Parks: Exploring Central Florida; Brotemarkle, Benjamin D.; Carver Shores; casino; Chambliss, Julian C.; Chapman, Oliver E.; Chase, Loring; civil rights; Civil Rights Movement; Community Redevelopment Agency; CRA; Cravero, Geoffrey; crime; Crossing Division Street: An Oral History of the African-American Community in Orlando; desegregation; Dexter's; displacement; doctor; documentary; Downtown Orlando; East Winter Park; elderly; Ellington, Edward Kennedy "Duke"; ethnicity; Faribanks Avenue; federal courthouse; FHS; Fitzgerald, Ella James; Florida A&M University; Florida Agricultural and Mechanical University; Florida Frontiers; Florida Historical Society; Florida House of Representatives; Florida Legislature; gentrification; Habitat for Humanity; Hannibal Square; Hannibal Square Community Land Trust; heritage; historic preservation; historic restoration; HOTEL; I-4; integration; Interstate Highway 4; Jones High School; legislature; Lester, Connie L.; Livingston, Fairolyn; Mediterranean revival architecture; Morris Avenue; museum; Nap Ford Community School; orlando; Orlando Avenue; park; Park Avenue; Parramore; physician; podcast; preservation; property value; race; race relations; real estate; real estate bubble; real estate development; real estate industry; real estate value; revitalization; RICHES Podcast Documentaries; Richmond Heights; Rogers, James Gamble; Rollins College; school; segregation; Shady Park; South Street Casino; taxes; Thompson, Gerladine F.; tourist; U.S. 17-92; U.S. Route 17-92; urban development; urban renewal; Valencia Community College; VCC; Washington Shores; Webster Avenue; Wells, William Monroe; Wells' Built Hotel; Wells' Built Museum of African American History and Culture; West Winter Park; Winter Park; Winter Park Community Center; World War II; WWII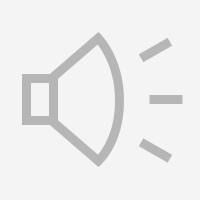 Episode 1 of RICHES Podcast Documentaries: Preview. RICHES Podcast Documentaries are short form narrative documentaries that explore Central Florida history and are locally produced. These podcasts can involve the participation or cooperation of…
Tags: Adicks, Richard; Bethune-Cookman College; Brown v. Board of Education of Topeka; Cape Canaveral; Cocoa; Cross, Phil; documentary; Downtown Orlando; FEC; Florida A&M University; Florida Agricultural and Mechanical University; Florida East Coast Railway; Hoover, J. Edgar; Institute for Simulation and Training; JHS; Johnson, Lyndon Baines; Jones High School; Kerouac, Jack; Lake Eola; Moore, Harry T.; New York World's Fair; Oakland; OBT; Orange Blossom Trail; orlando; Parliament House Resort; Pittsburgh Steelers; Pittsburgh, Pennsylvania; podcast; Reeves, Orlando; RICHES; RICHES Podcast Documentaries; Robert Cassanello; Seminole War; Tavares and Gulf Railroad; UCF; University of Central Florida; Walters, Lori; Wheeler, Ben; World War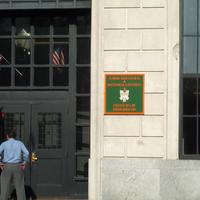 The former site of the State Bank of Orlando, located at 1 North Orange Avenue in Downtown Orlando, Florida, in 2002. The bank was formed in 1893 with Louis Massey as president. In 1919, the State Bank converted into the State Bank and Trust Company…