Browse Items (12 total)
Tags: Florida Legislature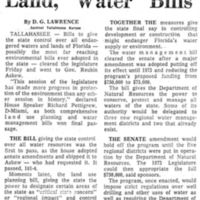 A newspaper article discussing the Florida Water Resources Act and Florida Land Conservation Act of 1972. The Florida Water Resources Act of 1972, this bill was based on model legislation by Richard Maloney, a professor at the University of Florida…
This podcast features an interview with Jessica Clawson, a graduate student at the University of Florida, about her article "Administrative Recalcitrance and Government Intervention: Desegregation at the University of Florida, 1962-1972," which…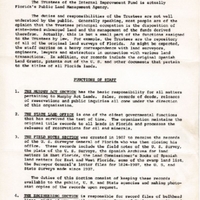 This document details the history and functions of the Internal Improvement Fund. This fund was created in 1851 to handle the sale, maintenance, and leasing of public lands. These public lands came from an initial grant of 500,000 acres from the…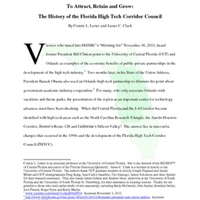 "To Attract, Retain and Grow: The History of the Florida High Tech Corridor Council" is a paper by Dr. Connie L. Lester and Dr. James C. Clark of the University of Central Florida (UCF). Dr. Lester is an Associate Professor of History concentrating…
Episode 45 of A History of Central Florida podcasts: Diploma Plate. RICHES Podcast Documentaries are short form narrative documentaries that explore Central Florida history and are locally produced. These podcasts can involve the participation or…
Tags: A History of Central Florida; activism; anti-war; Army; astronaut; BJC; Bledsoe, Robert; Boca Raton; Bradenton; Brevard Junior College; Canavan, Mike; Cassanello, Robert A.; Cental Florida Junior College; CFJC; Chipola Junior College; CJC; Clarke, Bob; Cocoa; cold war; college; commencement; construction; Davis, Henry; Daytona Beach; Daytona Beach Junior College; DBJC; demonstration; diploma; East Central University; ECU; Edison Junior College; education; educator; EJC; FAMU; FAU; female; Florida A&M University; Florida Agricultural and Mechanical University; Florida Atlantic Unviersity; Florida Institute for Continuing University Studies; Florida Legislature; Florida Technological University; Ford, Chip; Fort Lauderdale; Fort Myers; FTU; Gainesville; GCJC; GI Bill; Gibbs Junior College; Gibson, Ella; GJCl St. Petersburg; Goff, Tom; Gougleman, Paul; government assistance; graduation; Grant; Gray, Ben; Gulf Coast Junior College; Hampton Junior College; Hazen, Kendra; HEA; higher education; Higher Education Act of 1965; Hill, Hank; HJC; homemaker; honors convocation; housing; Indian River Junior College; IRJC; Jackson Junior College; JCBC; JJC; Johnson Junior College; junior college; Junior College of Broward County; Kelley, Katie; Kent State University; Kent State University Shootings; Key West; King, Richard; KSU; Lake City; Lake City Junior College; Lake Worth; Lake-Sumter Junior College; LCJC; Leesburg; legislative branch; legislature; Lenfest, Gene; Lincoln Junior College; LJC; loan; Loss, Christopher; LSJC; Madison; Manatee Junior College; Marianna; MDJC; Men's Residence Association; Miami- Dade County; Miami-Dade Junior College; Millican, Charles Norman; MJC; Monroe Junior College; MRA; Municipal Auditorium; NASA; National Aeronautics and Astronautics Administration; National Defense Education Act; NDEA; NFJC; North Florida Junior College; Ocala; OCRHC; Okaloose-Walton Junior College; Orange County Regional History Center; orlando; OWJC; Palatka; Palm Beach Junior College; Panama City; PBJC; peace; peace movement; Pegasus Drive; Pensacola; Pensacola Junior College; Perkins, Joyce Hart; PJC; podcast; political activism; professor; protest; public college; public junior college; public state university; public university; Richard, Hank; RICHES; RJC; Roosevelt Junior College; Rosenwald Junior College; Rowley, Ken; school; Sebastian, Dave; self-determination; Servicemen's Readjustment Act of 1944; SJRJC; space program; SPJC; SRJC; St. Johns River Junior College; St. Petersburg Junior College; strike; student; student government; student grant; student housing; student loan; Sun Belt; Suwannee River Junior College; Tallahassee; Tampa; teacher; U.S. Army; UCF; UF; Underwood, Retha Riley; Univerity of Florida; university; University of Central Florida; University of Central Florida Libraries; University of South Florida; University of West Florida; USF; UWF; Valparaiso Junior College; Vanderbilt University; VCJC; Velásquez, Daniel; veteran; Vietnam War; Volusia County Junior College; VU; Washington Junior College; West Palm Beach Junior College; Wetherington, Mike; Wightman, Ed; WJC; woman; Woods, Pauk; work-study program; yearbrook; Young, John W.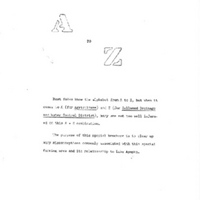 A brochure detailing the creation of the Zellwood Farming District. The brochure gives a timeline of the district's creation and funding, and gives data regarding the District's economic output and employment. The brochure also discusses the…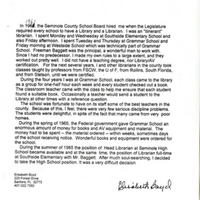 Elizabeth Boyd's experiences as the school librarian at Sanford Grammar School from 1961 to 1965. Boyd was hired by the Seminole County School Board in 1961 when the Florida Legislature passed legislation requiring that every public school have a…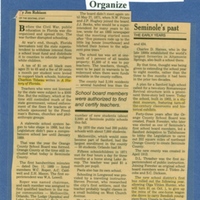 Newspaper article in The Orlando Sentinel outlining the creation of the school system in Seminole County, starting with the creation of a statewide school system in Florida, and ending with the introduction of the first bus to Seminole County Public…
Tags: 9th Street; A History of Florida; Altamonte Springs; Apopka; Beeks, J. J.; Caldwell, A. C.; Church Avenue; Dickson, S. C.; education; educators; Florida Legislature; Florida State Road 434; Florida State Road 436; Forester, Frank; Forrest City; Freedman's Bureau; Haines, Charles D.; high schools; Hughey, J. P.; Hunter, Olga Vihlen; Jacobs, J. Tilden; Lake Jesup; Longwood; Lowell, W. A.; Mason, Z. H.; Mellonville; Ninth Street; orange county; Orange County School Board; orlando; Oviedo; Palmetto Avenue; Prince, N. W.; Provost, Steven; Robison, Jim; Romanesque Revival; Roper, W. C.; Sanford; Sanford High School; school superintendent; school trust fund; schools; segregation; Seminole County; SR 434; SR 436; State Road 436; teachers; Tebeau, Charlton; The Lodge; The Orlando Sentinel; Thrasher, D. L.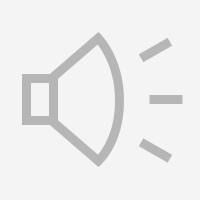 Episode 57, Part 3 of RICHES Podcast Documentaries: Apopka Farmworkers. RICHES Podcast Documentaries are short form narrative documentaries that explore Central Florida history and are locally produced. These podcasts can involve the participation or…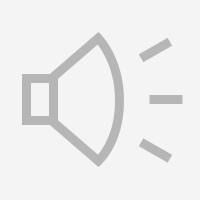 Episode 55, Part 1 of RICHES Podcast Documentaries: Apopka Farmworkers. RICHES Podcast Documentaries are short form narrative documentaries that explore Central Florida history and are locally produced. These podcasts can involve the participation or…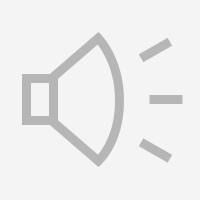 Episode 4 of RICHES Podcast Documentaries: Gentrification and Urban Renewal. RICHES Podcast Documentaries are short form narrative documentaries that explore Central Florida history and are locally produced. These podcasts can involve the…
Tags: African American; African-American community; African-American neighborhood; Amway Center; apartheid; Bank of America; Basie, William James "Count"; Bellows, Dan; Beyond the Theme Parks: Exploring Central Florida; Brotemarkle, Benjamin D.; Carver Shores; casino; Chambliss, Julian C.; Chapman, Oliver E.; Chase, Loring; civil rights; Civil Rights Movement; Community Redevelopment Agency; CRA; Cravero, Geoffrey; crime; Crossing Division Street: An Oral History of the African-American Community in Orlando; desegregation; Dexter's; displacement; doctor; documentary; Downtown Orlando; East Winter Park; elderly; Ellington, Edward Kennedy "Duke"; ethnicity; Faribanks Avenue; federal courthouse; FHS; Fitzgerald, Ella James; Florida A&M University; Florida Agricultural and Mechanical University; Florida Frontiers; Florida Historical Society; Florida House of Representatives; Florida Legislature; gentrification; Habitat for Humanity; Hannibal Square; Hannibal Square Community Land Trust; heritage; historic preservation; historic restoration; HOTEL; I-4; integration; Interstate Highway 4; Jones High School; legislature; Lester, Connie L.; Livingston, Fairolyn; Mediterranean revival architecture; Morris Avenue; museum; Nap Ford Community School; orlando; Orlando Avenue; park; Park Avenue; Parramore; physician; podcast; preservation; property value; race; race relations; real estate; real estate bubble; real estate development; real estate industry; real estate value; revitalization; RICHES Podcast Documentaries; Richmond Heights; Rogers, James Gamble; Rollins College; school; segregation; Shady Park; South Street Casino; taxes; Thompson, Gerladine F.; tourist; U.S. 17-92; U.S. Route 17-92; urban development; urban renewal; Valencia Community College; VCC; Washington Shores; Webster Avenue; Wells, William Monroe; Wells' Built Hotel; Wells' Built Museum of African American History and Culture; West Winter Park; Winter Park; Winter Park Community Center; World War II; WWII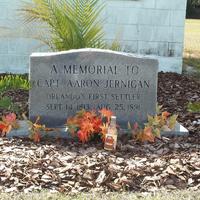 The headstone of Aaron David Jernigan (1813- 1891) at Lake Hill Cemetery, located at 5950 Old Winter Garden Road in Orlando, Florida, in 2001. He was born to Aaron Jernigan and Martha Patsey Deas Jernigan in Camden County, Georgia. The Jernigans are…
Tags: Camden County, Georgia; cattle; cattle industry; cemetery; Cook, Thomas; Deas, Martha Patsey; Florida House of Representatives; Florida Legislature; Florida Mounted Militia; Florida state representative; grave; gravestone; headstone; Hogan, Mary Ann; Jernigan; Jernigan, Aaron; Jernigan, Aaron David; Jernigan, Andrew Jackson; Jernigan, Martha; Jernigan, Martha Patsey Deas; Jernigan, Mary Ann Hogan; Jernigan, Thomas; Lake Conway; Lake Hill Cemetery; Lake Holden; milita; Old Winter Garden Road; orange county; orlando; representative; settler; state representative; Tallahassee; tombstone; Tyler, Martha Jernigan