The Watermark, Vol. 2, No. 5, March 8, 1995
Dublin Core
Title
The Watermark, Vol. 2, No. 5, March 8, 1995
Alternative Title
Watermark, Vol. 2, No. 5
Subject
Gay culture--United States
Description
The eighth issue of The Watermark was published on March 5, 1995, and focuses on community issues with the LGBTQ+ (Lesbian, Gay, Bisexual, Trans, Queer/Questioning, and others) movement. The main topics discussed in this issue include Olympic athlete Greg Louganis (b. 1960), the incarceration of gay Christian activist Mel White, U.S. Supreme Court case Romer v. Evans, the selection of Michael Slaymaker as the new executive director of the Hope and Help Center of Central Florida, an amendment proposal in Alachua County that would prohibit county commissioners from passing ordinances that would protect civil rights based on sexual orientation, the military's violations of its "Don't ask, don't tell" (DADT) policy, gay adoption, and legal and medical issues related to human immunodeficiency virus infection and acquired immune deficiency syndrome (HIV/AIDS). This issue also includes various advertisements, letters to the editor, film reviews, comics, a travel section, a calendar of events, and personal classifieds.

Since 1994, The Watermark has been the cornerstone source of LGBTQ+ centered news for the Central Florida region. Founded by Tom Dyer in Orlando, the publication began generating bi-weekly issues beginning August 31, 1994. Since then, The Watermark has consistently published newspaper-style issues every other Thursday. Gaining traction, the publication expanded in 1995 to include Tampa and, in 1997, The Watermark became a permanent piece of LGBTQ+ culture when the publication initiated the first large-scale Gay Days Weekend event, the Beach Ball at Disney's Typhoon Lagoon. Before 1999, the publication printed 20,000 copies every week, distributing them to over 500 locations between its two major cities. Following 1999, the publication launched watermarkonline.com shifting to an online publication style. In 2016, Rick Claggett purchased The Watermark.
Creator
Dyer, Tom
Gustetter, April
Peterson, Keith
Emmer, Sarah
Bruin, Patrick
Kilgore, Michael L.
Fowler, G. K.
Brenner, harmony
Schultz, Nan
Maines, Ted
Toscas, Dimitri
Crescitelli, James A.
Newman, Leslea
Kundis, Ken
Badal, Sharon
De Matteis, Stephen
Sloan, Rosanne
Sarano, Joe
Almeida
Provencher, William André
Dean, Brandon
Wilde, Diane
Sheehan, Patty
Vasel, Yvonne C. T.
Hartman, Keith
Bechdel, Alison
Orner, Eric
Porter, Jill
Vangelys, Gabriel
Kershow, Rob
Cash, Christina
Roberts, Stephen E.
Campbell, Jeff
Publisher
Date Created
ca. 1994-12-07
Date Copyrighted
1994-12-07
Is Format Of
Digital reproduction of original 32-page newspaper:
The Watermark
, Vol. 2, No. 5, March 5, 1995.
Requires
Coverage
Virginia Beach, Virginia
Colorado
Hope and Help Center of Central Florida, Winter Park, Florida
Alachua County, Florida
St. Petersburg, Florida
Miami, Florida
Washington, D.C.
Richmond, Virginia
Daytona Beach, Florida
Contributing Project
Curator
Smith, Robert
Cepero, Laura
Digital Collection
Source Repository
External Reference
"
About/Contact
." WatermarkOnline.com, accessed July 11, 2016. http://www.watermarkonline.com/aboutcontact/.
Files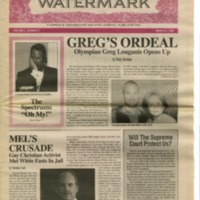 Collection
Citation
Dyer, Tom et al.. "The Watermark, Vol. 2, No. 5, March 8, 1995." RICHES of Central Florida accessed August 10, 2022, https://richesmi.cah.ucf.edu/omeka/items/show/9250.
Categories
Transcribe This Item