The Watermark, Vol. 7, No. 1, January 6-19, 2000
Files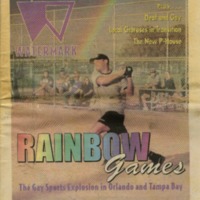 Dublin Core
Title
The Watermark, Vol. 7, No. 1, January 6-19, 2000
Alternative Title
Watermark, Vol. 7, No. 1
Subject
Gay culture--United States
Description
The ninth issue of The Watermark was published on January 6-19, 2000, and focuses on community issues with the LGBTQ+ (Lesbian, Gay, Bisexual, Trans, Queer/Questioning, and others) movement. The main topics covered in this issue include a letter from the editor
the Supreme Court of Vermont's decision on same-sex marriages
the Millennium March on Washington (MMOW)
BeachFest in Daytona Beach, the closing of the Gay, Lesbian, Bisexual Community Center (GLBCC)
the resignation of Charles Albrecht, executive director of the Tampa AIDS Network (TAN)
the anti-gay comments of Lee County Sheriff John McDougall regarding Matthew Shepard, a young, homosexual man who was brutally tortured and murdered in Wyoming
an increase in hate crimes against minorities
members of the LGBTQ+ community who have hearing impairments
legal and medical issues related to human immunodeficiency virus infection and acquired immune deficiency syndrome (HIV/AIDS)
the Gay Financial Network's (GFN) first annual list of the 25 Most Influential Gay and Lesbian Corporate Executives
fundamentalism and the LGBTQ+ community
New Year's resolutions to improve gay culture
gay choruses in Orlando and Tampa Bay
being single in the upcoming year
gays and lesbians in sports
aerobics and authenticity
breast augmentation
and astronomer and gay rights activist Frank Kameny (1925-2011). This issue also includes various advertisements, film reviews, a calendar of events, organizations and meetings, an astrology section, and personal classifieds. Finally this issues includes The Waterfront supplement, which featured articles about Parliament House, The Factory at Garage, and the sale of Viagra on the black market, as well as a gossip column, a nightlife column, music reviews, comics, maps of LGBTQ+ businesses in various Florida cities, and a sex talk column.

Since 1994, The Watermark has been the cornerstone source of LGBTQ+ centered news for the Central Florida region. Founded by Tom Dyer in Orlando, the publication began generating bi-weekly issues beginning August 31, 1994. Since then, The Watermark has consistently published newspaper-style issues every other Thursday. Gaining traction, the publication expanded in 1995 to include Tampa and, in 1997, The Watermark became a permanent piece of LGBTQ+ culture when the publication initiated the first large-scale Gay Days Weekend event, the Beach Ball at Disney's Typhoon Lagoon. Before 1999, the publication printed 20,000 copies every week, distributing them to over 500 locations between its two major cities. Following 1999, the publication launched watermarkonline.com shifting to an online publication style. In 2016, Rick Claggett purchased The Watermark.
Creator
Dyer, Tom
Peterson, Keith
Cavilla, Derek
Simmons, Todd Martinez-Padilla
Smith, Scott
Johnson, Carl A.
Worth, Ken
Rennels, Sam
Smirnow, Vic
Pritchard, Casie
Sullivan, John
Smith, Nadine
Wilde, Diane
Crescitelli, James A.
Adams, Stacey A.
Kundis, Ken
Thomas, Clive
Triggs, Greg
York, KimBoo
Masters, Billy
Wiggins, Hayelle
Varnell, Paul
Harris, L. Paul
Dittman, Earl
Schwartz, Harriet L.
Hartlage, Kirk
Carson, Kelly
Holbdy, Philip
Sheppard, Simon
Huisman, Mark J.
Bechdel, Alison
Orner, Eric
Porter, Jill
Fernandez, Victor
Pabon, Algieri
Maniscalco, Rex Reynolds, Christine E.
Warner, Tom
Francesca
Roehr, Bob
Wiggins, Jayelle
Alvear, Michael
Siegel, Randy
Bianco, David
Jack the Lad
Sheppard, Simon
Publisher
Date Created
ca. 1994-12-21
Date Copyrighted
12/21/1994
Is Format Of
Digital reproduction of original 32-page newspaper:
The Watermark
, Vol. 7, No. 1, January 6-19, 2000.
Requires
Coverage
Parliament House, Orlando, Florida
Vermont
Washington, D.C.
Daytona Beach, Florida
Lee County, Florida
Tampa Bay, Florida
Contributing Project
Curator
Smith, Robert
Cepero, Laura
Digital Collection
Source Repository
External Reference
"
About/Contact
." WatermarkOnline.com, accessed July 11, 2016. http://www.watermarkonline.com/aboutcontact/.
Collection
Citation
Dyer, Tom et al.. "The Watermark, Vol. 7, No. 1, January 6-19, 2000." RICHES of Central Florida accessed October 1, 2023, https://richesmi.cah.ucf.edu/omeka/items/show/9252.
Categories
Transcribe This Item