The Watermark, Vol. 8, No. 20, September 27-October 10, 2001
Dublin Core
Title
The Watermark, Vol. 8, No. 20, September 27-October 10, 2001
Alternative Title
Watermark, Vol. 8, No. 20
Subject
Gay culture--United States
Description
The twentieth issue in the eighth volume of The Watermark was published on September 27, 2001 and came after the tragic events of September 11, 2001. Throughout the issue, many columns focused on the tragedy, highlighting the experiences and reactions of the columnists. A re-printed article was featured from the Washington Blade about some members of the LGBTQ+ (Lesbian, Gay, Bisexual, Trans, Queer/Questioning, and others) community who were lost in the terrorists attacks. Prominent among these individuals was gay public relations executive, Mark Bingham (1970-2001), who was on Flight 93. However, despite the freshness of pain and loss in this issue, there was a concerted effort to focus on some of the more positive events going on in the LGBTQ+ community, such as the 12th Annual Tampa International Gay and Lesbian Film Festival and the Hope &amp
Help Center's Headdress Ball. Also highlighted were occurrences in the international LGBTQ+ community, such as the possibility of the Czech Republic recognizing same-sex partnerships, and a gay Cairo teen sentenced to prison. This issue of The Watermark strikes a balance between hurt and loss with positivity and community while maintaining the paper's unique outlook on all events.

Since 1994, The Watermark has been the cornerstone source of LGBTQ+ centered news for the Central Florida region. Founded by Tom Dyer in Orlando, the publication began generating bi-weekly issues beginning August 31, 1994. Since then, The Watermark has consistently published newspaper-style issues every other Thursday. Gaining traction, the publication expanded in 1995 to include Tampa and, in 1997, The Watermark became a permanent piece of LGBTQ+ culture when the publication initiated the first large-scale Gay Days Weekend event, the Beach Ball at Disney's Typhoon Lagoon. Before 1999, the publication printed 20,000 copies every week, distributing them to over 500 locations between its two major cities. Following 1999, the publication launched watermarkonline.com shifting to an online publication style. In 2016, Rick Claggett purchased The Watermark.
Creator
Dyer
Tom
Sullivan, John
Smith, Nadine
Wilde, Diane
Crescitelli, Jim
Kober, Jen
Kundis, Ken
Triggs, Greg
Rojas, Arturo
Masters, Billy
Wiggins, Jayelle
Varnell, Paul
Hartlage, Kirk
Craig, Shelley
Drake, Jen
Russell, Brandi
Jackowitz, Enid
Syd Jackowitz
Viren, Sarah
Martinac, Paula
Publisher
Date Created
ca. 2001-09-27
Date Copyrighted
2001-09-27
Is Format Of
Digital reproduction of original 64-page newspaper:
The Watermark
, Vol. 8, No. 20, September 27-October 10, 2001.
Requires
Coverage
Orlando, Florida
Tampa, Florida
World Trade Center, New York, New York
Pentagon, Washington, D.C.
Prague, Czech Republic
Cairo, Egypt
Tampa Theatre, Tampa, Florida
Rosen Centre Hotel, Orlando, Florida
Jekyll Island, Georgia
Digital Collection
Source Repository
External Reference
"
About/Contact
." WatermarkOnline.com, accessed January 26, 2018. http://www.watermarkonline.com/aboutcontact/.
Files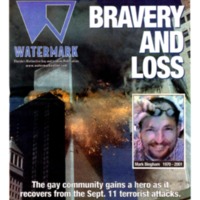 Collection
Citation
Dyer et al.. "The Watermark, Vol. 8, No. 20, September 27-October 10, 2001." RICHES of Central Florida accessed September 25, 2022, https://richesmi.cah.ucf.edu/omeka/items/show/10318.
Categories
Transcribe This Item