The Watermark, Vol. 12, No. 18, September 8-21, 2005
Files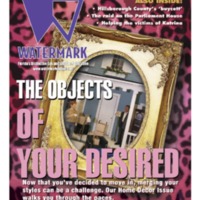 Dublin Core
Title
The Watermark, Vol. 12, No. 18, September 8-21, 2005
Alternative Title
Watermark, Vol. 12, No. 18
Subject
Gay culture--United States
Description
The eighteenth issue in the twelfth volume of The Watermark was published for September 8-21, 2005. This issue covered a variety of issues and events affecting the LGBTQ+ community in the Central Florida area. The main story focuses on home decor and tips for home improvement. Other stories include the "buycott" of gay friendly businesses in Hillsborough County, the crackdown on underage drinking at the Parliament House, and helping victims of Hurricane Katrina in New Orleans. Events relevant to the LGBTQ+ community in Central Florida are listed, such as "An evening with Rep. Barney Frank" and the "Tampa International Gay and Lesbian Film Festival". This issue also includes articles on horoscopes and an advice column for relationship problems.

Since 1994, The Watermark has been the cornerstone source of LGBTQ+ centered news for the Central Florida region. Founded by Tom Dyer in Orlando, the publication began generating bi-weekly issues beginning August 31, 1994. Since then, The Watermark has consistently published newspaper-style issues every other Thursday. Gaining traction, the publication expanded in 1995 to include Tampa and, in 1997, The Watermark became a permanent piece of LGBTQ+ culture when the publication initiated the first large-scale Gay Days Weekend event, the Beach Ball at Disney's Typhoon Lagoon. Before 1999, the publication printed 20,000 copies every week, distributing them to over 500 locations between its two major cities. Following 1999, the publication launched watermarkonline.com shifting to an online publication style. In 2016, Rick Claggett purchased The Watermark.
Creator
Allen, Steve
Baber, Keith
Bechdel, Alison
Blanchard, Steve
Buck, Lisa
Claggett, Rick
Crescitelli, Jim
Davis, Steve
Dickerson, Mark
Dyer, Tom
Eckert, Tom
Gregory, Trina
Hartlage, Kirk
Hermann, Larry
Kundis, Ken
Maniscalco, Rex
Masters, Billy
Middour, Bryan L.
Moore, Travis
Murray-Parker, Karen S.
Nolan, Margaret
Paull, Anthony
Roehr, Bob
Siyufy, Adele
Smeltzer, Misty
Thornton, Kevin
Triggs, Greg
Wiethop, Dave
Wiggins, Jayelle
Wilde, Diane
Williams, Don
Source
Original 72-page newspaper:
The Watermark
, Vol. 12, No. 18, September 8-21, 2005: Watermark Publishing Group, Orlando, Florida.
Publisher
Date Created
ca. 2005-09-08
Date Copyrighted
2005-09-08
Is Format Of
, Vol. 12, No. 18, September 8-21, 2005.
Requires
Coverage
Bradenton, Florida
Chicago, Illinois
Daytona Beach, Florida
Hillsborough County, Florida
Milwaukee, Wisconsin
New Orleans, Louisiana
Orlando, Florida
Philadelphia, Pennsylvania
San Diego, California
Sarasota, Florida
St. Petersburg, Florida
Tampa, Florida
Washington D.C.
Digital Collection
Source Repository
External Reference
"
About/Contact
." WatermarkOnline.com, accessed January 26, 2018. http://www.watermarkonline.com/aboutcontact/.
Collection
Citation
Allen, Steve et al.. "The Watermark, Vol. 12, No. 18, September 8-21, 2005." RICHES of Central Florida accessed September 26, 2023, https://richesmi.cah.ucf.edu/omeka/items/show/10322.
Categories
Transcribe This Item