The Watermark, Vol. 12, No. 7, April 7-20, 2005
Files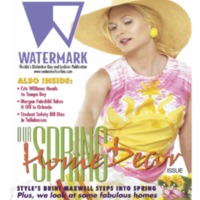 Dublin Core
Title
The Watermark, Vol. 12, No. 7, April 7-20, 2005
Alternative Title
Watermark, Vol. 12, No. 7
Subject
Gay culture--United States
Description
The seventh issue of the twelfth volume of The Watermark was published on April 7, 2005, and was the Spring Home Décor issue. The Décor pull out section highlights Central Florida homes and their interior designers' unique styles. Also included in that section is an interview with Style Network's Brini Maxwell (Ben Sanders, b. 1969). This issue also covers the death of the Student Safety Bill in Florida's legislature, as well as a recently passed Ohio bill that would inadvertently harm straight couples in cases of domestic violence. Further coverage includes an examination of the late Pope John Paul II's relationship with the LGBTQ+ community, a queer alumni group started at the University of South Florida, and Israeli leaders' resistance to Jerusalem hosting WorldPride.

Since 1994, The Watermark has been the cornerstone source of LGBTQ+ centered news for the Central Florida region. Founded by Tom Dyer in Orlando, the publication began generating bi-weekly issues beginning August 31, 1994. Since then, The Watermark has consistently published newspaper-style issues every other Thursday. Gaining traction, the publication expanded in 1995 to include Tampa and, in 1997, The Watermark became a permanent piece of LGBTQ+ culture when the publication initiated the first large-scale Gay Days Weekend event, the Beach Ball at Disney's Typhoon Lagoon. Before 1999, the publication printed 20,000 copies every week, distributing them to over 500 locations between its two major cities. Following 1999, the publication launched watermarkonline.com shifting to an online publication style. In 2016, Rick Claggett purchased The Watermark.
Creator
Baber, Keith
Blanchard, Steven
Crescitelli, Jim
DeJesus, Edwin
Dyer, Tom
Hartlage, Kirk
Jenkins, Georgia
Kundis, Ken
Leiner, Victor
Masters, Billy
Middour, Bryan L.
Murray-Parker, Karen S.
Nolan, Margaret
Roehr, Bob
Shapiro, Gregg
Triggs, Greg
Walen, Rick
Wiethop, Dave
Wiggins, Jayelle
Wilde, Diane
Publisher
Date Created
ca. 2005-04-07
Date Copyrighted
2005-04-07
Is Format Of
Digital reproduction of original 76-page newspaper:
The Watermark
, Vol. 12, No. 7, April 7-20, 2005.
Requires
Coverage
Orlando, Florida
Tampa, Florida
St. Petersburg, Florida
Tallahassee, Florida
Cleveland, Ohio
Augusta, Maine
Jerusalem, Israel
Vatican City, Rome, Italy
Sarasota, Florida
Miami, Florida
Contributing Project
Digital Collection
Source Repository
External Reference
"
About/Contact
." WatermarkOnline.com, accessed January 28, 2018. http://www.watermarkonline.com/aboutcontact/.
Collection
Citation
Baber, Keith et al.. "The Watermark, Vol. 12, No. 7, April 7-20, 2005." RICHES of Central Florida accessed September 30, 2023, https://richesmi.cah.ucf.edu/omeka/items/show/10356.
Categories
Transcribe This Item