Browse Items (1 total)
Tags: Sanford Furniture Company.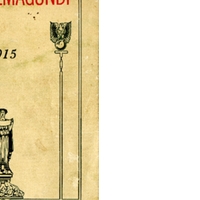 The 1915 Salmagundi yearbook for Sanford High School. The yearbook was named after the Native American word meaning "a general mixture." Ethel Hickson was the editor-in-chief of the Salmagundi for the 1913-1914 school year, which cost fifteen cents.…
Tags: 1st Street; 4th Street; 9th Street; Abernathy, W. W.; Alden, John; Alden, Priscilla; Arthur; Aspinwall, Frances; BDS; Belgian Relief Fund; Berner, Agnes; Berner, Evelyn; Betts, A. L.; Betty, Daisy Edith; Bible; Boys Debating Society; Brady, E. E.; Brady, Virginia; Brainol; Brock, D. C.; Brown, O.; Brown, Stella; Brown, Susie; Bureau of Education; Butt, C. G.; Caldwell, Alice; Camerone Maude; Chappell, Lucca; Chase and Company; Chautauqua; Coats, John Franklin; Coulbourne; Curry Institute; Daytona; Daytona High School; Deane, Robert; Deas, R. R.; Dickson, Mildred; Dubose, H. C.; Duhart, H. L.; Durst, Mozelle; Dutton, F. F.; education; Edwards, Jonathan; Elm Avenue; Entzinger. Maide; Estridge, Hattie's; Ezell, B. F.; Fernald, George H.; First National Bank; First National Bank No. 1; First Street; Florida State College for Women; Ford; Forster, F. P.; Foster, Bob; Fourth St.; Fourth Street; French Avenue; Fry, Albert A.; FSCW; Gables, Gary; Gainesville; Garwood; Gatchel, Ruth Stewart; Geneva; George H. Fernald Hardware Company; Gilbert, Howard; Giles; Goertz, Clara; Goodhue; Greene, Gladys Helen; Guilde, Clara Louise; Hand, C. M.; Hand, Ruth; Hanson, P. M.; Harold, Muriel; Harris; Herring; Hickson, Ethel; Higgins, Adelaide; high schools; Holland, Mary B.; Hughes, H. J.; ILS; Irving Literary Society; Irwin; Irwin & Giles; Jones; Jones, Allan; Key, A. R.; King; Kissimmee; Kissimmee High School; L. R. Philips & Company; Laing, J.; Laing, R.; Lake, Forrest; Lincoln, Abraham; Literary and Debating Societies; Longfellow, Henry Wadsworth; Longwood; Longwood School; Lough, Nellie Edith; Machiavelli; Magnolia Avenue; McAlexander, Watson; McDaniel, Ruth; Meredith; Miller, Theodore; Monroe; Monroe Doctrine; Morris, Gladys; Moughton, Ethel; Munson, Fannie Reba; Munson, Zoe Bardwell; Murrell, Renie; Musson, Elizabeth; N. P. Yowell & Company; Nelson, Annie; Ninth Street; orlando; Orlando High School; Oviedo; Packard; Packard, Bertha; Packard, Hazel; Packard, Marion; Pagenhart, Alma; Palmetto Avenue; Parish House; Park Avenue; Peoples Bank; Peoples Bank of Sanford; Perkins, B. L.; Philip; Philips Garage; Philips, L. R.; Philips, Marion; Phillips Studio; Pope, William; Railroad Avenue; Rand, Frederic H.; Rexall; Rexall Store; Roberts, J. D.; Rossetter; Routh, Sherman; Routh, William; Rowland, Walter; Rumph, Hume; Salmagundi; Sanford; Sanford Avenue; Sanford Bottling Works; Sanford Coca-Cola Bottling Company; Sanford Furniture Company.; Sanford Grammar; Sanford Grammar School; Sanford High School; Sanford Novelty Works; Sanford Pressing Club; Sanford Public School; schools; Seabreeze; Seabreeze High School; Seminole County Bank; Seminole County Fair; Shepherd, Ernest; SHS; Speer, Vivian; St. Augustine; St. Augustine High School; Stetson University; Stevens, H. R.; Stevenson; Stewart, Ruth; SU; Taft, William H.; Tetherly; Theodore Miller & Son; Thrasher, D. L.; Tifft; Tift; Tolar, H. E.; Tomato Clubs; Turner, E. E.; Upshaw, William D.; Walker; Walker, Claire; Ward, Fern; Warthlen; Washburn; Washington and Lee University; Washington-Lee University; Washington, Georgia; Watson; Wentworth, Dorothy; Whiteman, James; Whiteman, Marjorie; Whitner, Annie Caldwell; Whitner, B. F.; Whitner, Benjamin; Wickham; Wight; Wight Grocery Company; Wildman, J. R.; Wildman, J. R. Laing, R.; Williams, G. E.; Winthrop, Fanny; WLU; Woman Suffrage; Woodruff; Woodruff & Watson; Woodruff, F. L.; Yowell, N. P.