Browse Items (6 total)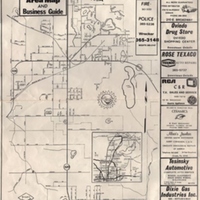 An area map of Oviedo, Florida, and its surrounding areas. A number of advertisements from the businesses surrond the perimeter of the map. While the date is unknown, the map is believed to have been published sometime between 1970 and 1978. The…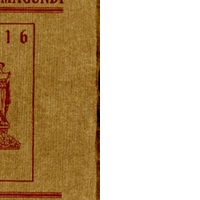 The 1916 Salmagundi yearbook for Sanford High School. The yearbook was named after the Native American word meaning "a general mixture." Anna McLaughlin was the editor-in-chief of the Salmagundi for the 1913-1914 school year, which 15 cents. It has…
Tags: 1st Street; 4th Street; 9th Street; Ahearn, Ida; Alexander Irwin; Anderson, Agnes; Andes, Alice; Armor, Marry Harris; Aspinwall, Frances M.; Audubon Society; Audubon Society of Florida; B. & O. Motor Company; Betts, Ruby; Bonita Cafe; Bower, R. C.; Bowler, Mable; Boys Debating Society; Bradbury; Brady, E. E.; Brady, Virginia; Brainol; Brock, D. C.; Brown, D. O.; Brown, J. Oscar; Brown, John; Brown, Susie H.; Buckhalter, Gladys; Butt, C. G.; Caldwell, Hugh H.; Callahan; Cameron, Mary Gatchel; Carnes, S. J.; Carranza, Venustiano; Chaplin, Charlie; Chappell, Frances; Chappell, Mary; Chittenden, Edna; Commercial St.; Commercial Street; Coulborn, Dixon; Coulbourn, Mary Chappell; Coulbourn, Richard; Crosby, Wallace; Cupid, Dan; Cypress Ave.; Cypress Avenue; Davies, Mary Carolyn; Dean, Tenny; Deane, Robert; Deas, R. R.; Diack, Margaret; Dickins Shoe Store; Dickins, J. W.; Dingee, C. H.; Douglass, E. A.; DuBoes, H. C.; education; Entzminger, Maud; Estelle Gray Concert Company; Eustis; Eustis High School; Ezell; Ezell, Paul; First National Bank; First Street; Five County Fair; Fletcher, John; Florida Alligator; Florida State College for Women; Fourth Street; Fox, Gwin; French Ave. Garage; French Avenue; French Avenue Garage; French Millinery Shop; FSCW; Gardner, Gladys; Gatchel, F.; Gatchel, Josie Stumon; Gatchel, Mary; Gatchel, Ruth Stewart; Geneva; Georgia School of Technology; Geortz, Alma; Gift Store; Goertz, Alma M.; Goodhue, Isabelle; Gotha; Gove; Gove, Marion; Graham, J. R.; Gramling, Albert; Graves, Jessie C.; Gray, Estelle; Green; Green, Gladys; Grow, Elmer; Hand, C. M.; Hand, Ruth; Hawkins, W. E.; Higgins; high schools; Hill; Hotel Carnes; Housholder, E. F.; Housholder, Ernest; Housholder, W. E.; Howard, B. Adna; Hully; Hulme, T. E.; Hutchinson; Irving, Washington; Jacksonville; Jefferson Hospital; Kanner, Abie; Kanner, Charles; Kanner, Harry; Kanner, Ruth; Key, A. R.; Kissimmee; Kissimmee High School; L. R. Philips & Company; La Rocque, S. H.; Laing, H. Roby; Laing, Joseph S.; Lake, Forrest; Lawrence, B. H.; Lawton, T. W.; Leavitt, Frances A.; Leffler, C. H.; Lhevinne, Mortis; Literary and Debating Societies; Little, Ercel; Lovell, Vail; Lowell, Abbott, Lawrence; Lowell, Amy; Loy, Nina; MacMillan; Maines, Schelle; Masefield; Masters, Edgar Lee; McAlexander, Watson; McCook, S. A.; McCuller, L. P.; McDaniel, Ruth; McIntyre, J. B.; McIntyre's Express & Baggage Transfer; McLaughlin, Anna C.; McLaulin, Henry; Meredith, Thomas; Mettinger; Mettinger, Ruth; Mettinger's; Miller, F. L.; Milvis Marble Company; Morris, Gladys L.; Moughton, Ethel; Munson, Fannie Reba; Munson, Zoe; Murrell, John M.; Murrell, Renie; N. P. Yowell & Company; National Bird Day; Nichols, R. E.; Nickels; Ninth Street; Nix; Ohio House; orlando; Orlando High School; Osceola High School; Packard; Palmetto Avenue; Parish Hous; Parish House Club; Park Avenue; Pattishall, Bert; Peoples Bank; Perkins, B. L.; Philip's Studio; Philips, L. R.; Phillips Studio; Poet's Club; Pope, Eugenia; Pound, Ezra; Progressive Shoe Shop; Railroad Avenue; Rexall Store; Rhodes, Muriel; Rines; Rines, Lucille; Ringe, Adele; Roach, J. H.; Robert's Grocery; Robinson, M. F.; Rodker, John; Roumillat, Eugene; Rowe, Ruby Betts; Royal Tailors; Rumph, Dorothy; Rumph, Hume C.; Runge, S.; Runge, William; Salmagundi; Sanford; Sanford Avenue; Sanford Bottling Works; Sanford Coca-Cola Bottling Company; Sanford Furniture Company; Sanford Grammar School; Sanford High School; Sanford House; Sanford Pressing Club; Sanford Primary School; Sanford Public Schools; Sanford Shoe and Clothing Company; Sanitary Pressing Club; Schaal, Theodore; schools; Seminole Abstract Company; Seminole County Bank; Seminole County Judge; Seminole County Superintendent of Public Instruction; Shinholser, S. O.; SHS; Smith, Bessie; Smith, R. H.; Spencer, G. W.; Spencer's Bakery; Spratt, Jack; Spurling, J. E.; St. Augustine; St. Augustine High School; St. Patrick's Day; Stetson University; Stevens, H. R.; Stevens, Ralph; Stevenson, Hazel, Allison; Stewart, Ruth; Stumon, Josie; SU; Takach, J. A.; Tallahassee; Tampa; Taylor, O. L.; Thackston, J. H.; Thomas Jefferson University Hospital; Thrasher, D. L.; Thrasher, May; Tillis, Gussie; Trusler, Dean; Tsing Kiang Fu; UF; Umatilla; Umatilla High School; University of Florida; University of South Carolina; USC; Waldron, Katherine; Walker; Walker, Claire; Watson; Waycross; WCTU; West; West, Etta; West, Etta P.; Whitman, Walt; Whitner, Annie; Wickham; Wight; Wight Grocery Company; Wildman, J. Rowland; William Coulborn Co.; William Coulborn Company; Williams, Grace Earl; Wilmington; Wilson & Householder; Wilson, Thomas Emmet; Winter Park; Woman's Christian Temperance Union; Woodburn, Esthe M.; Woodruff; Woodruff & Watson; Woodruff, F. L.; Yowell, N. P.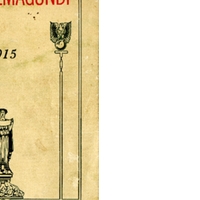 The 1915 Salmagundi yearbook for Sanford High School. The yearbook was named after the Native American word meaning "a general mixture." Ethel Hickson was the editor-in-chief of the Salmagundi for the 1913-1914 school year, which cost fifteen…
Tags: 1st Street; 4th Street; 9th Street; Abernathy, W. W.; Alden, John; Alden, Priscilla; Arthur; Aspinwall, Frances; BDS; Belgian Relief Fund; Berner, Agnes; Berner, Evelyn; Betts, A. L.; Betty, Daisy Edith; Bible; Boys Debating Society; Brady, E. E.; Brady, Virginia; Brainol; Brock, D. C.; Brown, O.; Brown, Stella; Brown, Susie; Bureau of Education; Butt, C. G.; Caldwell, Alice; Camerone Maude; Chappell, Lucca; Chase and Company; Chautauqua; Coats, John Franklin; Coulbourne; Curry Institute; Daytona; Daytona High School; Deane, Robert; Deas, R. R.; Dickson, Mildred; Dubose, H. C.; Duhart, H. L.; Durst, Mozelle; Dutton, F. F.; education; Edwards, Jonathan; Elm Avenue; Entzinger. Maide; Estridge, Hattie's; Ezell, B. F.; Fernald, George H.; First National Bank; First National Bank No. 1; First Street; Florida State College for Women; Ford; Forster, F. P.; Foster, Bob; Fourth St.; Fourth Street; French Avenue; Fry, Albert A.; FSCW; Gables, Gary; Gainesville; Garwood; Gatchel, Ruth Stewart; Geneva; George H. Fernald Hardware Company; Gilbert, Howard; Giles; Goertz, Clara; Goodhue; Greene, Gladys Helen; Guilde, Clara Louise; Hand, C. M.; Hand, Ruth; Hanson, P. M.; Harold, Muriel; Harris; Herring; Hickson, Ethel; Higgins, Adelaide; high schools; Holland, Mary B.; Hughes, H. J.; ILS; Irving Literary Society; Irwin; Irwin & Giles; Jones; Jones, Allan; Key, A. R.; King; Kissimmee; Kissimmee High School; L. R. Philips & Company; Laing, J.; Laing, R.; Lake, Forrest; Lincoln, Abraham; Literary and Debating Societies; Longfellow, Henry Wadsworth; Longwood; Longwood School; Lough, Nellie Edith; Machiavelli; Magnolia Avenue; McAlexander, Watson; McDaniel, Ruth; Meredith; Miller, Theodore; Monroe; Monroe Doctrine; Morris, Gladys; Moughton, Ethel; Munson, Fannie Reba; Munson, Zoe Bardwell; Murrell, Renie; Musson, Elizabeth; N. P. Yowell & Company; Nelson, Annie; Ninth Street; orlando; Orlando High School; Oviedo; Packard; Packard, Bertha; Packard, Hazel; Packard, Marion; Pagenhart, Alma; Palmetto Avenue; Parish House; Park Avenue; Peoples Bank; Peoples Bank of Sanford; Perkins, B. L.; Philip; Philips Garage; Philips, L. R.; Philips, Marion; Phillips Studio; Pope, William; Railroad Avenue; Rand, Frederic H.; Rexall; Rexall Store; Roberts, J. D.; Rossetter; Routh, Sherman; Routh, William; Rowland, Walter; Rumph, Hume; Salmagundi; Sanford; Sanford Avenue; Sanford Bottling Works; Sanford Coca-Cola Bottling Company; Sanford Furniture Company.; Sanford Grammar; Sanford Grammar School; Sanford High School; Sanford Novelty Works; Sanford Pressing Club; Sanford Public School; schools; Seabreeze; Seabreeze High School; Seminole County Bank; Seminole County Fair; Shepherd, Ernest; SHS; Speer, Vivian; St. Augustine; St. Augustine High School; Stetson University; Stevens, H. R.; Stevenson; Stewart, Ruth; SU; Taft, William H.; Tetherly; Theodore Miller & Son; Thrasher, D. L.; Tifft; Tift; Tolar, H. E.; Tomato Clubs; Turner, E. E.; Upshaw, William D.; Walker; Walker, Claire; Ward, Fern; Warthlen; Washburn; Washington and Lee University; Washington-Lee University; Washington, Georgia; Watson; Wentworth, Dorothy; Whiteman, James; Whiteman, Marjorie; Whitner, Annie Caldwell; Whitner, B. F.; Whitner, Benjamin; Wickham; Wight; Wight Grocery Company; Wildman, J. R.; Wildman, J. R. Laing, R.; Williams, G. E.; Winthrop, Fanny; WLU; Woman Suffrage; Woodruff; Woodruff & Watson; Woodruff, F. L.; Yowell, N. P.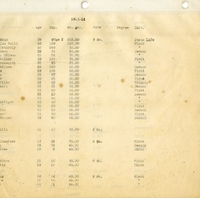 Seminole County Public Schools' Teacher Records from 1913 to 1954. When the Seminole County School Board was established in 1913, it began recording teachers' names, ages, certifications, years of experience, number of months contracted, and salaries…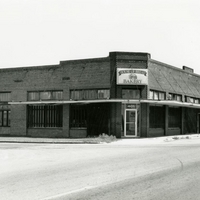 The House of Bread Bakery, located at 401 South Sanford Avenue in Sanford, Florida, in the 1920s. This four-unit building was located on the corner of South Sanford Avenue and East First Street in the historic African-American neighborhood called…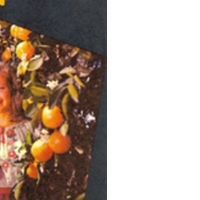 Pamphlet on the scenic route of Orange Blossom Trail north from the Georgia-Florida border to Key West. The pamphlet lists roadside attractions near or on OBT, in an era before the construction of I-95, I-75 and I-4 nearly ended the traditional…
Tags: 13th Street; 4th Street; AAA; Abshier, A. E.; Allardice, James; Allen, Ross; Alrmina Drive-In Restaurant; Amazing Howell Glassblowers; America's Tropical Wonderland; American Automobile Association; American Express; Anderson, F.; Angebilt Hotel; Apopka Motor Courts; Aqua-Maids; Arrow Head Lodge; Avon Motel; Baby Animal Nursery; Bambi Motel; Banister, Fred; Bank of Tavares; Barney's Park Avenue; Bartlett, Tommy; Bates, Beryl; Bates, Kitten; Beachfront Tourist Court; Beacon Light Motel; Belleview Motor Court; Ben White Raceway; Bennie's Service Station; Bentley's Motel; Bibleland; Big "D" Steer-In Restaurant; Black Hills Passion Play; Black Swan Park; Blanche Hotel; Blue Lake; Blue Lake Villa; Bob's Shell Service; Bok Tower; Bok Tower Gardens; Bownman & Brown, Inc.; Bradley, Otis; Bragdon, J. A.; Brahma cattle; Brewton Company; Buliman, J. H.; Burgess, Jack; Carillon Tower; Casa Loma Lodge; Centennial Fountain; Center of Arcade; Central Boulevard; Central Florida Motel; chamber of commerce; Chimp Farm; Christy, Howard Chandler; Citizen's Bank of Clermont; Citizen's National Bank of Lessburg; Citizen's National Bank of Orlando; Citrus Tower Restaurant and Cocktail Lounge; Clayton Waters Service; Clements, Frank; Clermont Fruit Service; Clewiston Inn; Clewiston Motel; Cloister Courts; Coats, Royal M.; Coleman, Grace; Colonial Drive; Colonial Hotel; Columbia County; conestoga wagon; Cook, Thomas; Cooks Farm; Craft Court; Crossroads Motel; Cunningham, T. Archie; Cypress Gardens; Da Vinci, Leonardo; Davenport Chamber of Commerce; Davis Park Motel; Delux Motel; Dempsey, Jack; Dickson and Ives, Inc.; Dietrich, Charles; Dietrich, Elsie; Diner's Club; Dirlam, K. M.; Dirlam's Dawn Villa; Douglas, A. R. D.; downtown Kissimmee; downtown Leesburg; Downtown Miami; Downtown Orlando; Duncan Hines; Dundee; E. S. Marsell Fernery; Edgar Roberts Apartments; Edwards, A. C.; El Patio Motel; El Rancho Motel; Emerald Motel; Ernie's Lakeside Motel; Everglades; Everglades Tropical Gardens; Fairview Park; Fairway's Motel; Famous Shell Emporium; Famous Silver Spurs; Fifth Street; First Federal Building; First Federal Savings and Loan Association; First National Bank; First National Bank at Orlando; Florida Angler's Resort; Florida Citrus Tower; Florida National Bank; Florida Nursery and Landscape Company; Florida Orange Packers; Florida Watermelon Festival; Florida's Biggest Little Town; Florida's Cow Country; Ford's Shell Service Station; Fort Clinch; Foster, Stephen Collins; Fosteriana; Fountain, J. M.; French Realtors; Fulton's Citrus Groves; G&S Packing Company; Gahr, Lloyd; Gardner's Restaurant; Gardos, E.; Gary's Duck Inn; Gateway to the Ridge; Gellerman, Harvey; glass-bottom boats; Glouser, Zack; Great Masterpiece; Greater Orlando Chamber of Commerce; Green's Fuel; Gulf Oil; Gulf Oil Corporation; Haines City Motor Court; Hambletonian; Hamilton County; Harlan, Montie; Hart, E. B.; Hart's Sundry Store; Harvey's Service; Harwell, E. K.; Harwell, Mary P.; Hi-Lander Motel; Highland Hammock State Park; Highland Lake Apartments; Highland Park Estates; Highland Parks Estates; Highlander Restaurant; Highlands County; Highlands Lake; Hil-Top Motor Court; Hinson Avenue; Home Exhibit; Hotel Jacaranda; Hotel Thomas and Dining Room; House of Glass; Howard Johnson Restaurant, Johnson, Howard; Hunt Brothers; Hunter's Nash Motors; International Grand Prix Endurance Race; Isbell, Jim; Isbell, Sue; Ivey's of Orlando; J. Hillis Miller Health Center; J. L. Parris Jr. Laundry; Jarvis Motel; Johnson, Evelyn; Johnson, John; Johnson's Beach; Johnson's Beach & Cottages; Jones, Meredith; Jordan, Carl; Jordan, Carolyn; Kahler, F. H.; Kahler, R. N.; Keene Realty Company, Inc.; Kelly Park; King's Garage and Service Station; King's Grove; Kissimmee Live Stock Market; Kissimmee River Valley; Koch, Harry A.; Koss Manor Motel; Koss, Delma; Lake Alfred; Lake Alfred Motel and Restaurant; Lake and Hills Restaurant; Lake Apopka; Lake Blue Motel; Lake Bowers; Lake Brentwood Court; Lake Clay; Lake County; Lake Eola; Lake Eola Park; Lake Highland; Lake Istokpoga; Lake Ivanhoe; Lake Josephine; Lake Josephine Tourist Court; Lake Mabel Motel; Lake Minneola; Lake Okeechobee; Lake Ola; Lake Placid; Lake Weir; Lake Weir Chamber of Commerce; Lake Weir Gift Fruit Company; Lake Weir Key Cottages; Lakeside Villa; Lakeview Motel; Lakewood Bar & Package Store; Lakewood Estates; Last Supper; Law, Leo; Lee Motel; Leesburg Community Center; Leesburg Kiwanis Club; Leesburg Lion's club; Leesburg Rotary Club; Lilly, L. M.; Lilly's Motel; Lloyd's Furniture; Main Street; Mann, Leone; Mann, Paul; Manor Motel; Marie's Motel and Restaurant; Marion County; Marion County Citrus Company; Marion Street; Marks Street; Marsell, E. S.; Master Hosts; McGuire's Standard Station; McIntosh; Meier, Josef; Melton, G. T.; Metal Products Company; Miami Hotel; Miami's Fabulous Seaquarium; Mid-Lakes Motel; Miller Motel; Miller, Henry; Millican & Beseke, Inc.; Mineral Springs; Minneola Gift Shop; Minute Maid; Monarchik, Helen; Monarchik, John; Montrose Street; Monument of States; Moose Head Fishing Camp; Moses Rexall Drugs; Motel AL-Jl Mid-Town Motel; Motel Midget Mansions; Mozert's Photo Shop; Mrs. Mac's Restaurant; Mt. Vernon Motel; Musseua, A. A.; Nascar Auto Association; National Fresh Water Tournament; National Pee Wee Championship; Nature's Underwater Fairyland; New Morrison Cafeteria; Nicodemus, Charles; Nicodemus, Irene; North Avenue; North Boulevard; North City Motel; North Marion County Chamber of Commerce; North Marion High School; O'Sada, Stanley; O'Sada's Gulf Service Station; OBT; Ocala; Ocala National Forest; Oklawaha; Oklawaha River; Ola-Beach Motel; Old South Motel; Orange Avenue; Orange blossom Motel; Orange Blossom Trail; Orange Blossom Trail Association; orange county; Orange Lake; Orange Lake Citrus Shop; Orlando Evening Star; Orlando Morning Sentinel; Palm Garden Fishing Camp; Palm Knoll Motell; Palm Motel; Palm Terrace; Palomino Motel; Pan-American Motel; Parrish, J. L., Jr.; Passion Play Amphitheatre; Peacock, Arthur S.; Peacock's Motel; Phillips Place; Plantation Inn; Poinsettia Motel; Polk County; Pope, Dick, Sr.; Pope, Richard Downing; Preu, Frank J.; Preu, Jeanette; Pure Oil Company; Quality Courts United; Ranch Motel; Ray's Smoke House Pit-Bar-B-Q; Red Barn Restaurant; Reddick; Reese, Candler C.; Rest-A-Nite Motel; Rex Beach Lake; Rexall; Richenbacker Causeway; Rilean, W. W.; Riley's Trailer Park and Miniature Home; Rock Springs; Rod'n Reel Court; Roosevelt Boulevard; Ross Allen's Reptile Institute; Ross Allen's Reptile Institute and Wildlife Show; Sabal Motel; San Juan de Ulloa Hotel; San Juan Hotel; Scenic Highway; Schnieder, John W.; Seaquariam; Seminoles; Shady Lake; Shalimar Motor Court; shell; Shell Emporium; Shipley, Grace E.; Shipley, Lewis; Silver Lake Country Club and Golf Course; Silver Palms Motel; Silver Springs; Silver Springs Boulevard; Silver Springs Cafeteria and Restaurant; Silver Spurs Rodeo; Sinclair Gas and Oil; Singing Tower; Skyline Motel; Slaughter, A. C.; Smigel's Auto Clinic; Smith, A. W.; South Bay Service Station; South Lake Realty company; Southernaire Motel; Spinning Wheel Motel; Spook Hill; Sportsman's cottages and Fishing Resort; Spring Side Motel; Squire Restaurant; SR-200; SR-25; SR-40; SR-50; SR-540; SR-80; STAPLES' Cottages; Starling Motel; State Bank; State Road 50; State Road 80; Steak House; Stephen Foster Memorial; Sue and Jim Isbell's Motel with Restaurant; Sue's Motel; Sugar Bowl; Sun Plaza Motor Manor; Sunoco; Suwannee River; Suwannee River Court; Tall Pines Motel; Talton, William G.; Targonski, Benjamin; Taylor's Citrus Candy Factory; Terra Ceia Court and Restaurant; Texaco Products; The Belle of Suwannee; The Brahma; The Carriage Cavalcade; The City Beautiful; The Fern City of Florida; The Jacaranda City; The Jungle Cruise; The Key Wester; The Prince of Peace Memorial; Thibault, Alyce; Thomas, P. E.; Tom Sawyer Motor Inns; Tommy Bartlett's Deer Ranch; Topical Wind Motel; Tower View Motel; Trade Winds Cafeteria; Tradewins Motel and Restaurant; Trailer city; Tropical Motor Hotel & Frazer's Steak House; Tucker, O. J.; tupperware; Tupperware Home Parties, Inc.; Tupperware Museum of Dishes; U.S. Highway 27; U.S. Sugar Mill; UF; University Court Motel; University of Florida; US 92; US-17-; US-25; US-27; US-27A; US-301; US-441; US-441-27; US-98; Ustler Brothers; Vaughan & Co.; Venetian Court; Vo-Mac Groves; W. W. Rilea Cottages; Wall Streetl Empire Hotel; Walt Wellman Groves; Waverly; Waverly Citrus Growers Cooperative; Wayside Motel; Webb, J. L.; Webb's Drive-In Restaurant; Wellman, Walt; White House Hotel; William G. Talton and Sons; Williams, E. L.