Browse Items (1 total)
Tags: Littlefield, Milton S.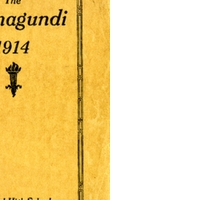 The 1914 Salmagundi yearbook for Sanford High School. The yearbook was named for the Native American word meaning "a general mixture." Alice Coffee was the editor-in-chief of the Salmagundi for the 1913-1914 school year, which cost fifteen cents. It…
Tags: 9th Street; Abernathy, W. W.; ACL; Aspinwall; Atlantic Coast Line Railroad Company; Audubon Society; Barnes; Bates, Thomas K.; BDS; Berner, Agnes; Berner, Evelyn Barbara; Betts, A. L.; Betts, Daisy; Beverly Manufacturing Company; Borth Park; Bower's; Bowler, Mabel; Brady, E. E.; Brady, E. R.; Brock, D. C.; Brown, Nina; Brown, Nina Mae; Brown, Winnie; Brumley, L. A.; Butt, C. G.; Caldwell, D. A.; Chappell, Lucca Winifred; Chase and Company; Chase, Randall; Christmas; Clyde Dock; Coates, John F.; Coats, John Franklin, Gilbert, E. Howard; Coca-Cola; Coffee, Alice; Coffee, Clice Bryan; Columbia University; Connelly, A. P.; Connelly, Linda Evans; Cooperative Store; corn; Cornell University; cotton; Crosby, Wallace; D. A. Caldwell & Sons; Davis House; Davis, Margaret; Daytona High; Daytona High School; Daytona HS; De Cottes, George A.; Deane, R.; Dickens, Charles; Dickson, S. C.; Douglass, E. A.; Dubose, H. C.; Duhart, H. L.; Dutton, F. F.; education; Elm Avenue; Eureka Tailors; Farnsworth, Lille; Fellows, G. C.; Fernald, George H.; Field, J.; First National Bank; First National Bank No. 1; Fletcher, F. G.; Forster, F. P.; French Avenue; Fry, Albert; G & W Building; G. C. Fellows Company; Garner, N. H.; Gatchel, Mary; Gatchel, Mary Elizabeth; George H. Fernald Hardware Company; Goertz, Clara, Frank, John; Gong, Lew Jim; Graham, George H.; grapefruit; Green; Green, R.; Griggle, Thomas; Guild; H. L. Duhart Ice Cream Factory and Lunch Room; Hands, Charles M.; Hanson, M.; Harold, Muriel; Hart's Late; Healey, W. R.; Herald Printing Company; Herndon; Herring, G.; Herring, George C.; Herring, Griffin; Higgins, Adelaide Elizabeth; high schools; Hill Hardware & Lumber Company; Holly, R.; Housholder; Housholder, E. Ferguson; ILS; Irwin & Giles; J. L. Miller's Bakery; Jinks, John. D.; Kanner, Charles; Key, A. R.; Kodak; L. R. Philips & Company; Laing, J.; Laing, R.; Lake Monroe; Lake, Forrest; Lawson, J. B.; Leffler, C. H.; Lipe, M. P.; Literary and Debating Societies; Littlefield, Milton S.; Longwood Public School; Lovell, Carrie; Magnolia Ave.; Magnolia Avenue; Mahoney, Clarence; Marlow, Carrie Lovell; Marshall, R. A.; Marx; Mason; Maxwell, Dick; Maxwell, R. C.; Maxwell's; McDaniel, Ruth; McKim, Robert; McLaughlin, Anna; McLaughlin, George W.; McLaulin, Henry; Mettinger, Ruth; Miller, J. L.; Miller, Theodore J.; Monroe School; Morris, Gladys; Moughton, Ethel Ma; Munsey's Magazine; Munson, Fannie Reba; Munson, Zoe; Murrel Brothers; Murrell; Murrell Bros.; Murrell, Renie Elizabeth; N. P. Yowell & Company; Newman, Robert A.; Ninth Street; oranges; Osceola High School; Owens; Packard, Bertha; Packard, J. O.; Packard, Marion; Padgett, Viola; Pattishall, Bert; Paxton, Earl B.; Peoples Bank; Peoples Bank of Sanford; Perkins, N. J.; Peters, E. H.; Philips, L. R.; Phillips; Phillips, Marion; Pocahontas; Pope, Anna May; Pope, Eugenia; Railroad Way; Ramsey; Rand, Frederic H.; Raynor; Renna, P.; Rexall; Rexall Store; Roberts, Genyle; Roberts, J. D.; Robinson, M. F.; Rollins College; Rowlamd, W.; Rowland, Helen Adelaide; Rumph, H.; Ruskin, John; Salmagundi; Sanford; Sanford Avenue; Sanford Bottling Works; Sanford Coca-Cola Bottling Company; Sanford Cycle Company; Sanford Furniture Company; Sanford Hand Laundry; Sanford High School; Sanford House Park; Sanford Machine and Garage Company; Sanford Public Library; Sanford Public Schools; Sanford Shoe & Clothing Company; Sangster, Margaret E.; Schaffner; schools; Seabreeze High School; Seminole County Bank; Seminole County Circuit Court Clerk; Seminole County Commissioner; Seminole County Judge; Seminole County Sheriff; Seminole County Superintendent of Public Instruction; Seminole County tax assessor; Seminole County treasurer; Seminole Pharmacy; Shinholser, S. O.; SHS; Singletary, Eugene; Smith, M. M.; Speer; Spencer's; State Experiment; Stetson University; Stevens, H. R.; Stewart, Ruth; Stringfellow, L. G.; Stumon, Junie; Styleplus; sugarcane; Swope; syrup; Tennyson, Alfred; Thanksgiving; Theodore J. Miller & Son; Thrasher, D. L.; Title Bond and Guarantee Company; tobacco; Tolar, H. E.; Villa Shoora Fish & Commission Company; Waldron, Katherine Gorton; Walker, C. R.; Walker, Claire Henrietta; Wanamker, John; Washburn, H.; Weather Bureau; Western Union; Whitner, Annie; Whitner, B. F.; Whitner, Jr., Benjamin Franklin; Wight Grocery Company; Wildman, J. R.; Wildman, J. Rowland; Williams, G. E.; Wilson & Housholder; Wilson, Anna; Wilson, Thomas Emmet; Woodruff & Watson; Woodruff, Frank L.; Yowell, N. P.