Browse Items (2 total)
Tags: Caldwell, Andrew C.

An original manuscript titled "The Entrance of the Faith in the Eastern Part of the Peninsula and Some Early Presbyterian Plantings in the Region of Saint Johns Presbytery," written by J. N. Whitner. The first Presbyterians in Florida migrated from…
Tags: Americus, Georgia; Apopka; Army; Baker, Archibald; baptism; Beresford; Boone, Cornelia Frances; Boone, Janette Bruce; Boone, Mattie; Bruce, Agnus Donald; Bruce, Cornelia Frances Marks; Caldwell, Andrew C.; Caldwell, Andrew Curran; Caldwell, Julie Doak; Caldwell, Robert Ernest; Caldwell, Sallie Davidson; Christiania, Norway; church; church elder; circuit rider; Columbia County; Convention of the General Assembly; Darlington; deacon; DeLand; Dubose, John C.; education; elder; enterprise; Episcopal Church; Episcopalian; Episcopalianism; Euchee Valley; evangelism; evangelist; Evangelist of Florida Presbytery; Everglades; Fort Dallas; Fort Maitland; Fort Mellon; Fort Read; Galloway, Francis Lee; Galloway, Nancy; Gamble, William G.; Gould; Gould, Benjamin; Gound, Benjamin; Graften, C. W.; Green; Greensboro, North Carolina; Harrington; Holland; Holland, Ella; Holland, Herbert; Holland, Sarah Cochrane; Holland, Ursula; Lake Apopka; Leesburg; Little, James; Luraville; Madison; Maitland; Mar's Bluff, South Carolina; Markes, Maggie; Marks; Marks, Adeline Tomlinson; Marks, Jacinta; Marks, Maggie; Marks, Matthew R.; marriage; Mason; Mason, Zolotus; McCorkle, S. V.; McCormack, J. W.; McIlvaine, William E.; McLean, Josephine; McLean, Madison; McLean, Maggie; Mecklenburg County, North Carolina; Mellonville; Methodism; Methodist; Methodist church; Miami; Micanopy; mission; Montgomery, F F.; Montgomery, John W.; Native American; Nichols, Maria Stone; North Carolina; North Florida; Oakland; orange county; Orange House; orlando; Pensacola; pioneer; Presbyterian; Presbyterian church; Presbyterianism; Read, Ford; Rees, Margaret Bruce; religious education; reverend; Rossetter; Rossetter, Appleton T.; Saint Johns Presbytery; Sanford; school; Scotland; Seminole; Seminole War; settlement; Silver Lake Church; South Carolina; Speer; Speer, James G.; St. Johns River; Stagg, John W.; Stockton; Stockton, North Carolina; Sumter County; Sunday school; Suwannee County; Tallahassee; Telford; Telford, R. L.; Telford, William B.; The Early Planting of Presbyterianism in West Florida; The Entrance of the Faith in the Eastern Part of the Peninsula and Some Early Presbyterian Plantings in the Region of Saint Johns Presbytery; Tufts, Edgar; Turner, George D.; U.S. Army; Volusia County; Walton County; Watson; wedding; Weinrich, Charles; West Florida; Whipple; Whitner, Amelia Melvina Howard; Whitner, B. F.; Whitner, B.F.; Whitner, J. N.; Whitner, Joseph Newton; Whitner, Mary Golphin; Whitner, Sarah Jane Church; Willy, John; Woodruff, Nancy Galloway; Woodruff, W. W.; Wylly, George W.; Young People's Musical Group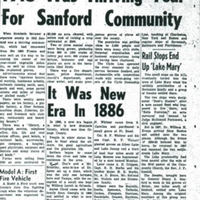 A newspaper article about Sanford, Florida, during the year of 1913. According to the article, the Sanford community had recovered from the Great Freeze of 1886 and was thriving economically by 1913. This page also included an article on the Ford…
Tags: ACL; Atlantic Coast Line Railroad Company; Belle Fontaine; Bent; Bent's Station; Brantley; Brown; Bruce, A. D.; Burrell; Caldwell, Andrew C.; Cameron; Clud, Aaron; Clyde Steamship Line; Cocke; Crippen, A. H.; Deane; Dickenson; Doyle, M. J.; Duval; Evans, William H.; Finegan; Ford; Foster, E. K.; Foster, Frank; freezes; Goodrich; Great Freeze of 1886; Hall; Harris; Hayden; Holland; Humphrey, William; Ingraham; Jacksonville; Lake Jesup; Lake Mary; Lake Monroe; Levy Grant; Lovell, William; Marks, M. R.; Marks, R. H.; McCall; Mellonville; Model A; Model A Ford Truck; Munday; Nichols; Noble; Oviedo; Palmetto Avenue; Parramore, McDonald; Randolph; Robinson; Sanford; Sanford, Henry Shelton; Scott; Seminole County; Silver Lake; Sjoblom, A. E.; Speer; Spencer; Sundell, J. F.; Swedes; Telford; The Sanford Herald; Tucker, J. W.; Ward, W. A., Sr.; Webster; Whitner, B. F.; Whitner, J. N.