Browse Items (10 total)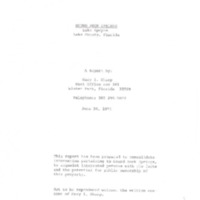 This report by Gary I. Sharp lists information related to the Gourd Neck Springs area of Lake Apopka and a potential purchase of the area by the State of Florida through the Environmentally Endangered Lands (EEL) Program. The report aims to show why…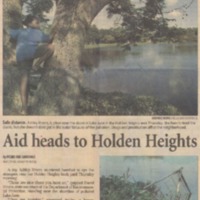 A newspaper article published in The Orlando Sentinel on April 19, 2002. The article is about the Front Porch Florida Initiative and revitalizing Holden Heights, an unincorporated community southwest of Orlando, Florida. In 2002, a group of community…
A page from the 1939 edition of Technique, the yearbook for the Massachusetts Institute of Technology (MIT) in Cambridge, Massachusetts. This page shows the Tech Swim Club, an honorary society for swimmers. A notable student listed is Major Jack…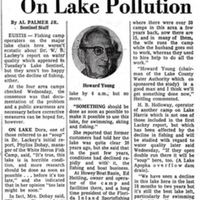 A newspaper article from The Orlando Sentinel discussing fish camp owners in Lake County, Florida. The camp owners share their feelings regarding pollution in their lakes, and the impact this has had on the fish population and the fish camp industry.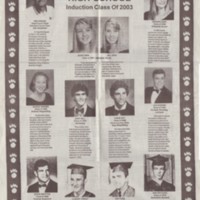 A newspaper article published in The Oviedo Voice on January 2, 2003. The article features a number of students who are in Oviedo High School's Athletic Hall of Fame. Students include sisters Jenny Wise and Jill Wise, Brooke Asby; Alison Parker, Andy…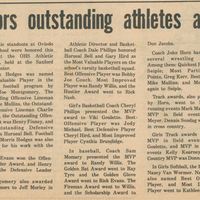 A newspaper article published by The Oviedo Outlook on May 26, 1977. The article describes Oviedo High School's Athletic Banquet that was held at the Sanford Civic Center and lists the various awards and recipients. Oviedo High School is a Seminole…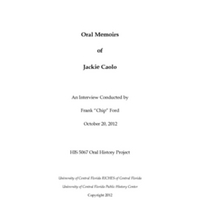 Oral history of Jackie Caolo, a resident of Groveland, Florida. Caolo was born in Texas but raised in Florida. As an adult, she traveled with her husband for 20 years while he was in the United States Navy. In 1956, the Caolo's husband was…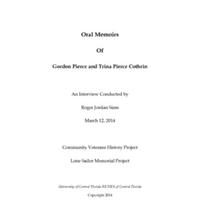 An oral history interview of Gordon Pierce (b. 1930) and Trina Cothrin, who both served in the U.S. Navy. Pierce was born in Buffalo, New York, on September 16, 1930. He enlisted in the Navy in 1948 and served until September of 1977, during the Cold…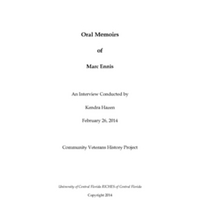 An oral history interview of Marc Ennis, who joined the U.S. Navy in December of 1990 and attended Recruit Training Center Orlando (RTC Orlando) for boot camp at age 17. After boot camp, he attended Electronic Warfare training at Corry Station Naval…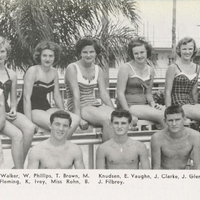 The Seminole High School swim team in 1958, the year that swimming was added to the school's athletic program. The student athletes photographed from left to right are: kneeling - T. Walker, W. Phillips, T. Brown, M. Knudsen, E. Vaughn, J. Clarke, J.…
Tags: 7th Street; athlete; Bolger, A.; Brown, T.; Clarke, J.; Coach Fleming; Filbrey, B. J.; Fleming; French Avenue; Glenn, J.; Hern, J.; Hiers; Hiers, M.; high school; Ivey, K.; Knudsen, M.; Miss Rohn; Phillips, W.; Rohn; Sanford; school; Seminole High School; Seventh Street; SHS; sport; student; swim team; swimmer; swimming; Vaughn, E.; Walker, T.