Browse Items (8 total)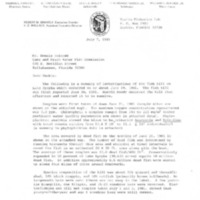 A letter from William E. Johnson to Dennis Holcomb, dated July7, 1981. Enclosed with the letter is a report by Johnson, a biologist with the Florida Game and Fresh Water Fish Commission (GFC) regarding a fish kill in Lake Apopka that occurred in June…
This podcast features an interview with Brad Massey, a Ph.D. candidate at the University of Florida, about his article on the Florida phosphate industry and the political controversy surrounding its arrangement with the Soviet Union in 1974.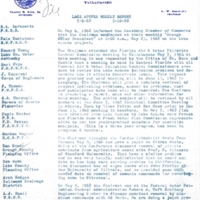 A weekly report of the Lake Apopka Technical Committee, chaired by C. W. Sheffield. The committee was an initiative by Governor Florida Governor Claude R. Kirk, Jr. (1926-2011) to investigate pollution and possible restoration of Lake Apopka,…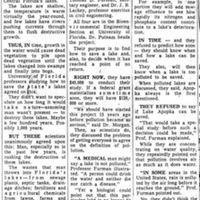 A newspaper article by Elvis Lane, published in The Orlando Sentinel, describing a University of Florida (UF) study focusing on eutrophication in Central Florida lakes. The study aims at understanding the processes by which pollution introduces…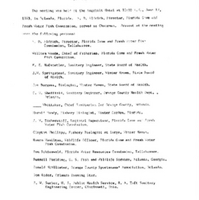 A report by Harold L. Moody for a conference held by various state officials to investigate the fish kills in Lake Apopka, Florida. Moody's notes describe the current fish kill, some past kills, and efforts by the different State departments to…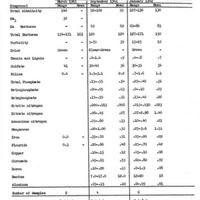 A table of measurements of various dissolved substances found in Lake Apopka, gathered from random points across the surface of the lake in March 1961, September 1961, and January 1962.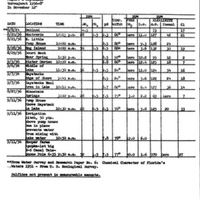 A water quality survey for Lake Apopka. Samples shown were taken by Harold L. Moody, a fishery biologist working for the Florida Game and Freshwater Fish Commission. The samples were drawn from several locations across the lake, over a range of one…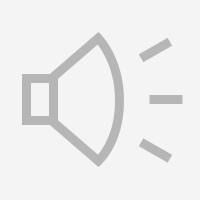 Episode 49, Part 1 of RICHES Podcast Documentaries: An Interview with Paul Ortiz. RICHES Podcast Documentaries are short form narrative documentaries that explore Central Florida history and are locally produced. These podcasts can involve the…